News
HMS Grafton (H89): The spirit of self-sacrifice
HMS Grafton is a G-class destroyer built for the Royal Navy during the 1930s, which saw limited action in the early stages of WW2 before meeting her fate. The destroyer HMS Grafton will await all aspiring captains in the CBT of War Thunder's Royal Navy !
Flower-class Corvette: The Convoy Guardian
The Flower-class is a British WW2-era corvette, designed specifically to escort Atlantic convoys and protect them from German U-boats. HMCS Brantford will soon be available in the game as part of the CBT of the Royal naval forces!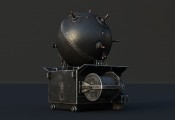 Naval mines in War Thunder
We are excited to introduce a new armament type for Naval battles in War Thunder - naval mines and in this devblog we will describe using them in game.
HMCS Haida - Commonwealth Veteran
HMCS Haida is a Tribal-class destroyer of the Royal Canadian Navy, which served not only through WW2, but also took part in actions in the Korean War.
SGB 304 Grey Fox: Old Technology, New Era
The Steam Gunboat (SGB) is a steam-powered British WW2 gunboat, developed to combat the German S-Boat threat. War Thunder captains will have the chance to command this highly interesting vessel during the CBT of the Royal Naval forces!
HMAS Nepal (G25): Air Raid Survivor
HMAS Nepal is a British N-class destroyer which served with the Royal Australian Navy in WW2 and operated primarily in the Indian Ocean and Pacific. HMAS Nepal will be available to all Testers in the CBT of the Royal Naval forces in War Thunder.
Frunze Destroyer
Built in 1914, the Novik-class destroyer, which was later renamed as the "Frunze," became one of the best combat ships of the Russian Empire. Meet the new destroyer in War Thunder!
Krasny Kavkaz: The Guardian of The Black Sea
The Krasny Kavkaz is a Soviet light cruiser of the Svetlana-class, which were initially laid down before WW1 for the Imperial Russian Navy, but saw completion and use under the Soviets. Captains will have the opportunity to try out the Krasny Kavkaz in one of its WW2 retrofits in the closed beta testing of War Thunder naval forces!