News
Trophies and Rewards in Naval Battles
Unlike air and ground battles, destroying a naval unit requires more effort and time. This feature of naval battles caused us to rework the existing trophy system. The more damage you do to your enemy, the better the reward will be.
Siebelfähre SF 40 Schwere
Conceived as a makeshift landing craft intended to be used for the planned naval invasion of Britain, the Siebelfähre was a modular German transport barge, often equipped with heavy weaponry, tasked with assisting landing troops. Aspiring captains will have the opportunity to command the intimidating Siebelfähre in the upcoming closed beta testing of War Thunder's naval forces!
LCS (L)(3): Mighty Midget
An American artillery vessel available in the navy closed beta test. Armed with a 76 mm cannon and an excellent set of auto cannons, her dense fire literally chews up small ships and aircraft!
USS Trenton: The Royal Rescuer
USS Trenton is one of the ten American Omaha-class light cruisers constructed during the interwar period and will be among the first light cruisers to set sail under the banner of the U.S. Navy in the upcoming closed testing for War Thunder's naval battles.
Emden Light Cruiser: For a New War
The Emden light cruiser was the first large military ship built in Germany after World War I. Currently, she is the most powerful German vessel in the War Thunder closed beta fleet test.
Protection Analysis
This function will allow you to view your vehicles armour protection including factors such as type of shell fired at its armour, the distance of the shot fired and the overall effects on your defensive capabilities all from the hanger.
IL-28Sh: The Soviet Rocketeer
The IL-28Sh is an experimental attack version of the Soviet IL-28 jet bomber, developed in the late 1960s. Soon, all War Thunder pilots will get the chance to pilot another unique, and more than usually destructive, version of the IL-28 in the upcoming update 1.79!
AMX-40: Fire and Forget
The AMX-40 is a prototype French export main battle tank, developed during the 1980s based on experiences learned from the AMX-30.The AMX-40 is bound to find an abundance of fans among War Thunder tanker in the upcoming update 1.79 "Project X"!
XM-1 (C) and XM-1 (GM): Ancestors of the Abrams (Updated)
Two new and magnificent rank V tanks are coming to War Thunder! It's a story of a competition between two companies – Chrysler and General Motors – in creating a new main battle tank for the American army, which would soon become known around the world as the M1 Abrams.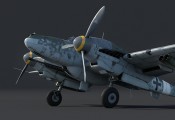 Massive update to air battle audio
For War Thunder update 1.79 "Project X", we have prepared a long-awaited audio update for aerial warfare. You've never heard War Thunder like this!