News
Ace of the Month - General Johannes 'Macky' Steinhoff
A phenomenal fighter pilot, Johannes 'Macky' Steinhoff is remembered as one of the fiercest Luftwaffe pilots In German aviation history, flying both during and after WW2, shooting down 176 aircraft during his service time.
Nakajima Ki-43-I and -II: The Forgotten Falcon
The nimble Nakajima Ki-43 formed the backbone of the Japanese Army Air Service in the Second World War and, though overshadowed by the Zero, remained a dangerous opponent throughout the war.
M18 Gun Motor Carriage – Hellcat
Go light, go quick, don't stop - these words pretty much sum up the M18 Hellcat, American tier III tank destroyer with the BR value of 5.0.
Messerschmitt Bf 110 - Zerstörer
The powerful armament of the Messerschmitt Bf 110 is ideally suited to destroying bombers, as demonstrated in December 1939 over the seas north of Germany.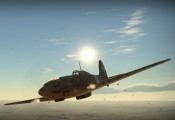 An Italian beast to challenge the mighty Spitfire: Macchi MC.202
With its sleek fuselage, speed and great maneuverability, the Italian Macchi MC.202 Folgore fighter was easily the best Italian fighter in the initial stages of World War Two and was an unpleasant surprise to Allied fighters. In War Thunder, it's no less effective.
T-34 Model 1942 - A Tough Nut to Crack
With an unprecedented blend of speed, protection and firepower the iconic T-34 tank was the backbone of the armoured forces of the Red Army in World War II, epitomised by the mid-war Model 1942.
F4U-1D "The Whistling Death"
While plagued with trouble at first, the Corsair proved to be an excellent naval fighter and fighter-bomber, combining speed, firepower, ruggedness and a large payload. These traits resulted in the Corsair being one of the most potent naval fighters of World War II.
Small, Slow and Tough: Valentine Mk.I
It is small. It is slow. But the Valentine Mk I compensates for both of these things with sturdy all-around armour and its fast-firing accurate gun with good penetration for its tier.
M26 Pershing: A Medium Heavy Tank
The M26 Pershing, often marked as the first American combat-ready heavy tank, was the product of long and painful development and arrived too late to see any significant action during World War 2. It however proved itself in future conflicts and was the first from the long line of tanks.
Lavochkin La-5
The Lavochkin La-5, mount of the leading Allied ace of the war, is a well balanced fighter with no major weaknesses that excels at lower altitude.