System Requirements
Minimum
OS: Windows 7 SP1/8/10 (64 bit)
Processor: Dual-Core 2.2 GHz
Memory: 4GB
Video Card: DirectX 10.1 level video card: AMD Radeon 77XX / NVIDIA GeForce GTX 660. The minimum supported resolution for the game is 720p.
Network: Broadband Internet connection
Hard Drive: 17 GB
Recommended
OS: Windows 10/11 (64 bit)
Processor: Intel Core i5 or Ryzen 5 3600 and better
Memory: 16 GB and more
Video Card: DirectX 11 level video card or higher and drivers: Nvidia GeForce 1060 and higher, Radeon RX 570 and higher
Network: Broadband Internet connection
Hard Drive: 95 GB
Minimum
OS: Catalina v.10.15 or newer
Processor: Core i5, minimum 2.2GHz (Intel Xeon is not supported)
Memory: 6 GB
Video Card: Intel Iris Pro 5200 (Mac), or analog from AMD/Nvidia for Mac. Minimum supported resolution for the game is 720p with Metal support.
Network: Broadband Internet connection
Hard Drive: 17 GB
Recommended
OS: OS Big Sur v. 10.16 or newer
Processor: Core i7 (Intel Xeon is not supported)
Memory: 8 GB
Video Card: Radeon Vega II or higher with Metal support.
Network: Broadband Internet connection
Hard Drive: 95 GB
Minimum
OS: Most modern 64bit Linux distributions
Processor: Dual-Core 2.4 GHz
Memory: 4 GB
Video Card: NVIDIA 660 with latest proprietary drivers (not older than 6 months) / similar AMD with latest proprietary drivers (not older than 6 months; the minimum supported resolution for the game is 720p) with Vulkan support.
Network: Broadband Internet connection
Hard Drive: 17 GB
Recommended
OS: Ubuntu 20.04 64bit
Processor: Intel Core i7
Memory: 16 GB
Video Card: NVIDIA 1060 with latest proprietary drivers (not older than 6 months) / similar AMD (Radeon RX 570) with latest proprietary drivers (not older than 6 months) with Vulkan support.
Network: Broadband Internet connection
Hard Drive: 95 GB
Strv-81: The Missile Centurion
Attention! This news was published on the old version of the website. There may be some problems with news display in specific browser versions.
---
Like we promised, we're continuing our story about tanks with ATGMs in War Thunder. Today's hero is the export version of the Centurion III for the Swedish army – the Strv-81.

Very recently, we announced a new stunning ammo type for tank battles in War Thunder – anti-tank guided missiles (ATGM). For update 1.59 "Flaming Arrows", we prepared several tanks armed with ATGMs. The next missile-thrower will be the Swedish Strv-81 tank – an export version of the Centurion Mk III equipped with Robot.52 guided missiles. We already spoke about the Centurion itself in one of our Diaries – the vehicle has long been available in British ground vehicle tree. But the ATGMs are worth some extra attention! Let's talk about them in more detail.
---
---
Each Robot.52 (SS.11) can pierce up to 600mm of armour
---
The Strv-81's additional armament comes in the form of three French anti-tank guided missiles SS.11 (in the Swedish army, they received the designation Robot.52). The missiles are attached in open launchers on the right side of the tank's turret. Each missile weighs 30 kg, with a warhead weight of 8 kg. The armour piercing characteristics of the ATGMs amounts to 600 mm with a direct hit, meaning the tank can penetrate any armoured target in War Thunder.
---
---
The Robot.52 missiles are first-generation ATGMs. In practice in the game, the difference between first and second generation ATGMs consists in the way the missile is controlled in flight. With first-generation ATGMs, the player can control the missile in Realistic and Simulator Battles via the movement keys. Arcade Battle players won't see a difference between the ATGM generations – all guided missiles in this mode are controlled with the mouse via the tank sight.
ATGMs on the Centurion III are an undeniably nice bonus to the standard weaponry of this good British tank. Each of the three missiles can potentially deprive the opponent of one tank – it all depends on the tanker's skill to launch the missiles in a timely manner and lead their death-dealing warheads to the vital compartments of the enemy tank.
---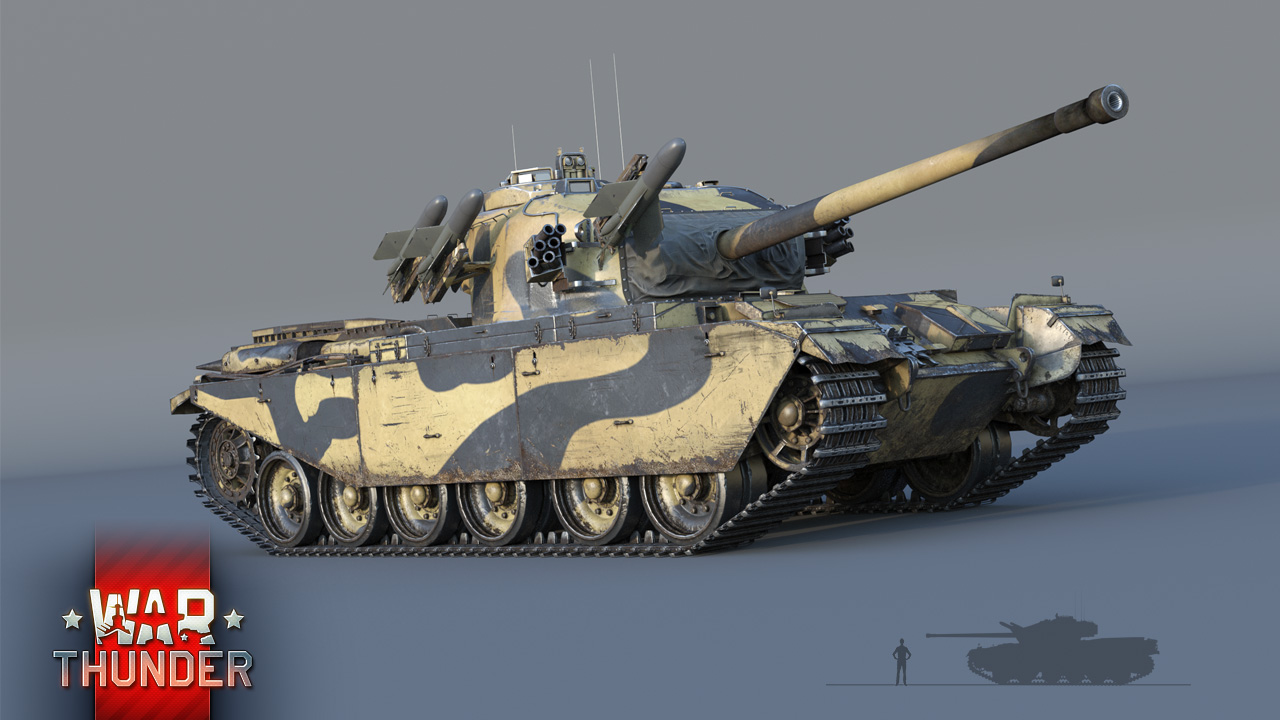 Download Wallpaper: 1280x1024 | 1920x1080 | 2560x1440 |
---
The Strv-81 will be a rank IV British tank
The tank will be available as part of a special package in the online store.
---
Upcoming content for Update 1.59 "Flaming Arrows" :