News
IL-28Sh: The Soviet Rocketeer
The IL-28Sh is an experimental attack version of the Soviet IL-28 jet bomber, developed in the late 1960s. Soon, all War Thunder pilots will get the chance to pilot another unique, and more than usually destructive, version of the IL-28 in the upcoming update 1.79!
AMX-40: Fire and Forget
The AMX-40 is a prototype French export main battle tank, developed during the 1980s based on experiences learned from the AMX-30.The AMX-40 is bound to find an abundance of fans among War Thunder tanker in the upcoming update 1.79 "Project X"!
XM-1 (C) and XM-1 (GM): Ancestors of the Abrams (Updated)
Two new and magnificent rank V tanks are coming to War Thunder! It's a story of a competition between two companies – Chrysler and General Motors – in creating a new main battle tank for the American army, which would soon become known around the world as the M1 Abrams.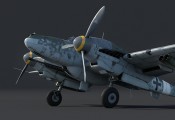 Massive update to air battle audio
For War Thunder update 1.79 "Project X", we have prepared a long-awaited audio update for aerial warfare. You've never heard War Thunder like this!
Vehicle modification upgrades (Updated)
Development of the enhanced modules will not be introduced in 1.79. We will re-evaluate the feature based on your feedback. We will clarify the thinking behind the enhancement very shortly.
FJ-4B Fury: Last of its Kind
The FJ-4B is a carrier-borne fighter-bomber version of the legendary F-86 Sabre, used by the U.S. Navy throughout the 1950s and well into the '60s. Armed to the teeth with all kinds of ordnance, the FJ-4B has set course for the battlefields of War Thunder and is expected to arrive very soon with update 1.79 "Project X"!
Т-62М-1: the fight continues!
The radical modernization of the T-62 tanks was supposed to boost their combat effectiveness to the same level as that of the T-72s and T-64As. Meet the new Soviet elite!
Z20 Karl Galster
Some time ago, we presented the Type 1936 class destroyer of the German Kriegsmarine and subsequently added it to the closed testing of War Thunder's naval forces. Today, we would like to present to you the Z20 Karl Galster, the only survivor of her class that went on to serve even after the war had ended.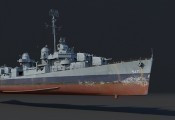 USS Cowell (DD-547): Vulture Hunter
The USS Cowell (DD-547) is a Fletcher-class destroyer that served initially under the banner of the U.S. Navy throughout the second half of WW2 and into the 1950s.
Leopard 2A4: Setting The Standard
Entering service with the German Bundeswehr in the mid '80s, the Leopard 2A4 was the final modification of the early serial production Leopard 2. War Thunder tankers and fans of German ground vehicles can look forward to the addition of one of the most iconic German steel beasts of all time, coming to the game with update 1.79!