News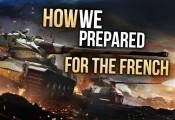 ARL-44 - A Battleship in Disguise
The ARL-44 is a post-war heavy tank project, purely intended for French engineers to refresh their knowledge on tank development after the end of the occupation period.
GMC CCKW 353: A deuce-and-a-half. And a gun.
A legendary GMC truck chassis equipped with an automatic 40mm caliber Bofors cannon is a French recipe for a powerful, adaptable anti-aircraft gun—and it will roll into War Thunder accompanied by some all new French tanks in War Thunder update 1.75!
New opportunities for light vehicles!
Thin armour, weaker guns and a limited crew is no longer an excuse! The most vulnerable vehicles will now have much more opportunity to turn the tide of battle or gain more rewards!
Arsenal VB.10-02: Professional Striker
At Rank IV, the VB.10-02 is one of the most destructive and heavily armed fighters you can pilot, and became part of France's aviation tree in War Thunder update 1.73, "Vive la France".
M4A4 (SA50) - The Desert Warrior
The M4A4 (SA50), also known as the M-50 Super Sherman, will comes to War Thunder as part of the French ground forces research tree coming with War Thunder update 1.75!
Lorraine 40t: Sports Heavy
The Lorraine 40t is a French, experimental tank with an auto-loading cannon and a classic French tank design feature: the oscillating turret. How will it fare against German Tigers and Soviet IS tanks? Let's find out!