News
M1A2 Abrams - Higher and Higher
The M1A2 is among the latest and most capable modifications of the American Abrams MBT, featuring notable improvements in protection as well as other areas. Soon in War Thunder!
Pyörremyrsky: The Nordic Whirlwind
The VL Pyörremyrsky is a Finnish late war prototype fighter aircraft. Pilots will soon have the chance to take to the skies in the highly interesting VL Pyörremyrsky in War Thunder's upcoming update 1.93!
ZTZ96: Top-Tier Chinese
The ZTZ96, a modernized version of the Chinese ZTZ85, featuring a 125mm smoothbore cannon coupled to an autoloading mechanism and rounded off by composite armor protection.
Rank V in the War Thunder Navy: The USS Pensacola
In War Thunder update 1.93 "Shark Attack", a fifth rank will be added to naval forces featuring heavy cruisers and ships of even heavier classes. Today we're going to tell you about one of the first ships in rank V: the Pensacola, an American heavy cruiser.
A129 Mangusta
The A129 is the early prototype version of the Italian 'Mangusta' attack helicopter, developed by the Agusta company in the early 1980s. Coming to the game as part of War Thunder's upcoming update 1.93, players will soon have the chance to pilot the menacing Mangusta as the first Italian helicopter in the game!
Vickers Mk.7: The Steel Centaur
The Vickers Mk.7 will help bridge the gap between the Challenger MBTs at the top ranks of the British ground forces, with the superb mobility of the Leopard 2 chassis, a well-protected turret and powerful main gun.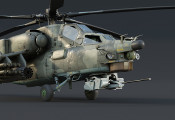 Mi-28N: Incoming Havoc
One of the best modern attack helicopters is coming to War Thunder: the famous Russian Mi-28N Havoc!
BMP-3 - Helping hand
A top-rank light armored vehicle in the Soviet line, armed with a 100mm gun and a 30mm autocannon!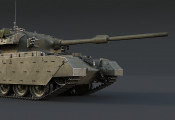 Centurion Action X - The Chiefturion
The Centurion Action X is an experimental variant of the Centurion main battle tank, developed during the early 1950s to feature the newly designed 'mantletless' turret - soon in War Thunder!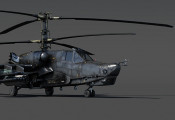 Ka-50 "Black Shark"
The legendary "Black Shark" will join the premium roster of the USSR/Russian helicopter tech tree.