News
Strv m/40L
Another new addition to the opening ranks of Sweden's armoured vehicle tech tree: the Strv m/40L light tank!
Stridsvagn m/31
We're launching a series of devblogs about Sweden's ground vehicles, which will be entering closed testing in the nearest future. So, let's kick things off with the Strv m/31 reserve tank.
BA-11: Tank on wheels
A Soviet premium BA-11 armoured vehicle on the chassis from a cross-country truck will be a prize for participants in the new "World War" season.
USS Phelps: Anti-Air Symphony
The first American destroyer leader, the Phelps, with her enhanced anti-air armament will be a reward for participants in World War.
SAAB J21A-1: Nordic Exotic
The SAAB J21 is a Swedish WWII-era twin-boom pusher configuration fighter aircraft, most famously known for its unique visual appearance. Coming to War Thunder as part of the Swedish aviation tree in update 1.95 "Northern Wind", all pilots will have the chance to take control of this highly unusual Swedish fighter aircraft!
New location: South Kvarken
It makes sense that major update 1.95 "Northern Wind" should bring with it a Northern location! We accordingly present to you a new arena for War Thunder naval battles - South Kvarken, a seashore of granite rocks and stone forts!
J32 Lansen: Flying Lance
The update is coming really soon, and it is time for us to get hands on with a top tier aircraft of the Swedish lineup. Say hello to the SAAB J32B Lansen jet fighter, which will be available in two variants - a strike aircraft and an interceptor.
Isuzu: Hard hitting Frigate
The Isuzu-class was a group of four frigates built for the JMSDF in the early 1960's as a replacement for older vessels in service at the time. Soon, Captains will have the opportunity to take command of this Japanese Cold War-era vessel, arriving on War Thunder as part of the upcoming update 1.95 "Northern Wind"!
Sendai: The Night Raider
The lead ship in the last class of Japanese interwar 5,500 ton light cruiser designs will soon steam into battle once more with its arrival in War Thunder as part of upcoming update 1.95 "Northern Wind"!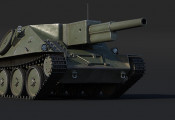 SAV 20.12.48: Nordic Sledgehammer
The SAV 20.12.48 was an experimental Swedish SPG, developed by the Bofors company. Coming soon as part of update 1.95 "Northern Wind", War Thunder tankers will have the chance to put this experimental design to the test and get a first taste of the Swedish ground forces coming in a future update!
Admiral Graf Spee: Outgunning the Opposition
Admiral Graf Spee was one of three Deutschland-class heavy cruisers built for the German Navy in the interwar period as replacements for older warships. In War Thunder update 1.95 "Northern wind", captains may look forward to commanding this legendary 'Panzerschiff',