News
SOMUA S.35 - Shield of The Republic
Today we're excited to present to you yet another familiar face when it comes to French tank designs, one of the best medium tank of the 1930s, the SOMUA S.35 medium tank!
SAu 40 - The Ugly Duckling
The SAu 40 is a prototype French SPG, constructed at the dawn of the Second World War with the intent to equip light mechanized divisions of the French army. Although it's unclear whether the vehicle has taken part in active combat during the Invasion of France in 1940, War Thunder tankers will see the SAu 40 on the battlefields of War Thunder in the upcoming 1.75 update!
Char B1ter: A Blast From The Past
The Char B1 remains one of France's most iconic WW2 era tanks not just due to its instantly recognizable visual appearance, but also due to its widespread use during the Invasion of France in 1940.
AMX-13 SS.11
The AMX-13 SS.11 is a modernized version of the well-known AMX-13 light tank developed in the late 1940s. This Cold War version of the tank was retrofitted with ATGMs to complement its 75mm cannon, in an effort to boost the vehicle's effectiveness against hostile armour.
North sea + Navy test schedule
We are introducing a new location for naval battles - "North Sea". This location was inspired by the landscape of the Frisian Islands.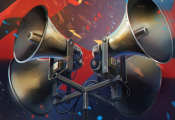 LeO 451 Early: Catch Me If You Can!
The LeO 451 is a French medium bomber, developed in the mid 1930s as part of a plan to increase the numbers of strategic bombers within the ranks of the newly formed Armée de l'air. Let's take a closer look at what this very capable little French bomber has to offer.
A-35B: The American Legionnaire
The American Vultee A-35B dive bomber didn't really catch on in its homeland, but it received a warm welcome in the air force of Free France!
M.S.410: The Duelist
The MS.410 is a further development of the Morane-Saulnier MS.406 fighter, developed in France in March 1940. Let's take a closer look at one of the aircraft available to pilots in the lower ranks of the French aviation tree in update 1.73 "Vive la France".
NC.223.3: let nobody leave unsatisfied!
The French bomber NC.223.3 is a seriously refined version of another starter-level bomber, the F.222. Four engines, an incredibly huge bomb load and cannon turrets!
Dewoitine D.501: Lost But Not Forgotten
At the time of their introduction to service, aircraft of the D.500 series were among the most advanced in the world. Meet one of the versions of the series, the Dewoitine D.501!