News
BMP-2: Experienced Support
The new Soviet infantry combat vehicle was designed with consideration for the strengths and weaknesses of its predecessor, the BMP-1.
TAM - Replacing The Old Guard
The TAM is a highly compact, mobile and deadly Argentinian medium tank that will provide German tankers with a very capable frontline scout at the higher ranks.
Mi-24A: The impeccable Hind
The first version of the most mass-produced military helicopter of the Eastern Bloc – the Mi-24A. Meet the forerunner of a magnificent military dynasty in War Thunder!
Vietnam Location (air)
We are proud to present you with a new location for aircraft battles: "Vietnam", which is spread out over 128x128 km!
AH-1G Cobra: Strike Fast, Strike Hard
The AH-1G Cobra is a dedicated attack helicopter design, derived from the well-known UH-1 Huey, which primarily supported the combat actions of U.S. forces in the Vietnam War. Keep your head inside your hatch tankers, the Cobra is coming in hot with the release of War Thunder update 1.81 The Valkyries!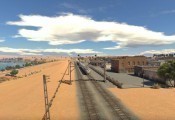 American Desert Location
A charming small town in the Arizona desert will be a new battlefield for War Thunder's ground vehicles. War is coming to the New World!
Leopard 1 with the Rheinmetall 120mm L44
This late prototype of the Leopard 1, developed in the 1980s, is a proof-of-concept that the Rheinmetall 120mm cannon could be fitted on the Leopard 1 chassis. This highly interesting member of the Leopard 1 family will soon join the ranks of the German ground forces tree as a new rank V premium vehicle, coming to the game with the release of update 1.81!
AGM-12B Bullpup: They can't dodge
The first guided American air-to-ground missile and a unique weapon system will become available in War Thunder as part of the ongoing Good Old S.U.M.M.E.R event marathon!
TAM and M247 Sergeant York
We're pleased to give you a sneak peek at some of the new tanks and armoured vehicles for the upcoming major update 1.81. You are among the first to find out!
Char 25t and T-80B
Another two awesome combat craft to be added to War Thunder with the upcoming major update 1.81. Meet the French light tank Char 25t, and a new Soviet top-tier - The T-80B main battle tank!