System Requirements
Minimum
OS: Windows 7 SP1/8/10 (64 bit)
Processor: Dual-Core 2.2 GHz
Memory: 4GB
Video Card: DirectX 10.1 level video card: AMD Radeon 77XX / NVIDIA GeForce GTX 660. The minimum supported resolution for the game is 720p.
Network: Broadband Internet connection
Hard Drive: 17 GB
Recommended
OS: Windows 10/11 (64 bit)
Processor: Intel Core i5 or Ryzen 5 3600 and better
Memory: 16 GB and more
Video Card: DirectX 11 level video card or higher and drivers: Nvidia GeForce 1060 and higher, Radeon RX 570 and higher
Network: Broadband Internet connection
Hard Drive: 95 GB
Minimum
OS: Mac OS Big Sur 11.0 or newer
Processor: Core i5, minimum 2.2GHz (Intel Xeon is not supported)
Memory: 6 GB
Video Card: Intel Iris Pro 5200 (Mac), or analog from AMD/Nvidia for Mac. Minimum supported resolution for the game is 720p with Metal support.
Network: Broadband Internet connection
Hard Drive: 17 GB
Recommended
OS: Mac OS Big Sur 11.0 or newer
Processor: Core i7 (Intel Xeon is not supported)
Memory: 8 GB
Video Card: Radeon Vega II or higher with Metal support.
Network: Broadband Internet connection
Hard Drive: 95 GB
Minimum
OS: Most modern 64bit Linux distributions
Processor: Dual-Core 2.4 GHz
Memory: 4 GB
Video Card: NVIDIA 660 with latest proprietary drivers (not older than 6 months) / similar AMD with latest proprietary drivers (not older than 6 months; the minimum supported resolution for the game is 720p) with Vulkan support.
Network: Broadband Internet connection
Hard Drive: 17 GB
Recommended
OS: Ubuntu 20.04 64bit
Processor: Intel Core i7
Memory: 16 GB
Video Card: NVIDIA 1060 with latest proprietary drivers (not older than 6 months) / similar AMD (Radeon RX 570) with latest proprietary drivers (not older than 6 months) with Vulkan support.
Network: Broadband Internet connection
Hard Drive: 95 GB
War Thunder Market: new trophy with user-created camos!
A new trophy with vehicle camouflages is already in the game! We are pleased to introduce the update 1.87 "Locked on!" trophy! This time we selected 40 different camouflage variants for the War Thunder vehicles for all forces types represented in the game from 25 different authors from WT:LIVE: 20 for ground vehicles, 14 for aircraft, 2 for helicopters and 4 for ships.
Here are some examples of what you can find in the chest:
"Locked on!" trophy drops with a specific probability and periodicity in random battles in all modes (except for the cooperative PvE "Assault" mode).
The minimum requirements for obtaining a trophy: participate in a battle in a vehicle of rank III and higher whilst achieving 50% of activity or higher.
Along with the new trophy, two old ones can also drop, but the probability of obtaining a new trophy is much higher.
To open the trophy, you will need a new "Locked on! I" key, which can be purchased on the Market for GJN.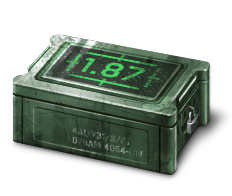 The rarity of the camouflage will be determined by its popularity on the Market.
In addition to a camouflage you can get a "Locked on!" decal or coupon for a rare vehicle.
For the PlayStation 4® and Xbox One players the key and trophy will be available for Golden Eagles in the in-game item shop.