News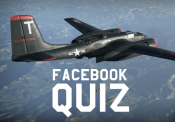 500k - Facebook Mastermind Quiz
To mark the occasion of achieving 500k followers in Facebook, we would like to offer up a nice little competition for all our players.
Team Deathmatch: Win rare vehicles!
Win the rare finnish KV-1B tank and American XF5F aircraft in our weekend Team Deathmatch special, where you only have to worry about one thing: Shooting down the enemy!
Tank Duels: Crusader vs Pz.III at El Alamein
New duels, new faces, tankers! From the 26th of February you will have the opportunity not only to participate in historical battles in the Pz III J and the Crusader Mk II, but also unlock completly new tanker profile icons if you will be one of the best duelists!
Valentine's Day in War Thunder
The Archer will be firing its arrows from cupid, and the Valentine will make sure the message of affection is received. Join in the fun with the perfect match made in heaven.
Air Duels: Spitfire vs Bf.109
Take part in Air Duels whilst flying late-war Bf 109 and Spitfire aircraft. Destroy the enemy and receive 'Supply Boxes' containing valuable items!
Tank Duels: Т-34-85 vs М26
Two different schools of tank engineering that once faced a common enemy. The USSR and the USA - each one of them followed their own way that depended on technological advances and battle experience.
Air Duels: Ju 87 vs IL-2
Man your Junkers Ju 87 or Ilyushin IL-2 in War Thunder this weekend, and earn valuable in-game prizes by destroying ground targets!
Golden Battles in War Thunder!
Let us thaw out in January with some Golden Battles! Earn up to 1 000 Golden Eagles by winning battles this sunday! Enjoy!
Heroes of War Thunder!
Earn bags full of Silver Lions as well as Golden Eagles and become a Hero of War Thunder, by fulfilling heroic deeds in battles over the next week.
War Thunder Fulfills Your Wishes!
It's Marathon time! Pilots and tankers, participate in Winter Holiday marathon and win unique vehicles, personal discounts, premium accounts, boosters and a unique 2016 new year decal!
Holiday Bundles
Holiday bundles available in the store with a 40% discount!