News
Festive Quest
Dive into our Festive Quest - collect the toys and light up the light bulbs on the Christmas tree and receive rare premium vehicles and other valuable prizes!
Share your achievements!
Especially for you, we have collected statistics over the past year! Look at it, share it with your friends and in social media like Facebook, Google+ and Twitter and brag to the coolest players.
Festive events!
we have prepared two holiday fun events for you, with a special doggo decal!
Festivities in War Thunder
We do love the festive holidays for uniting people, and we would like to share our passion with all of you!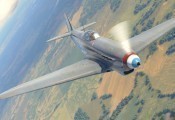 War Thunder 5 years!
An impressive number, isn't it? November the first is getting closer - the day when we reach the age of five. This was possible only thanks to your support and we endeavour to make this date special for you too!
Hurry up and get rare packs!
To celebrate the fifth anniversary of War Thunder, we are offering 50% discount for all vehicle packs in the store!
Friday the 13th: True Slasher
Friday the 13th. This day is veiled by dark prejudices and mysteries. Turn this day into a true nightmare for your enemies! Slash your opponents in random battles to get grim prizes!
German Unity Day
From 14:00 GMT on the 3rd of October until 09:00 GMT on the 5th of October - activate a code and receive the Bf 109A Flegel or the Pz.II DAK.