News
T-72B: Necessary Improvements
A new Soviet top rank tank with good frontal protection and guided munitions will burst into high rank battles with the release of the War Thunder update 1.97 "Viking Fury"!
Lightning F.6: Saddled to a Skyrocket!
The English Electric Lightning is a British supersonic Cold War jet fighter and remains to date one of the few British domestically built aircraft, capable of reaching Mach 2. War Thunder pilots may look forward to the arrival of the long awaited and much anticipated Lightning, coming soon to the game with update 1.97!
Kamov Ka-29: Nimble Fatboy
The Ka-29 is an assault transport variant of the Soviet Ka-27 anti-submarine warfare helicopter, coming to War Thunder as part of the upcoming update 1.97.
New location "Sweden"
We present to you a new location for combined battles - "Sweden"! It will appear in the game with the release of the update 1.97 "Viking Fury".
Pvkv II: Glass Cannon
The Pvkv II is an experimental tank destroyer, coming to the game as part of the new Swedish ground forces tree in the War Thunder's upcoming update 1.97!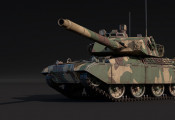 AMX-32: Further Improvements
The AMX-32 is an improved variant of the AMX-30 main battle tank, and will soon reinforce the French top ranks in the upcoming update 1.97!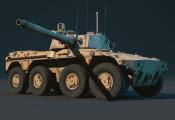 Rooikat 105: The Cat With Bigger Claws
The Rooikat 105 is a further development of the South African Rooikat armored fighting vehicle, developed in the mid 1990s with the intention of upgunning the design's base model. Soon, War Thunder tankers will have the chance to add this South African gem to their in-game collection, following its arrival with update 1.97!
Ikv 103: HEAT mortar
The Ikv 103 self-propelled artillery unit will replace the Swedish SPGs of the Second World War period in the game. It will become one of the main vehicles for battles at low rank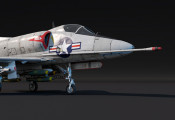 Lago I: The Medium From the North
The Lago I was an early 1940's medium tank, developed by the AB Landsverk company and represents the first true Swedish medium tank to be constructed. Soon, tankers in War Thunder will have the chance to take out the Lago I into battle!
Stormartillerivagn m/43
Sav m/43 ground vehicles will be the most common Swedish SPG's in starting-rank battles. Let's talk about them in more detail.