News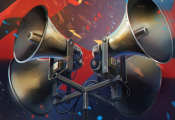 New music!
In update 1.77 "Advancing Storm" you will now be accompanied with the music from the nation for which you are playing, and for the newly added nations we have recorded new tracks which we present to you now!
Modern Tank Realism and Balance
Modern tanks can be challenging in terms of creating accurate 3D models and making them behave authentically, as most tank data is still classified. Let's have a look on how it was done.
Re.2000: The Italian Falcon
In War Thunder update 1.77 Advancing Storm, we are launching the long-awaited branch of Reggiane Italian fighters. Say hello to the first model – the Re.2000 serie 1!
Spitfire Mk.V: model update and new modifications
In the upcoming update 1.77 "Advancing Storm" for War Thunder, fans of British aviation may look forward to the release of updated high quality models for both currently present Spitfire Mk.V versions in the game. As a bonus, two further modifications of the aircraft will become available to all War Thunder pilots. Let's take a closer look!
Kawasaki Ki-108: The Final Dragon Slayer
The Ki-108 is a prototype late-war, high-altitude army interceptor design derived from the Ki-102 and is one of the last Japanese heavy fighter designs of WW2. Since the Ki-108 along with many other highly advanced Japanese aircraft were kept in reserve for the defense of the home islands, it never saw any actual combat. However, this is about to change with War Thunder's update 1.77, so get ready to rewrite history!
Martin 167-A3: American Mercenary
The success of A-20 prevented the Martin 167 to enter service with U.S. forces, it soon found its way to war-torn Europe, where it faithfully served with nations like France and the UK until the end of the war. Pilots may expect the Martin 167 A3 to reinforce the ranks of the Armée de l'Air in the upcoming update 1.77 "Advancing Storm"!
Heinkel He 177 A-5 Greif: The Flaming Arrow
Several user made vehicles have made it to the game in the past under the War Thunder revenue share program and we are pleased to announce that another user made creation will be making its way to the game with update 1.77 "Advancing Storm". Pilots, welcome the long-awaited German He 177 "Greif" strategic heavy bomber to War Thunder!
Squadron squads
One soldier does not make a battle, but two soldiers do make a squad! We have created a special feature for people who like team play in War Thunder.
M1 Abrams: The Desert Warrior
The M1 Abrams is charging at full speed to the top ranks of War Thunder's ground battles with the upcoming update 1.77 "Advancing Storm". Get ready!