News
US Air Force day - get the XF5F Skyrocket
Are you fond of U.S. aircraft? Don't miss your chance to get a rank III gift XF5F Skyrocket. Complete tasks of the special to receive a gift U.S. fighter and unique decals.
The La-174 is back!
Do not miss your chance to research and buy a rare jet fighter - the La-174 !
Russian Air Force 105th anniversary
August 12th is the official day of Russian Air Force. From all of us at Gaijin: We wish you blue skies, a reliable engine and a good landing which you can walk away from!
Air race in the Guiana Highlands
Let's race! A new track in the Guiana Highlands location. Our player Alexey aka _Gilard_ has created the longest track that is not looped. Be ready for unexpected turns, use the map wisely and don't use 100% throttle.
War Thunder Chronicles
On the eve of the Day of Victory on the 9th of May you will be able to tread the path of glory, use your skills and get rewards that are worthy of real winners! WWII chronicles has begun!
Valentine's Day
Dear players, Valentine's day in War Thunder will bring more love - and you may share it with others and win valuable prizes!
Seasonal Sizzlers in War Thunder
2017 is on its way! The entire War Thunder team wishes you a great time and invites you to include your favourite game as part of the fun!
Seasonal discounts
Seasonal discounts - from December the 24th until January the 5th, join the game and enjoy discounts for vehicle modifications and of course, vehicles of different nations!
War Thunder Winter Holiday
Get the max from the outgoing year! 4 highly collectible vehicles for tankers and pilots are waiting for you, as well as dozens of the New Year trophies.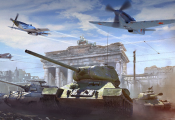 Mega bundles at 70% off
We congratulate you on the release of War Thunder and the upcoming Holidays, and present incredible seasonal offers in the Gaijin.net store.
Battle of Britain
We have prepared a special offer for you this weekend – a special bundle with a 30% discount and special event, dedicated to the Battle of Britain