News
IS-7, an old school heavy tank
Old-school heavy tank, the IS-7 it was the heaviest, most powerful, and well armored Soviet tank in the first half of the 20th century! Let's have a look at this monster.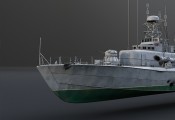 Project 206: The Red German
The Project 206 is a fast and deadly Soviet torpedo boat design of rank II of the German naval tree, equipped with rapid-firing autocannons and four torpedo launchers
Kanonenboot K-2: The Dutch Conscript
The Kanonenboot K-2 is a gunboat initially laid down by the Dutch in the late 1930's for their navy, but was later captured, finished and used by the German Kriegsmarine during WW2 and it was the Germans who named it "Type K". The K-2 will be one of the higher ranking German vessels awaiting War Thunder captains in the closed beta testing of naval forces.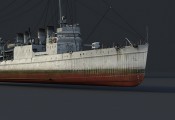 USS Barker: A Sailor's Guardian Angel
The USS Barker is one of the American Clemson-class destroyers that will be available to all participants of the naval closed beta testing. Her small size, high speed and deadly armaments allow her to effectively hunt both smaller vessels as well as support larger ships in battle.
Trophies and Rewards in Naval Battles
Unlike air and ground battles, destroying a naval unit requires more effort and time. This feature of naval battles caused us to rework the existing trophy system. The more damage you do to your enemy, the better the reward will be.
Siebelfähre SF 40 Schwere
Conceived as a makeshift landing craft intended to be used for the planned naval invasion of Britain, the Siebelfähre was a modular German transport barge, often equipped with heavy weaponry, tasked with assisting landing troops. Aspiring captains will have the opportunity to command the intimidating Siebelfähre in the upcoming closed beta testing of War Thunder's naval forces!
LCS (L)(3): Mighty Midget
An American artillery vessel available in the navy closed beta test. Armed with a 76 mm cannon and an excellent set of auto cannons, her dense fire literally chews up small ships and aircraft!
USS Trenton: The Royal Rescuer
USS Trenton is one of the ten American Omaha-class light cruisers constructed during the interwar period and will be among the first light cruisers to set sail under the banner of the U.S. Navy in the upcoming closed testing for War Thunder's naval battles.
Emden Light Cruiser: For a New War
The Emden light cruiser was the first large military ship built in Germany after World War I. Currently, she is the most powerful German vessel in the War Thunder closed beta fleet test.
Protection Analysis
This function will allow you to view your vehicles armour protection including factors such as type of shell fired at its armour, the distance of the shot fired and the overall effects on your defensive capabilities all from the hanger.