News
XM803: The Second Chance
After the unsuccessful joint MBT-70 project, the American Congress approved funding for the development of a cheaper version of the MBT-70, called the XM803. Fans of US ground vehicles can look forward to the introduction of the XM803 to the game with War Thunder's upcoming update 1.79!
Magach 3: New Defensive Abilities
We've added new modules for the incredible Magach 3 tank: explosive-reactive armour and smoke grenades. All owners of this tank will get these modules free when War Thunder update 1.79 is released!
Kawasaki Ki-32: The Bomber of Three Armies
The Ki-32 is a Japanese light bomber developed in the mid 1930s. Used extensively in the Asian theatre of war before and after WWII, the Ki-32 is now zeroing in to the Japanese aviation tree with the upcoming War Thunder 1.79 update!
I.A.R. 81-C: Supporting the Axis
The I.A.R. 81-C is the final wartime modification of one of the most well known domestically produced Romanian WW2 military aircraft. Thanks to the War Thunder revenue share program, the I.A.R. 81-C will once more take to the skies as a new user-made vehicle, coming to the game with the upcoming update 1.79!
Chieftain Marksman: Top Scoring Shooter
War Thunder tankers will soon have the chance to sweep the skies clear with the new Chieftain Marksman SPAA coming to War Thunder as part of the upcoming update 1.79!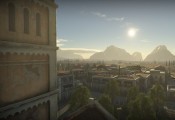 New Location: Italy
Countless battles have already unfolded in the Mediterranean theatre in War Thunder, but with update 1.79 tankers will get the chance to fight on the first Mediterranean ground map set in the Reggio Calabria province!
Centurion AVRE: Engineer at War
The Centurion AVRE is an engineering vehicle based on a tank, equipped with a bulldozer scoop, reactive armour and a special cannon designed to destroy buildings and fortifications – with almost 16 kg of explosives in every shot!
T-64BV: Defence Reaction
The T-64BV is a new researchable modification for the T-64B tanks, which adds a reactive set in War Thunder update 1.79. Pimp the tank!
Type 90: The Lightweight Heavy Hitter
The Type 90 is a Japanese third generation main battle tank, developed in the late '80s as a replacement to the outdated Type 61 and Type 74. Coming with update 1.79, fans of Japanese ground vehicles may expect the arrival of the long-awaited Type 90 to the top ranking battles of War Thunder!