System Requirements
Minimum
OS: Windows 7 SP1/8/10 (64 bit)
Processor: Dual-Core 2.2 GHz
Memory: 4GB
Video Card: DirectX 10.1 level video card: AMD Radeon 77XX / NVIDIA GeForce GTX 660. The minimum supported resolution for the game is 720p.
Network: Broadband Internet connection
Hard Drive: 17 GB
Recommended
OS: Windows 10/11 (64 bit)
Processor: Intel Core i5 or Ryzen 5 3600 and better
Memory: 16 GB and more
Video Card: DirectX 11 level video card or higher and drivers: Nvidia GeForce 1060 and higher, Radeon RX 570 and higher
Network: Broadband Internet connection
Hard Drive: 95 GB
Minimum
OS: Catalina v.10.15 or newer
Processor: Core i5, minimum 2.2GHz (Intel Xeon is not supported)
Memory: 6 GB
Video Card: Intel Iris Pro 5200 (Mac), or analog from AMD/Nvidia for Mac. Minimum supported resolution for the game is 720p with Metal support.
Network: Broadband Internet connection
Hard Drive: 17 GB
Recommended
OS: OS Big Sur v. 10.16 or newer
Processor: Core i7 (Intel Xeon is not supported)
Memory: 8 GB
Video Card: Radeon Vega II or higher with Metal support.
Network: Broadband Internet connection
Hard Drive: 95 GB
Minimum
OS: Most modern 64bit Linux distributions
Processor: Dual-Core 2.4 GHz
Memory: 4 GB
Video Card: NVIDIA 660 with latest proprietary drivers (not older than 6 months) / similar AMD with latest proprietary drivers (not older than 6 months; the minimum supported resolution for the game is 720p) with Vulkan support.
Network: Broadband Internet connection
Hard Drive: 17 GB
Recommended
OS: Ubuntu 20.04 64bit
Processor: Intel Core i7
Memory: 16 GB
Video Card: NVIDIA 1060 with latest proprietary drivers (not older than 6 months) / similar AMD (Radeon RX 570) with latest proprietary drivers (not older than 6 months) with Vulkan support.
Network: Broadband Internet connection
Hard Drive: 95 GB
In this digest we would like to tell you about our continuing work on improvements and fixes in the game. You can find information about all updates that have been released in War Thunder in the website special section.
This time the list of improvements is smaller than usual: we're very busy preparing the upcoming major update!
Clearer achievement progress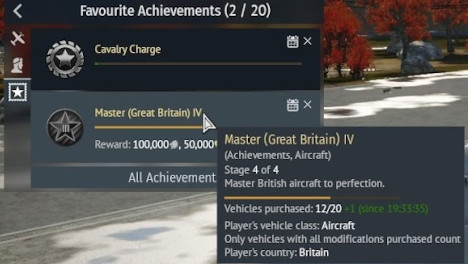 Many achievements require hard work that can take several days or even weeks. Wouldn't it be great if you could see how much you've done in a productive gaming session? Or in a week?
That's why we've implemented a new checkpoint feature. When you press the "Remember current progress" button on an achievement in the "featured achievements" menu, the game saves date, time, and current progress of the selected achievement. And in the future if you want to check how close you got to completing the task, the game will show how many progress points you've received since setting up the checkpoint. It sure is great to see the fruits of your labour, isn't it?
Personal tasks
Our improvements aren't limited to just achievements! After all, there are also Battle Pass Challenges and Battle Tasks. We added a "Personal tasks" menu to the game that allows you to check your progress in various tasks and achievements up until the start of the mission mid-battle!
You can find the "Personal tasks" button at the bottom of the respawn window, next to the "Orders" and "To battle!" buttons. Use it well!
Overwriting presets
We found the root of the problem that caused the players' vehicle presets to overwrite each other — and fixed it. It happened, for example, when the player was using different PCs: the preset chosen on one device overwrote the preset that was active on the other.
The issue also manifested on the PlayStation consoles, but in a different way. Upon closing the game client, there was a chance that the vehicle preset chosen by the player could save itself in the final slot, destroying the preset that was already there.
That's Not All
You'll find the full list of improvements in the separate changelog — there are many interesting things there. Night vision won't get enabled on vehicles that don't have it, and console versions of the game no longer freeze in the "Maginot Line" location.
Once again, many thanks for all your bug reports that you submitted using our special service.