News
Challenger 1: A Worthy Heir
In the forthcoming War Thunder 1.77 update tankers can finally take control of one of the most potent fighting vehicles of the 20th century: the Challenger 1.
La-200: The High-Speed Kite
The La-200 is a Soviet prototype jet interceptor that was developed to carry a new type of radar system. War Thunder pilots will be able to prove the merits of the La-200 when it soars into War Thunder with update 1.77!
Leopard 2K: A Legend In The Making
Once it was clear that the US-German jointly developed MBT-70 project was doomed to fail, German engineers began working on a new MBT design. The result was the development of the Leopard 2K, of which about a dozen different prototypes were produced. And one of these Leopard 2K versions arrives on the battlefield in the upcoming War Thunder update 1.77!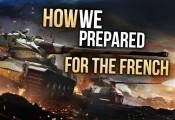 ARL-44 - A Battleship in Disguise
The ARL-44 is a post-war heavy tank project, purely intended for French engineers to refresh their knowledge on tank development after the end of the occupation period.