News
Begleitpanzer 57: Bofors/Marder united at last!
What happens if you install a rapid-firing ship cannon and guided rockets on a light tracked chassis? Meet the Begleitpanzer 57, a light top-tier tank in the German branch of War Thunder!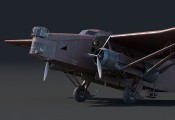 Farman F.222.2: Big! Heavy! Yours!
The Farman F.222 is an early 1930s French high-winged heavy bomber, powered by four engines set up in an unconventional push-pull configuration.
French aircraft cockpits
Today, we can finally present to you some of the cockpits for the new French aircraft announced in our development diary!
Arsenal VG.33: Air Diver
The Arsenal VG.33C-1 is another light fighter aircraft design, developed to quickly bolster the numbers of fighters available to the French Air Force in preparation for the expected Invasion of France in the 1940s. 
Caudron CR.714: Racing Breed
The Caudron CR.714 is a lightweight, pre-WW2 fighter aircraft, developed to be mass produced quickly and at low cost, in hopes of increasing the number of aircraft available to the French Air Force.
Potez P.631: Attacker's Apprentice
The Potez P.630 and P.631 are sibling heavy fighter designs, developed in the mid 1930s for the French military. At the outbreak of WW2, this aircraft, along with several others, formed the backbone of the French air force at the time.
Dewoitine D.371: Aerial Trickster (Pre-Order available)
We're starting a series of developer diaries about the French military aircraft that will appear in update 1.73! The D.371 monoplane was one of the first attempts by French aircraft designers to create a next-generation airplane that significantly outclassed the good old biplanes of the First World War.
Shell and bullet synchronization
In the recent update we implemented changes that will significantly improve shell (bullet) synchronization between a client and the server.
Object 120 "Taran": The Hammer of Tanks
Today we're going to tell you about another premium rank V ground vehicle in update 1.71 New E.R.A – the experimental Soviet SPG Object 120 "Taran", with the longest and possibly the most powerful cannon in the game!