News
Quarantine maneuvers in War Thunder
From a recent publication on the US Army's website we learned that members of the military maintain readiness while practicing social distancing by playing War Thunder. We are pleased to support this initiative and help crews of modern tanks and helicopters maintain morale and skill while staying home in complete safety.
Happy International Women's Day!
Each year, many countries around the world celebrate International Women's Day on the 8th of March. It's no different in War Thunder!
Defender of the Fatherland
After 100 years, former Soviet Union countries still commemorate the "Defenders of the Fatherland" day. As we are all one big happy family in War Thunder, we can all benefit from this holiday.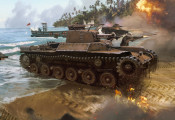 Festive events!
We celebrate the New Year, friends! Discounts and sales are already waiting for you and we will add some fun events with a decal prize of the coming New Year!
Halloween in War Thunder!
On this night, demonic forces will try again to break through into our world! Participate in our in-game races and earn cool decals and decorations!
Naval Enduring Confrontation - La Manche (RB)
We invite you to take part in the naval forces Enduring Confrontation event, which will allow you to experience naval scenarios which you may already be familiar with if you've participated in aircraft Enduring Confrontation events.
Naval Enduring Confrontation
We invite you to take part in Naval Enduring Confrontation in which you will experience completely new scenarios.
Battle of Britain
On September 15th, 1940, the German air force began a massive attack on London. More than 1500 aircraft took part in that attack. British pilots managed to repel this enormous strike, making ground landing operations impossible for Germany.
The Battle of Kursk
We continue our passion for historical events in War Thunder and now invite you to participate in one of the most significant battles of WWII - The Battle of Kursk.
Russian Air Force Day
Win battles in Soviet aircraft and get one of the memorable decals to celebrate Russian Air Forces day!