News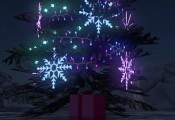 Festive delivery
Tonight Santa has been in a huge rush, and accidentally lost his bag! All his presents fell into water! Two teams of Christmas elves are here to help Santa!
Halloween in War Thunder!
According to old beliefs, evil spirits, during the night of the 1st of November, might do more than just interfere with your shells; so, wouldn't it be fitting if you were to take the place of these evil spirits? Take part in spooky races in the sky, and on the ground, to win some prizes!
Enduring confrontation series - Ardennes
Within a month, weekend Realistic Battles pilots will be able to participate in the event tab in different "Enduring Confrontation" missions with historical setups.
Tanker day of Russia
We are preparing for an important event for the game - update 1.81 "The Valkyries" and to brighten up the waiting we have a special event for you.
Friday, July 13th: "Bad Turn"
The deep forests reveal their terrible secrets when you take a wrong turn. Friday the 13th is here, and that means a new horrifying adventure awaits you! Cannibals put out traps and their wicked laughter echoes through the forest. Things are taking a bad turn!