System Requirements
Minimum
OS: Windows 7 SP1/8/10 (64 bit)
Processor: Dual-Core 2.2 GHz
Memory: 4GB
Video Card: DirectX 10.1 level video card: AMD Radeon 77XX / NVIDIA GeForce GTX 660. The minimum supported resolution for the game is 720p.
Network: Broadband Internet connection
Hard Drive: 17 GB
Recommended
OS: Windows 10/11 (64 bit)
Processor: Intel Core i5 or Ryzen 5 3600 and better
Memory: 16 GB and more
Video Card: DirectX 11 level video card or higher and drivers: Nvidia GeForce 1060 and higher, Radeon RX 570 and higher
Network: Broadband Internet connection
Hard Drive: 95 GB
Minimum
OS: Catalina v.10.15 or newer
Processor: Core i5, minimum 2.2GHz (Intel Xeon is not supported)
Memory: 6 GB
Video Card: Intel Iris Pro 5200 (Mac), or analog from AMD/Nvidia for Mac. Minimum supported resolution for the game is 720p with Metal support.
Network: Broadband Internet connection
Hard Drive: 17 GB
Recommended
OS: OS Big Sur v. 10.16 or newer
Processor: Core i7 (Intel Xeon is not supported)
Memory: 8 GB
Video Card: Radeon Vega II or higher with Metal support.
Network: Broadband Internet connection
Hard Drive: 95 GB
Minimum
OS: Most modern 64bit Linux distributions
Processor: Dual-Core 2.4 GHz
Memory: 4 GB
Video Card: NVIDIA 660 with latest proprietary drivers (not older than 6 months) / similar AMD with latest proprietary drivers (not older than 6 months; the minimum supported resolution for the game is 720p) with Vulkan support.
Network: Broadband Internet connection
Hard Drive: 17 GB
Recommended
OS: Ubuntu 20.04 64bit
Processor: Intel Core i7
Memory: 16 GB
Video Card: NVIDIA 1060 with latest proprietary drivers (not older than 6 months) / similar AMD (Radeon RX 570) with latest proprietary drivers (not older than 6 months) with Vulkan support.
Network: Broadband Internet connection
Hard Drive: 95 GB
"Battle Buddies" tournament and Twitch Drops
The NOAIM and eSportsReady communities invite you to take part in 2v2 esports tank battles in realistic mode. Watch live streams on eSportsReady twitch channels and earn prizes for watching the "Battle Buddies".
Register your team until August 27th (20:59 GMT)
The tournament will involve teams of 2 players (without reserve players). To register a team, please visit the tournament page.
Rewards
1st place — 2 x 20,000 Golden Eagles
2nd place — 2 x 15,000 Golden Eagles
3rd place — 2 x 10,000 Golden Eagles
4th place — 2 x 5,000 Golden Eagles.
The total GE prize fund of the tournament is 100,000 Golden Eagles and will be divided up between the participants who place 1 to 4. Players who finish in places 1 to 13 will also receive premium accounts, boosters, "NOAIM" and "eSportsReady" decals as well as other commemorative titles and decals.
Brief rules
The "Battle Buddies" tournament will be held from August 28th until September 5th. Battles and broadcasts will be held in accordance to the schedule on the tournament info page.
Game mode: Realistic Battles
The tournament will be held according to a complete double elimination system.
Up to 256 teams are allowed. The maximum number of teams may be increased before registration is over.
Vehicles: ground vehicles of ranks IV to VI from the following gaming nations: USA, USSR, Britain, France, Germany, Italy, Japan, China and Sweden.
Locations: Advance to the Rhine, Sinai, Jungle, Carpathians, Japan, Sweden and Bulge.
How to take part in TSS tournaments?
▼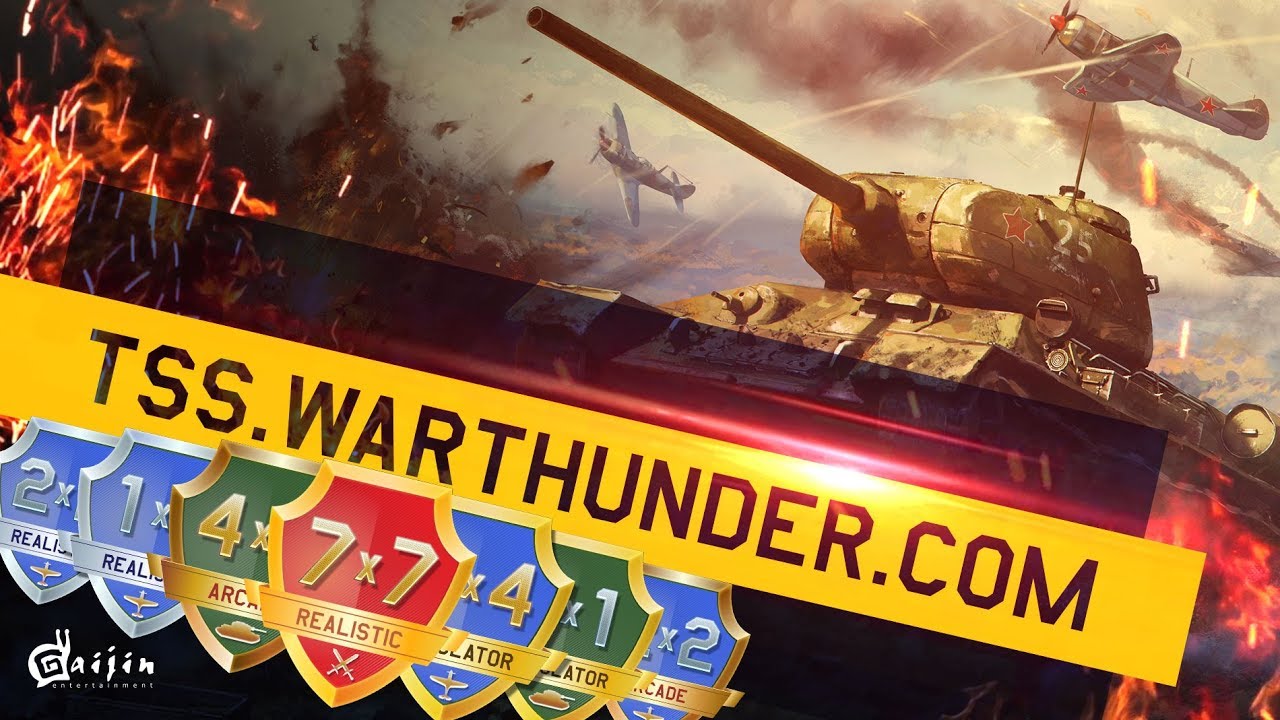 Twitch Drops (28th to 29th of August and 4th to 5th of September)
Drops are nice bonuses for stream viewers on "Twitch"! You can get awards on your War Thunder account just by watching streams with an activated account on Twitch Drops feature.
Prizes for viewers
For watching the broadcasts, you can get the Battle Friends decal, as well as the following camouflages: 33rd Armor Regiment for M60, 41st Armored Brigade for Leopard I and "BattleBuddies" for STB-1.
— What are Twitch Drops?
Twitch Drops are special prizes a viewer can get in games they watch on Twitch.
---
— Can I get something in War Thunder?
Yes! The longer you watch the War Thunder streams with "Drops enabled!" label on esportsreadyru, sportsreadywt, esportsreadyde, esportsreadyfr or esportsreadyes, the better chance to win you have!
---
— Nice! What should I do to get the prizes?
You have to link your Twitch and Gaijin accounts:
Register or log in on Twitch.
Enter your Gaijin account details on this page, and press the "Link" button.
Press the "Allow" button. That's all!
---
— How will I know about the prize?
You will receive a message about the reward on the Twitch broadcast page. After that, you can find it in the game.
ATTENTION! You must click on the Get button in your Twitch inventory before each Twitch Drops campaign ends - September 6th at 03:00 GMT! You will no longer be able to receive rewards later!
---
— What broadcasts do I need to watch to get the Twitch Drops prizes?
Watch the "Battle Buddies" tournament streams on eSportsReady channels:
---
— What platforms are prizes allowed for?
War Thunder prizes can be obtained for PC, PlayStation®4, PlayStation®5, Xbox One and Xbox Series X|S versions.
If you play the console version of War Thunder, you have to link yourPlayStation Network/Xbox Live and Gaijin accounts.