News
Aircraft tournaments "Deathmatch" and "Battle DUO"
This weekend real air battles will unfold in the skies of War Thunder in which pilots will demonstrate their combat skills in popular aircraft. Choose any game mode and win awards alone or with your team mate!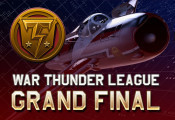 Finals of the Second Season of War Thunder League
Fellow War Thunder Players! We announced the start of the Second season of War Thunder League in August. Today we introduce the tournament ratings that will allow you to participate in the finals of the season.
Second Season of the War Thunder League
The main eSports event of War Thunder continues and we announce the start of the second season of the War Thunder League, which will get even better with your participation! 
The War Thunder YouTube Cup
Famous War Thunder bloggers and streamers from all over the world will meet in a large-scale YouTube Cup tournament!