System Requirements
Minimum
OS: Windows 7 SP1/8/10 (64 bit)
Processor: Dual-Core 2.2 GHz
Memory: 4GB
Video Card: DirectX 10.1 level video card: AMD Radeon 77XX / NVIDIA GeForce GTX 660. The minimum supported resolution for the game is 720p.
Network: Broadband Internet connection
Hard Drive: 17 GB
Recommended
OS: Windows 10/11 (64 bit)
Processor: Intel Core i5 or Ryzen 5 3600 and better
Memory: 16 GB and more
Video Card: DirectX 11 level video card or higher and drivers: Nvidia GeForce 1060 and higher, Radeon RX 570 and higher
Network: Broadband Internet connection
Hard Drive: 95 GB
Minimum
OS: Catalina v.10.15 or newer
Processor: Core i5, minimum 2.2GHz (Intel Xeon is not supported)
Memory: 6 GB
Video Card: Intel Iris Pro 5200 (Mac), or analog from AMD/Nvidia for Mac. Minimum supported resolution for the game is 720p with Metal support.
Network: Broadband Internet connection
Hard Drive: 17 GB
Recommended
OS: OS Big Sur v. 10.16 or newer
Processor: Core i7 (Intel Xeon is not supported)
Memory: 8 GB
Video Card: Radeon Vega II or higher with Metal support.
Network: Broadband Internet connection
Hard Drive: 95 GB
Minimum
OS: Most modern 64bit Linux distributions
Processor: Dual-Core 2.4 GHz
Memory: 4 GB
Video Card: NVIDIA 660 with latest proprietary drivers (not older than 6 months) / similar AMD with latest proprietary drivers (not older than 6 months; the minimum supported resolution for the game is 720p) with Vulkan support.
Network: Broadband Internet connection
Hard Drive: 17 GB
Recommended
OS: Ubuntu 20.04 64bit
Processor: Intel Core i7
Memory: 16 GB
Video Card: NVIDIA 1060 with latest proprietary drivers (not older than 6 months) / similar AMD (Radeon RX 570) with latest proprietary drivers (not older than 6 months) with Vulkan support.
Network: Broadband Internet connection
Hard Drive: 95 GB
"Victors" — Victory Day tournament series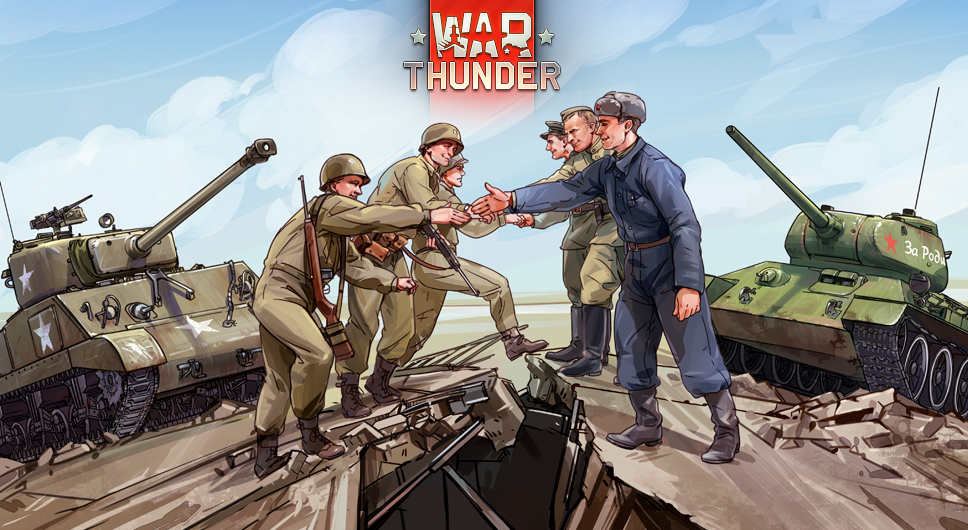 Take part in Victory Day automatic tournaments and win Golden Eagles, red-letter decals and titles.
Choose from 16 tournaments, including special signature duel events dedicated to the war heroes, as well as titled team-played sport formats for the most prominent WWII war machines.
Winners pot of the tournament series is 231 600 Golden Eagles.
Team tournaments
Tank tournaments "Armor of Victory"
Vladimir Bochkovsky "Tank Aces Duel" 1х1 RB
Vehicles: T-34-85, T-34-85 (D-5T)
Start: 6th of May, 18:20 GMT
Prize fund: 2 900 GE
Aircraft tournaments "Wings of Victory"
Alexander Pokryshkin Tournament "Aces Duel" 1х1 RB
Vehicles: P-39N-0
Start: 6th of May, 17:48 GMT
Prize fund: 2 900 GE
"Tank Aces Duel" 1х1 AB
Vehicles: T-34 (1940), T-34 (1941)
Start: 7th May, 18:20 GMT
Prize fund: 2 900 GE
Ivan Kozhedub АB 1х1
Vehicles: La-5FN
Start: 7th May, 17:40 GMT
Prize fund: 2 900 GE
Dmitry Lavrinenko "Tank Aces Duel" 1х1 AB
Vehicles: Sherman Firefly and Sherman I
Start: 8th of May, 20:20 GMT
Prize fund: 2 900 GE
Lydia Litvyak Tournament "Aces Duel" 1х1 SB
Vehicles: Yak-1B
Start: 7th of May, 17:50 GMT
Prize fund: 2 900 GE
Lafayette G. Pool "Tank Aces Duel" 1х1 RB
Vehicles: M4 and M4A2
Start: 9th of May, 02:20 GMT
Prize fund: 2 900 GE
Johnnie Johnson Tournament "Aces Duel" 1х1 RB
Vehicles: Spitfire LF Mk.IX and analogues
Start: 8th of May, 20:18 GMT
Prize fund: 2 900 GE
Zinovy Kolobanov "Tank Aces Duel" 2х2 RB
Vehicles: KV-1S, KV-1 (ZiS-5), KV-1 (L-11)
Start: 9th of May, 15:20 GMT
Prize fund: 8 700 GE
David S. McCampbell Tournament "Aces Duel" 1х1 RB
Vehicles: F6F-5
Start: 9th of May, 01:18 GMT
Prize fund: 2 900 GE
Vitold Gintovt "Tank Aces Duel" 2х2 AB
Vehicles: IS-1, IS-2, IS-2 (1944)
Start: 10th of May, 13:18 GMT
Prize fund: 8 700 GE
Marcel Olivier Albert Tournament "Aces Duel" 2х2 RB
Vehicles: Yak-3, Yak-3 (France)
Start: 9th of May, 13:50 GMT
Prize fund: 8 700 GE