System Requirements
Minimum
OS: Windows 7 SP1/8/10 (64 bit)
Processor: Dual-Core 2.2 GHz
Memory: 4GB
Video Card: DirectX 10.1 level video card: AMD Radeon 77XX / NVIDIA GeForce GTX 660. The minimum supported resolution for the game is 720p.
Network: Broadband Internet connection
Hard Drive: 17 GB
Recommended
OS: Windows 10/11 (64 bit)
Processor: Intel Core i5 or Ryzen 5 3600 and better
Memory: 16 GB and more
Video Card: DirectX 11 level video card or higher and drivers: Nvidia GeForce 1060 and higher, Radeon RX 570 and higher
Network: Broadband Internet connection
Hard Drive: 95 GB
Minimum
OS: Mac OS Big Sur 11.0 or newer
Processor: Core i5, minimum 2.2GHz (Intel Xeon is not supported)
Memory: 6 GB
Video Card: Intel Iris Pro 5200 (Mac), or analog from AMD/Nvidia for Mac. Minimum supported resolution for the game is 720p with Metal support.
Network: Broadband Internet connection
Hard Drive: 17 GB
Recommended
OS: Mac OS Big Sur 11.0 or newer
Processor: Core i7 (Intel Xeon is not supported)
Memory: 8 GB
Video Card: Radeon Vega II or higher with Metal support.
Network: Broadband Internet connection
Hard Drive: 95 GB
Minimum
OS: Most modern 64bit Linux distributions
Processor: Dual-Core 2.4 GHz
Memory: 4 GB
Video Card: NVIDIA 660 with latest proprietary drivers (not older than 6 months) / similar AMD with latest proprietary drivers (not older than 6 months; the minimum supported resolution for the game is 720p) with Vulkan support.
Network: Broadband Internet connection
Hard Drive: 17 GB
Recommended
OS: Ubuntu 20.04 64bit
Processor: Intel Core i7
Memory: 16 GB
Video Card: NVIDIA 1060 with latest proprietary drivers (not older than 6 months) / similar AMD (Radeon RX 570) with latest proprietary drivers (not older than 6 months) with Vulkan support.
Network: Broadband Internet connection
Hard Drive: 95 GB
War Thunder's Birthday: we are giving gifts to you!
Attention! This news was published on the old version of the website. There may be some problems with news display in specific browser versions.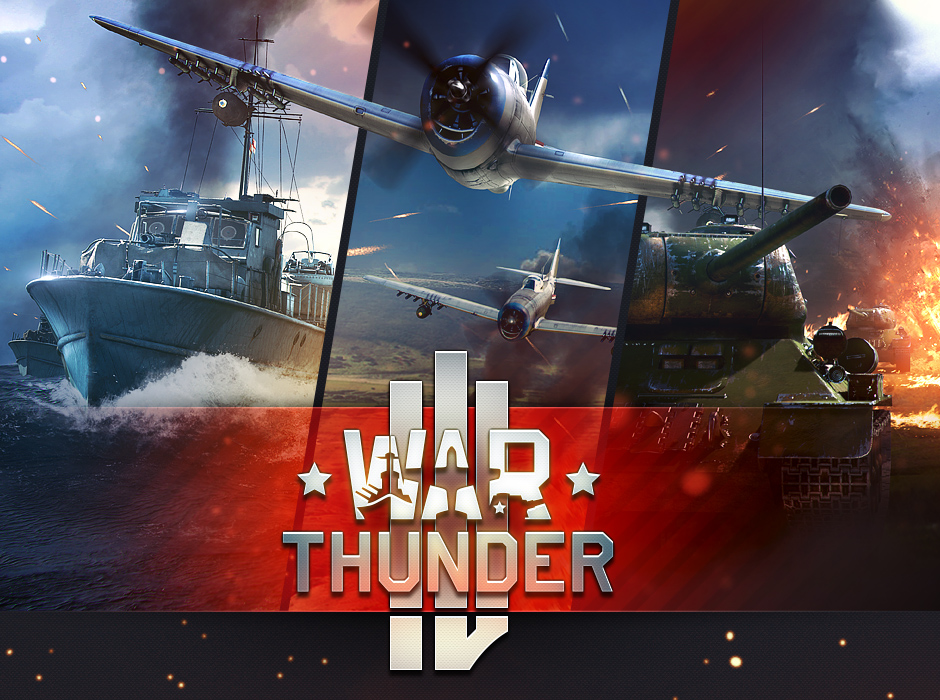 ---
Friends, it's time for the final and most striking part of our special in honour of our four years. We are gifting Boosters and Golden Eagles to you!
From 16:00 GMT on the 4th of November till 09:00 GMT on the 7th of November
Gifts from our Facebook page:
Like our official FB page
Start the special app and answer correctly just one question.
Receive a promo code and activate them here.
Receive the prize: +100% and boosters for 5 battles in "menu" >>> "inventory" >>> "boosters"!

---

From 16:00 GMT on the 4th of November till 09:00 GMT on the 7th of November
Golden Eagles as a bonus for players who have supported our game!
Perform one victorious battle within this time and we will credit a valuable bonus in Golden Eagles to you!

If you purchased between 1000 and 5000 you will receive 150 for first victory.
If you purchased more than 5000 you will receive 500 for first victory.
The bonus will be given once only for the first win. You can check your purchases on the special page.
---
Thank you for supporting us, thanks for you congratulations and thanks for being with us on the journey!
Don't forget to check FAQ :
Question: Do I need to have a specific amount of Golden Eagles on my account to get a bonus?
Not necessary. The calculation will be done on the GE that you have purchased from the day you registered in the game.
Question: I bought GE, but i can not remember how much i have purchased.
You can check your purchases to date in the special pages:
Question: I have received many GE in events. Can i get the bonus?
To receive the bonus, the purchase of GE as a separate item will be counted, GE which is included in Packs and Bundles will be counted as well, but "Gifted" GE, as well as GE gained by the activating of special keys (advertising) will not be counted.
Question: I have calculated my purchased GE and it is not enough for the bonus, can i participate?
You can. You will be able to purchase the required amount of the GE to top your total up till the end of this special and so qualify for the bonus!