News
New hangars
Today we are going to show you the new hangars that will appear in the game with the release of the big War Thunder "New Power" update!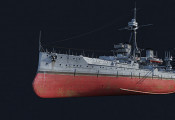 HMS Dreadnought: The Face of a New Generation
HMS Dreadnought was a British battleship from the early 1900's that revolutionized warship design with its many innovations, setting a standard for a whole generation of warships to come. Soon, this naval legend will be joining the ranks of the British naval tree as one of the first battleships to come to War Thunder as part of the "New Power" major update!
Fleet research changes and the first battleships!
Now ships from the blue-water and coastal fleets will be researched in two different research trees. In addition, a new type of ship will appear in the game - battleships. A "New Power" in War Thunder!
Saab Sk 60B: Instructed to Destroy
Developed as part of a private venture during the early 1960's, the Saab Sk 60 was a versatile combat jet trainer aircraft currently employed by the Swedish and Austrian air forces. Soon, pilots in War Thunder will have the chance to take control of the nimble Saab Sk 60 upon its arrival at the higher ranks of the Swedish aviation tree in the upcoming update "New Power"!
New visual effects for aviation
Continuing what's new in the upcoming Dagor Engine 6.0, that will appear in the game with the release of the War Thunder update "New Power". Today we would like to talk about the new effects for air battles!
MiG-21bis: Ultimate Fishbed
The MiG-21bis is the most advanced massively produced version of the renowned Soviet Cold War era jet fighter. Soon, this top performing and highly anticipated jet fighter will make its way into the aerial battlefields of War Thunder with the release of the upcoming update "New Power"!
New skies in War Thunder
Today we will tell you about the new skies in War Thunder - this is the first in a series of publications about the new version of the Dagor Engine 6.0 graphics engine.
The Shooting Range #223
You are watching The Shooting Range – a weekly show for all tankers, airmen and Captains in War Thunder.
Thunder Show - Quick reflexes
It's time for your weekly episode of the Thunder Show! Enjoy our selection of epic and humorous Community videos of the week.