News
German Unity Day
Today we celebrate Germany Unity Day with all our friends from Germany!
Operation "Shipyard"
Assemble the MBK-161 armoured boats and exchange them for the VT1-2 tank, the Whirlwind P.9 fighter and the H-34 helicopter!
US Air Force day
Today marks the official 72nd Anniversary of the U.S. Air Force! Win battles using US aircraft and receive one of 3 memorable decals.
Tankers' Day: celebrate with us!
Participate in the Tankers' Day celebration with special events and random battles, and become the owner of decal and decorations! 
Operation H.E.A.T.
How is the water, warriors? It is very important because, this summer, we will meet our comrades-in-arms - the commanders of naval vessels who will join our tankers and pilots in the big summer event. Operation H.E.A.T. begins!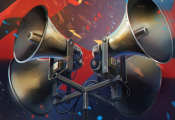 Meltdown Discounts
While the temperature outside creeps up, the prices in War Thunder are going down. We are starting big with a very nice discount! Restock your hangar with new vehicles and be prepared for summer!
Victory Day!
Today we commemorate "VE Day", also known as "Victory in Europe Day". Check out what we've prepared and celebrate this special day with us in War Thunder!
Battlefield Engineer!
Restore the rare fighter - the I-180S and trade it for the VFW SPG, Pr.122bis submarine chaser, the Ju 388 J  interceptor, the Merkava Mk.1 MBT or the light cruiser HMS Tiger.
Earth Thunder: We are not their playthings!
We called it "conspiracy theories" but it turned out to be true. The US city of Green Hills has become the scene of an intergalactic cyber-sports game in which aliens use humans as pilots of alien war machines. We need to know the truth!
"Spring camo" contest results
Spring has sprung! So it's time to dress your vehicle in some bright clothes. We are really impressed by your work – that's why we have decided to increase the "jury" reward from 7 to 15 days of Premium!