News
War Thunder's Birthday: Discounts and Gifts!
It's amazing how fast time flies! It seems like only yesterday we were flying through the clouds with only the use of aircraft. How far we've come; look at us now: War Thunder is a unique project where all fans of military vehicles will find something to their liking. We've crossed the six-year milestone, and there are many more milestones yet to come!
Spot the Ball! (UPDATED)
How is it possible to be a fan without any football attributes? Even in the days of the World Cup, people around you should know which team you are supporting. Collect coupons and exchange them for the decals of the countries participating in the World Cup - let everyone in battle see who the champion is!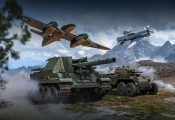 Cosmonautics Day
For the 57th anniversary of the conquest of space - the Day of Cosmonautics - we have prepared a special event for explorers of high altitudes and speeds in War Thunder!
Defender of the fatherland
Do not waste opportunity, win in random battles and get unique prizes or purchase unique bundles with a discount!
Festive Quest
Dive into our Festive Quest - collect the toys and light up the light bulbs on the Christmas tree and receive rare premium vehicles and other valuable prizes!
Share your achievements!
Especially for you, we have collected statistics over the past year! Look at it, share it with your friends and in social media like Facebook, Google+ and Twitter and brag to the coolest players.
Festive events!
we have prepared two holiday fun events for you, with a special doggo decal!
Festivities in War Thunder
We do love the festive holidays for uniting people, and we would like to share our passion with all of you!