System Requirements
Minimum
OS: Windows 7 SP1/8/10 (64 bit)
Processor: Dual-Core 2.2 GHz
Memory: 4GB
Video Card: DirectX 10.1 level video card: AMD Radeon 77XX / NVIDIA GeForce GTX 660. The minimum supported resolution for the game is 720p.
Network: Broadband Internet connection
Hard Drive: 17 GB
Recommended
OS: Windows 10/11 (64 bit)
Processor: Intel Core i5 or Ryzen 5 3600 and better
Memory: 16 GB and more
Video Card: DirectX 11 level video card or higher and drivers: Nvidia GeForce 1060 and higher, Radeon RX 570 and higher
Network: Broadband Internet connection
Hard Drive: 95 GB
Minimum
OS: Catalina v.10.15 or newer
Processor: Core i5, minimum 2.2GHz (Intel Xeon is not supported)
Memory: 6 GB
Video Card: Intel Iris Pro 5200 (Mac), or analog from AMD/Nvidia for Mac. Minimum supported resolution for the game is 720p with Metal support.
Network: Broadband Internet connection
Hard Drive: 17 GB
Recommended
OS: OS Big Sur v. 10.16 or newer
Processor: Core i7 (Intel Xeon is not supported)
Memory: 8 GB
Video Card: Radeon Vega II or higher with Metal support.
Network: Broadband Internet connection
Hard Drive: 95 GB
Minimum
OS: Most modern 64bit Linux distributions
Processor: Dual-Core 2.4 GHz
Memory: 4 GB
Video Card: NVIDIA 660 with latest proprietary drivers (not older than 6 months) / similar AMD with latest proprietary drivers (not older than 6 months; the minimum supported resolution for the game is 720p) with Vulkan support.
Network: Broadband Internet connection
Hard Drive: 17 GB
Recommended
OS: Ubuntu 20.04 64bit
Processor: Intel Core i7
Memory: 16 GB
Video Card: NVIDIA 1060 with latest proprietary drivers (not older than 6 months) / similar AMD (Radeon RX 570) with latest proprietary drivers (not older than 6 months) with Vulkan support.
Network: Broadband Internet connection
Hard Drive: 95 GB
Premium vehicles for Warbonds in October
You've reached Rank III? Then you have access to the Battle Tasks. Fulfil Battle Tasks, earn Warbonds, and grab your rewards!
Battle Tasks will be available to you after reaching and purchasing a 3rd rank vehicle in any nation in-game. You can read more about battle tasks and war bonds in our devblog and on War Thunder wiki.
These items will be available until the 31st of October!
The detailed list of the Warbond items in the shop this month:

🔸 Premium vehicles
Hellcat Mk.II
A6M2 (China)
AMX-13-M24
Pz.III N
Ro-Go
Elco 80 ft PT-556
I-16 type 28
🔸 "Peacock" tail emblem, 64th Sentai, IJAAF, 1944. Decal is made for you by Colin 'Fenris' Muir.
🔸 Battle trophy (test drive): Sherman IC "Trzyniec", T-34-85 №215, mKPz M47 G, IJN Mikuma, USS Helena (CL-50), SU-122P
🔸 Trophy box containing boosters for 30%, 60%, 90%, 300%, 600%, 900% RP and SL for 1 battle.
🔸 Trophy "Decorations" (Camouflage).
🔸 Trophy "Decorations" (Helmets).
🔸 Battle trophy (Order).
🔸 Trophy (Tanker player icons).
🔸 Battle trophy (Vehicles): М3 Medium (USSR), CR.32 bis, P-26A-34, Boston Mk.I, He 112 B-2/U2, LaGG-3-34.
🔸 Medium and big sets of universal back-up vehicles. A player can activate this item to backup any one vehicle of their choice.
Where can you find Warbonds??
▼
Click on the 'Daily Tasks' icon from the War Thunder in-game hangar.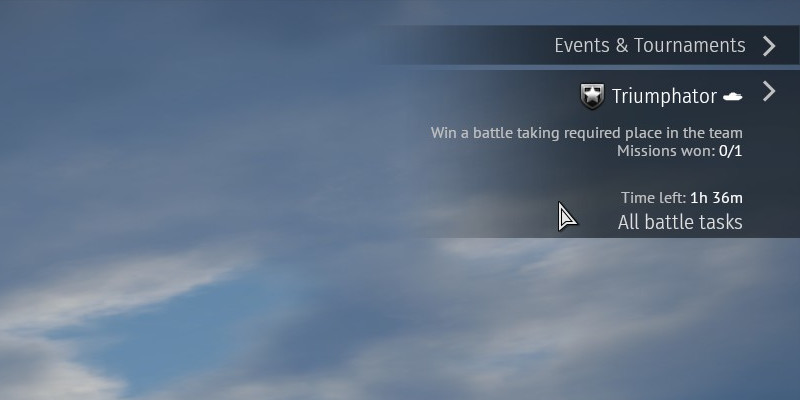 On the menu that opens, click on the 'Warbond Shop' icon in the bottom right corner.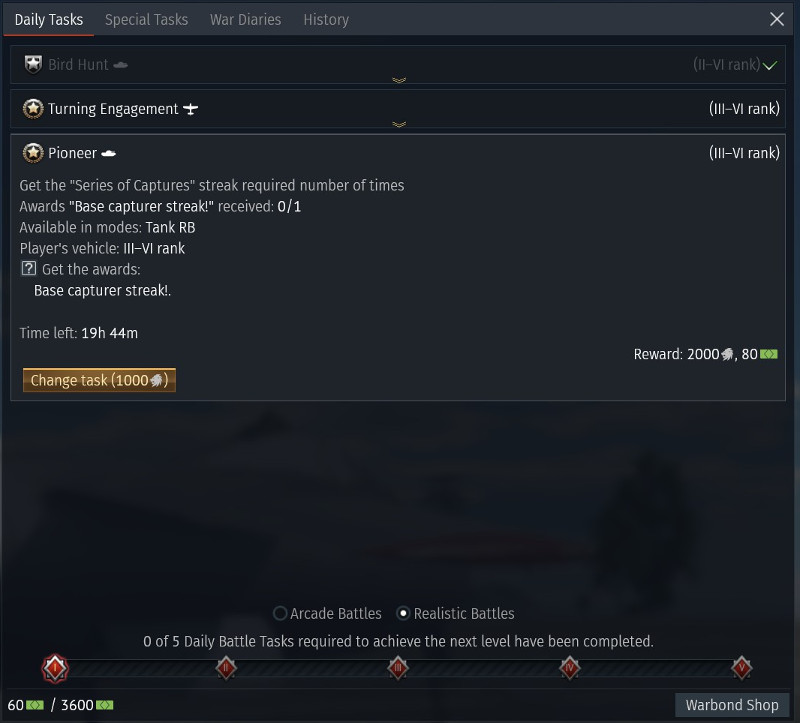 You can now view the range of Warbonds available by clicking on on the various icons.
Purchases can be made with the 'Purchase' icon in the bottom right corner.
Battle tasks: These individual tasks bring variety to your gameplay and prevent situations where all the players in a battle try to complete one specific task, effectively ignoring mission objectives that are needed for a victory. They are available for players that have reached the 3rd rank of any nation. On completion, players will receive Silver Lions, and Warbonds - a special in-game currency with their own specific shop, where you can purchase many different items.
---
The War Thunder Team