News
How can you get premium vehicles? Warbonds!
We present to you an assortment of Warbond shop items for August. Fulfill Battle Tasks, earn warbonds, improve your shop level and unlock rewards!
Battle Tasks will be available to you after reaching and purchasing a 3rd rank vehicle in any nation in-game. You can read more about Warbonds and Battle Tasks in the War Thunder wiki.
This assortment will be available until the 31st of August!
🔸 The detailed list of the Warbond items in the shop this month:
Corsair F Mk II (Britain)

Pz.III N

Hs 129 B-2 (Italy)

Chi-Nu II

Elco 80 ft PT-556

B-25J-30 (USSR)
🔸"Spartan" nose art, decal by Colin 'Fenris' Muir
🔸 Battle trophy (vehicle test drive): Cromwell Mk.V (RP-3), AMX-13 (SS.11), Ru 251, M26E1, Pr. 7U "Stroyny".
🔸 Supply box with boosters for 50%, 150%, 300%, 500%, 700% RP and SL for one battle.
🔸 3d decorations (camouflage).
🔸 3d decorations (road signs).
🔸 "Order" trophy.
🔸 Trophies "Avatar for tankers".
🔸Trophy "Vehicles"III: LVT(A)(4) ZIS-2, He 51B-2/H, Т-26E, A13 Mk.II 1939, CR.32 bis.
🔸 Medium and big sets of universal back-up vehicles. A player can activate this item to backup any one vehicle of their choice.
---
Corsair F Mk II (Britain)
The Royal Navy Fleet Air Arm Corsair F Mk II will be familiar to all those who enjoy the American Naval hero. The British modification features clipped and modified wingtips that enabled it to fit into the smaller hanger compartments of Royal Navy Aircraft Carriers. You can be sure to rely on your 6 x 12.7mm Browning M2 machine guns to dispatch your opponents before returning safely to the deck of your carrier in time for Tea!
---
Chi-Nu II
In 1942, Japan had begun development of new tanks to deploy onto the battlefield. However, these new tanks would take considerable time to produce, and Japan needed a quicker solution. As a result, the Chi-Nu would undergo many design changes. All of these changes had the single goal of mounting the Type 5 75mm cannon on a chassis that was easily mass-produced and which would require little or no change of existing production capability. The Type 3 Chi-Nu was designed with a Type 3 75mm tank cannon, derived from the dated Type 90 field artillery. Japan installed a prototype turret from the Chi-To onto the chassis of the Chi-Nu for testing purposes, labeling it the Chi-Nu Kai, with the tank performing a series of tasks at the Iyo Lake shooting grounds in Japan. The prototype proved successful in these trials and was accepted for use. The Chi-Nu turret was also re-designed for the Type 5 75mm gun, and this variant would become the Chi-Nu II. Don't miss your chance to obtain this Japanese treasure for your collection!
Where can you find Warbonds??
▼
Click on the 'Daily Tasks' icon from the War Thunder in-game hangar.
On the menu that opens, click on the 'Warbond Shop' icon in the bottom right corner.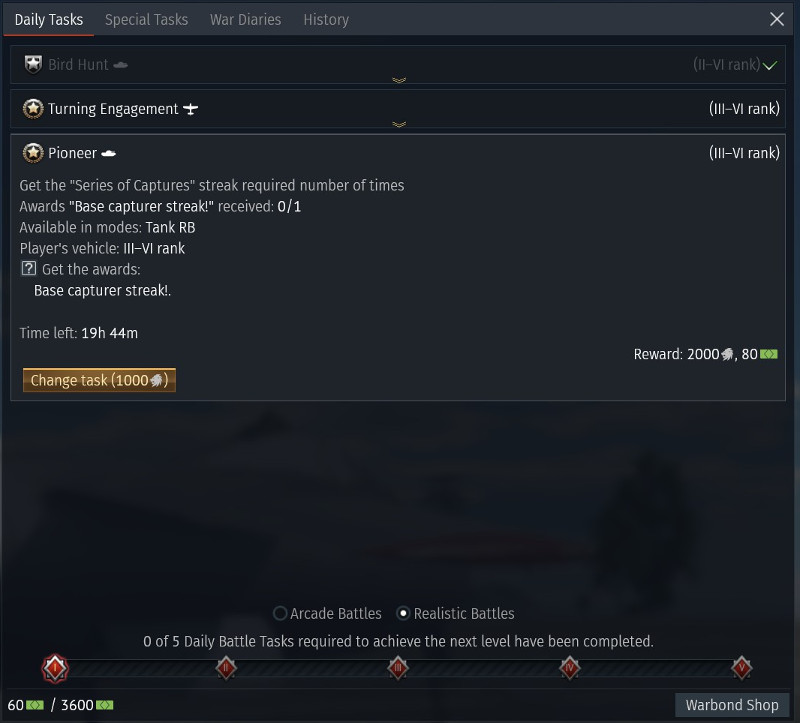 You can now view the range of Warbonds available by clicking on on the various icons.
Purchases can be made with the 'Purchase' icon in the bottom right corner.
Battle tasks: These individual tasks bring variety to your gameplay and prevent situations where all the players in a battle try to complete one specific task, effectively ignoring mission objectives that are needed for a victory. They are available for players that have reached the 3rd rank of any nation. On completion, players will receive Silver Lions, and Warbonds - a special in-game currency with their own specific shop, where you can purchase many different items.