How can you get premium vehicles? Warbonds!
We present to you with a festive assortment of Warbond shop items for November. Fulfill Battle Tasks, earn warbonds, improve the shop level and unlock rewards!
In honour of War Thunder's birthday, we have significantly expanded the assortment of vehicles, added the good old trophy with all decals from the Warbond shop from 2018, and also a completely new trophy with 3D decorations "Helmets".
This assortment will be available until the 30th of November!
A couple of interesting vehicles included:
IAR-81C
Joining the ranks of the Italian tree, the unique IAR-81C is the first indigenous Romanian design to grace the skies of War Thunder, and what a sight to behold! The IAR-81C compares favorably to many of its more famous contemporaries and includes several rather novel features such as a tail skid and centerline bomb rack for close air support. An excellent overall aircraft to assist you in combat and a very attractive addition to any hanger, make the IAR-81C yours today with Warbonds!
T20
The T20 is a unique machine that developed the core principles of the M4 Sherman and bridges the gap to the evolution of the American medium tank design along down the path towards the legendary M26 Pershing. Armed with a 76mm cannon and a significantly lower profile than the Sherman family, the T20 offers a tactical advancement over many of its cousins in the American tree. Boasting superior mobility and improved protection, the T20 will be an important ally for those intending to progress through the ranks of the mighty USA!
Detailed list of the Warbond items in the shop this month:
🔸 Premium vehicles:
Achilles (65 Rg.)
Yak-3 (France)
KV-IB (Germany)
IAR-81C
Chi-Nu II
T20
Т-34-57 (1943)
🔸"Lynx Minx" pin-up, No. 815 Naval Air Squadron, Fleet Air Arm of the Royal Navy; Decal by Colin 'Fenris' Muir
🔸Decal trophy (All decals from warbonds in 2018)
🔸Battle trophy (vehicle test drive): Spitfire F Mk.XIVc, Ru 251, T114, Fw 190D-9 (USSR), B-17E (Japan)
🔸Supply box with boosters for 30%, 60%, 90%, 300%, 600%, 900% RP and SL for one battle
🔸3d decorations (Camouflage)
🔸3d decorations (Helmets).
🔸"Order" trophy.
🔸Trophies "Avatar for tankers".
🔸Sets of universal back-up vehicles. A player can activate this item to backup any one vehicle of their choice.
🔸Trophy "Vehicles" (M-3 Medium (USSR), CR.32 bis, P-26A-34, Boston Mk.I, He 112B-2/U2, LaGG-3-34.)
Enjoy the new items available and see you on the battlefield!
Where can you find Warbonds??
▼
Click on the 'Daily Tasks' icon from the War Thunder in-game hangar.
On the menu that opens, click on the 'Warbond Shop' icon in the bottom right corner.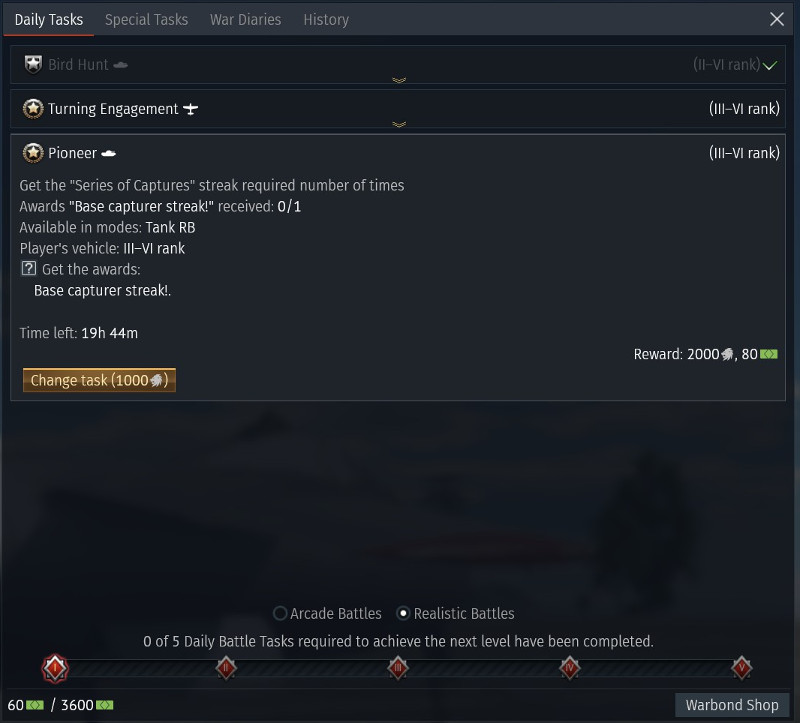 You can now view the range of Warbonds available by clicking on on the various icons.
Purchases can be made with the 'Purchase' icon in the bottom right corner.
Battle tasks: These individual tasks bring variety to your gameplay and prevent situations where all the players in a battle try to complete one specific task, effectively ignoring mission objectives that are needed for a victory. They are available for players that have reached the 3rd rank of any nation. On completion, players will receive Silver Lions, and Warbonds - a special in-game currency with their own specific shop, where you can purchase many different items.