News
French aircraft available for everyone (updated list)
Fighters! In the upcoming update 1.73 "Vive la France" we have reinforcements for the Allied troops. Meet the French in War Thunder!
There are not that many possibilities where an experienced pilot gets an opportunity to evaluate the French Air Force. But you now have these opportunities! Join the tester team and be one of the first who can try out the creations of the French engineers in War Thunder
French aircraft available for everyone
These are all vehicles which will be available for research and purchase for non testers.
Full French aircraft research tree
Already available:
D.371
D.373
D.500
D.501
C.R.714
M.S.410
F.222.2
NC.223.3
M.B.162
M.B.157
VB.10C-1
Potez 630
Potez 631
Potez 633
LeO 451 early
V.G.33C-1
M.B.174A1
A-35B
D.520
SB2C-5
F6F-5 Hellcat
F6F-5N
P-63C-5
Become a tester for French aircraft
Choose one of the methods and get the status of tester, this will allow you to research any French aircraft without any restrictions and will open for you a unique forum status and tester reward.
Purchase one of the French aircraft packs
Dewoitine D.371 H.S.9 Starter Pack
D.371 aircraft (Rank 1 France)
7 days of premium account
500 Golden Eagles

French planes closed beta access.
Narval Advanced Pack
SO.8000 Narval aircraft (Rank 4 France)
15 days of premium account
1000 Golden Eagles

French planes closed beta access.
Complete special tasks to join the tester team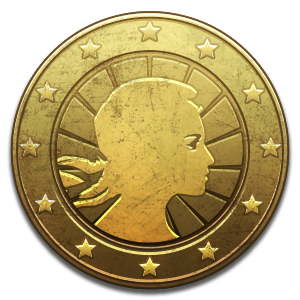 Get 5 wins each day in any rank III-V aircraft with an activity of more than 65% to get Marianna's coins.
Earn 12 from 40 coins and join the Tester team for the French air forces!
Terms:
Tasks will be counted from 09:00 GMT every day and ends at the same time on following day.
You can earn only one coin daily.
Depiction of any real-world weapon or vehicle in this game does not mean participation in game development, sponsorship or endorsement by any weapon or vehicle manufacturer.
© 2009—2018 by Gaijin Network Ltd. Gaijin and War Thunder are trademarks and/or registered trademarks of Gaijin Network Ltd. or its licensors, all other logos are trademarks of their respective owners. F-84 Thunderjet, XF5F-1 Skyrocket, XP-50, F4F-3 Wildcat, F4F-4 Wildcat, F4U-1A Corsair, F4U-1B Corsair, F4U-1C Corsair, F6F-3 Hellcat, F7F-1 Tigercat, F8F-1 Bearcat, F8F-1B Bearcat, F9F-2 Panther, F9F-5 Panther, OS2U-1 Kingfisher, OS2U-3 Kingfisher, F3F, P-61 Black Widow, P-47D-25 Thunderbolt, P-47D-27 Thunderbolt, P-47M-1-RE Thunderbolt, P-47N-15 Thunderbolt and P-47D-28 Thunderbolt are trademarks of Northrop Grumman Systems Corporation and are used under license to Gaijin Network Ltd.CONSOLIDATED B-24 LIBERATOR, CONSOLIDATED PBY CATALINA, LOCKHEED P-38 LIGHTNING , LOCKHEED F-80 SHOOTING STAR, MARTIN B-57 CANBERRA, associated emblems and logos, and body designs of vehicles are either registered trademarks or trademarks of Lockheed Martin Corporation in the USA and/or other jurisdictions, used under license by Gaijin Network Ltd. P-39 and P-63 emblems, logos, and body designs are trademarks of Textron Innovations Inc. and are used under license by Gaijin Network Ltd.
Cookie-files
This website uses
cookies
. By continuing to access this website you are giving consent to cookies being used.