How can you get premium vehicles? Warbonds!
The KV-1B and many more awards are waiting for you!
---
We continue our tradition and present to you once again, an updated assortment of Warbonds for November. This month in honour of our 5th Birthday, we have tried to choose more rare and interesting vehicles for you!
Everything is as before: fulfill Battle Tasks, earn warbonds, improve the shop and get the rewards.
This assortment will be available until the 30th of November!
Battle Tasks will be available to you after reaching the 3rd rank of any nation in-game. You can read more about Warbonds and Battle Tasks in the War Thunder wiki.
---
| | | |
| --- | --- | --- |
| | | This seemingly invincible tank can be found at rank three of the German tree (despite being a Finnish tank). It goes without saying that the KV-1 is a vehicle which has very good armour. This version is equipped with screens, 25-30mm armour plates protecting most of the vulnerable parts around the vehicle and even so, the mobility remains at a very decent level. The 76mm F-32 cannon is certainly capable of causing some grief to opponents; you may not be able to defeat all enemies, but that's not necessarily how you win a battle! The KV-1B is a damage farmer and hence, you can expect enemies to become nervous at the very least. |
| | | |
| --- | --- | --- |
| | | While this may be one of the of the most unique and truly epic bombers in-game, that alone will not win a battle. Who is your enemy? At this rank, you can expect mostly biplanes. What are you defences? 5 x 7.62mm turrets. In terms of offence, 3 tonnes of bomb-load capacity allow you to easily eliminate a single bombing point and several smaller targets. Remember: you need to actually 'reach' your target. The speed of the "soviet fortress" is very low - only 190 km/h. Additionally, given that it's a huge aircraft, it is quite difficult to miss. And so, stick close to your wingman for extra protection! |
---
Detailed list of the Warbond items in the shop this month:
Premium vehicles:

TB-3M-17.32
D.520 (Britain)
KV-1B (Germany)
Ro-Go
T14

Emblem "Aquaria Zodiac" pin-up, 834th BS, 486th BG, 8th AF, USAF decal author - Jej 'CharlieFoxtrot' Ortiz;
3d decorations (other);
3d decorations (camouflage) ;
Supply boxes with 100%, 200%, 300%, 500%, 700%, 900% RP and SL boosters for 1 battle;
Vehicle rent:

Spitfire F Mk.XIVc
Do 335B-2
J2M4 Kai
M26E1
Fw 190D-9 (USSR)

"Order" trophy;
Sets of universal back-up vehicles. A player can activate this item to backup any one vehicle of their choice.
Trophy with one of the War Bonds 2017 shop decals
Emblem "Aquaria Zodiac"​
Author: Jej 'CharlieFoxtrot' Ortiz
Where can you find Warbonds??
▼
Click on the 'Daily Tasks' icon from the War Thunder in-game hangar.
On the menu that opens, click on the 'Warbond Shop' icon in the bottom right corner.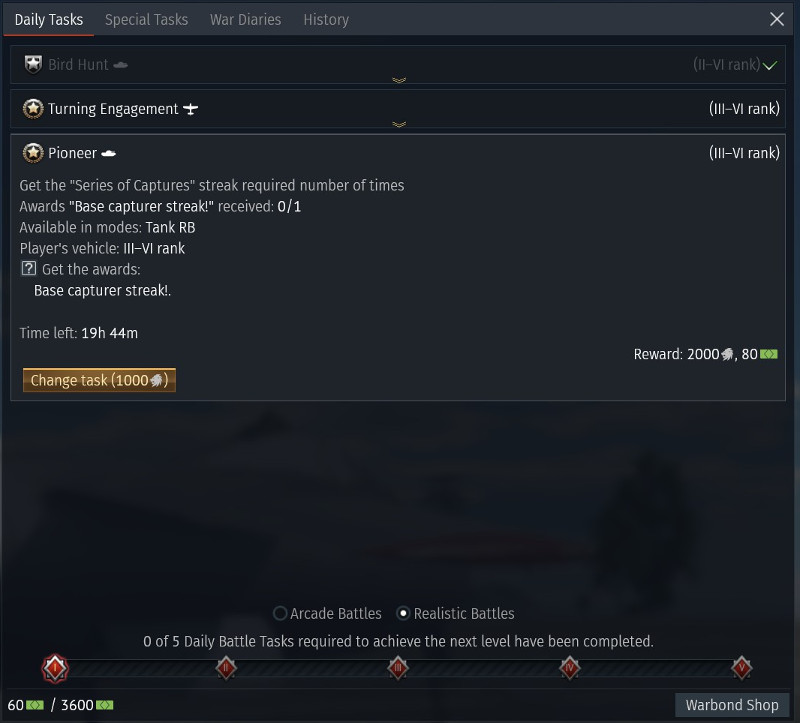 You can now view the range of Warbonds available by clicking on on the various icons.
Purchases can be made with the 'Purchase' icon in the bottom right corner.
Battle tasks: These individual tasks bring variety to your gameplay and prevent situations where all the players in a battle try to complete one specific task, effectively ignoring mission objectives that are needed for a victory. They are available for players that have reached the 3rd rank of any nation. On completion, players will receive Silver Lions, and Warbonds - a special in-game currency with their own specific shop, where you can purchase many different items.
You can read more about battle tasks and war bonds in our devblog and on War Thunder wiki.
Enjoy the new items available and see you on the battlefield!
---
The War Thunder Team