System Requirements
Minimum
OS: Windows 7 SP1/8/10 (64 bit)
Processor: Dual-Core 2.2 GHz
Memory: 4GB
Video Card: DirectX 10.1 level video card: AMD Radeon 77XX / NVIDIA GeForce GTX 660. The minimum supported resolution for the game is 720p.
Network: Broadband Internet connection
Hard Drive: 17 GB
Recommended
OS: Windows 10/11 (64 bit)
Processor: Intel Core i5 or Ryzen 5 3600 and better
Memory: 16 GB and more
Video Card: DirectX 11 level video card or higher and drivers: Nvidia GeForce 1060 and higher, Radeon RX 570 and higher
Network: Broadband Internet connection
Hard Drive: 95 GB
Minimum
OS: Mac OS Big Sur 11.0 or newer
Processor: Core i5, minimum 2.2GHz (Intel Xeon is not supported)
Memory: 6 GB
Video Card: Intel Iris Pro 5200 (Mac), or analog from AMD/Nvidia for Mac. Minimum supported resolution for the game is 720p with Metal support.
Network: Broadband Internet connection
Hard Drive: 17 GB
Recommended
OS: Mac OS Big Sur 11.0 or newer
Processor: Core i7 (Intel Xeon is not supported)
Memory: 8 GB
Video Card: Radeon Vega II or higher with Metal support.
Network: Broadband Internet connection
Hard Drive: 95 GB
Minimum
OS: Most modern 64bit Linux distributions
Processor: Dual-Core 2.4 GHz
Memory: 4 GB
Video Card: NVIDIA 660 with latest proprietary drivers (not older than 6 months) / similar AMD with latest proprietary drivers (not older than 6 months; the minimum supported resolution for the game is 720p) with Vulkan support.
Network: Broadband Internet connection
Hard Drive: 17 GB
Recommended
OS: Ubuntu 20.04 64bit
Processor: Intel Core i7
Memory: 16 GB
Video Card: NVIDIA 1060 with latest proprietary drivers (not older than 6 months) / similar AMD (Radeon RX 570) with latest proprietary drivers (not older than 6 months) with Vulkan support.
Network: Broadband Internet connection
Hard Drive: 95 GB
War Thunder is now released!
Attention! This news was published on the old version of the website. There may be some problems with news display in specific browser versions.
---
---
In order to celebrate the official release of War Thunder we would like to make a small gift to all our loyal players -
50% and boosters for 50 battles, one battle for each month since the game launch!
As well as the boosters, we are also offering a 50% discount for premium account purchases
from December 22nd at 21:00 GMT until December 25th at 21:00 GMT!!
All War Thunder players who enter the game after December the 21st at 17:00 GMT
will find a new title in their profile (dependent on first log-in date):
Brother in arms, Combat proven, Faithful warrior, The Old Guard.
Follow the news to learn about further specials!
---
The boosters will be given until January the 1st (07:00 GMT), in order to get one just enter the game, boosters are active for 3 days from activation.
The "Brother in arms" title is given to all players who joined War Thunder in 2016 or earlier, "Combat proven" - for those that joined (first log-in date) in 2015 or earlier, "Faithful warrior" - for 2014 or earlier and "The Old Guard" - 2013 or earlier. The title is given according to your first log-in date, not registration date, which you can check in your profile..
---
We are proud to announce the official release of our game. As we have completed all the goals we set ourselves in the early stages of development, the open beta-testing of War Thunder ends with update 1.65 "Way of the Samurai", an update which also brings Japanese ground forces, cockpits for all aircraft, and heaps of improvements and bugfixes.
The road to release for War Thunder has been a fantastic journey, packed with development, we have from the outset been active in development and content heavy in regular updates to the game. Our commitment to the game has provided players with millions of hours of passion filled gameplay and we have gained many, many players as well as the veterans who have been with us from the very beginning. To all our fans, we sincerely thank you, we are so grateful for the continued support of our project and look forward to your continued support into the release.
We will continue to develop the game we all know and love but you won't be seeing the same major changes in direction we have all been part of throughout the testing, gameplay and core mechanics can now settle down and we can at last concentrate on giving the game the polish and content it deserves. Additions will continue, there are still many military vehicles that can be included, our mapmakers will still create wonderful vistas and beautiful scenery to wage war in, of course there are still exciting features yet to be added - such as World War mode, new nations, new tournaments and more.
It's been a pleasure to provide you, our players, with such an already filled out battle simulator and we look forward to even more happy times together as we continue to tread the path of the warrior.
---
War Thunder Milestones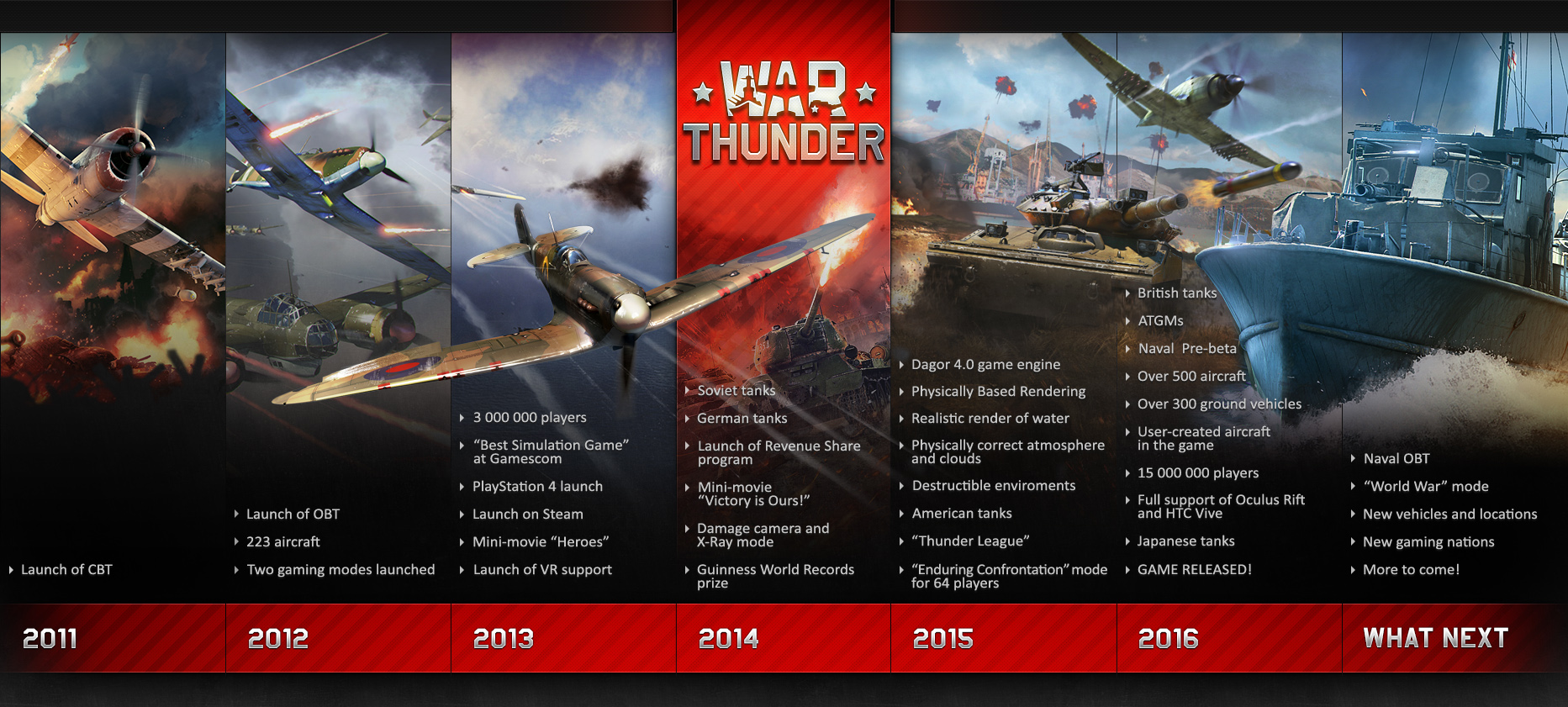 ---
Kirill Yudintsev, Creative Director of Gaijin Entertainment:
War Thunder went into open beta testing in 2012 and all this time we've been moving toward our primary goal – mixed battles with different types of vehicles – aircraft, ground vehicles and naval vessels. Since launch, the game has significantly changed. War Thunder became our first multiplayer online project, and in comparison with our previous games, our approach to its development was entirely different. Online projects constantly change based on player feedback and real game experience. Of course, we had a clear development plan from the very beginning that took into account the basic stages of development for the project. The primary mechanics were tested at length within the alpha test and closed beta. But the game's open beta launch meant that a far wider audience with many different kinds of people would begin to play it, their experiences and feedback would likely differ from what we'd seen in our earlier testing stages. Would their expectations match ours? We couldn't fully be sure.
Now, looking back, we're pleased to see that almost everything we had initially thought of, we were able to implement.
The idea of mixed battles, realistic damage, and a physical vehicle model alongside simple and easy controls – the main outstanding characteristics of War Thunder – quickly found support in the community. The number of players was increasing, and new details were constantly added to the development plan based on our players' feedback and requests. We experimented with game modes, adapted our servers to cope with greater loads, and developed new types of vehicles at the same time.
By the time the open beta test was launched, we knew that we were making simulator battles for different types of vehicles, but at that time, we were only ready to begin with aircraft. At that time, we already had a lot of experience working with flight simulators. Our team included many dedicated experts, and importantly, aviation-only battles weren't beyond our target that we'd set for ourselves at the start. The aircraft were always made with consideration to the fact that their opponents during actual battles would be other aircraft. Of course, ground attackers and bombers could assault ground targets, but at a high altitude or far from the frontlines, the battles took place between aircraft only. History also tells us of many cases of battles involving only ground vehicles, but assault aircraft could get involved in such a battle, ground vehicles were always designed and used with due consideration for such a possibility. Large ground or naval battles almost always involved support from the air. This means that ground battles, and particularly naval battles, are not complete without aircraft, whereas aircraft on their own are often enough.
When ground vehicles arrived in War Thunder, big changes awaited the game once more.
We needed to balance not only the battles, but also the economy and the progression system. Battles involving ground vehicles significantly differed from aerial battles. The dimensions had to be reduced, the amount of detail per square metre increased, tactics changed fundamentally, and we continued to test out various approaches – we launched new modes, tested small additions and added new vehicle models, the overall number of which was gradually approaching five hundred. Some additions underwent a whole range of significant changes. For example, the system of crew replacement began as controlling the tank with the last survivor. Based on player feedback, it was then transformed into actual crew replenishment.
In adding naval forces into the game, we relied on our experience with ground vehicles, so naval warfare wouldn't involve such fundamental changes to the game. Over these four years, we've learned to understand what our players like and want to see, and developed modes that are optimised for mixed battles. After release, the game's development will of course continue though the basic mechanics won't undergo any significant changes, the amount of in-game content will grow.
We will continue working on new modes for Simulator and Realistic battles. We're already preparing to launch a closed test for the World War mode. And this is just the very beginning in the coming updates. New maps, missions, and many new types of vehicles await you. We will continue to optimise War Thunder for virtual reality headsets – the interface will become more user friendly, the sound more realistic, and the gameplay more comfortable. There are many new interesting developments ahead.
We're grateful to all our players for helping to make War Thunder what it is today – massive, original, and exciting.
We're also always grateful for feedback and suggestions, and we'll continue to pay close attention to both even after the game is released. The experience of players is the most important thing in online projects. Even those of you that haven't sent us emails or written on the forum have made your contribution to the development of War Thunder. This is a game we make together.
---
Onward, my friends, because the victory is ours!