System Requirements
Minimum
OS: Windows 7 SP1/8/10 (64 bit)
Processor: Dual-Core 2.2 GHz
Memory: 4GB
Video Card: DirectX 10.1 level video card: AMD Radeon 77XX / NVIDIA GeForce GTX 660. The minimum supported resolution for the game is 720p.
Network: Broadband Internet connection
Hard Drive: 17 GB
Recommended
OS: Windows 10/11 (64 bit)
Processor: Intel Core i5 or Ryzen 5 3600 and better
Memory: 16 GB and more
Video Card: DirectX 11 level video card or higher and drivers: Nvidia GeForce 1060 and higher, Radeon RX 570 and higher
Network: Broadband Internet connection
Hard Drive: 95 GB
Minimum
OS: Mac OS Big Sur 11.0 or newer
Processor: Core i5, minimum 2.2GHz (Intel Xeon is not supported)
Memory: 6 GB
Video Card: Intel Iris Pro 5200 (Mac), or analog from AMD/Nvidia for Mac. Minimum supported resolution for the game is 720p with Metal support.
Network: Broadband Internet connection
Hard Drive: 17 GB
Recommended
OS: Mac OS Big Sur 11.0 or newer
Processor: Core i7 (Intel Xeon is not supported)
Memory: 8 GB
Video Card: Radeon Vega II or higher with Metal support.
Network: Broadband Internet connection
Hard Drive: 95 GB
Minimum
OS: Most modern 64bit Linux distributions
Processor: Dual-Core 2.4 GHz
Memory: 4 GB
Video Card: NVIDIA 660 with latest proprietary drivers (not older than 6 months) / similar AMD with latest proprietary drivers (not older than 6 months; the minimum supported resolution for the game is 720p) with Vulkan support.
Network: Broadband Internet connection
Hard Drive: 17 GB
Recommended
OS: Ubuntu 20.04 64bit
Processor: Intel Core i7
Memory: 16 GB
Video Card: NVIDIA 1060 with latest proprietary drivers (not older than 6 months) / similar AMD (Radeon RX 570) with latest proprietary drivers (not older than 6 months) with Vulkan support.
Network: Broadband Internet connection
Hard Drive: 95 GB
Project 183 Bolshevik torpedo boat: Speed and Power
Attention! This news was published on the old version of the website. There may be some problems with news display in specific browser versions.
---
The large Project 183 Bolshevik torpedo boat became an essential vessel of this class for the USSR
in the postwar years. We are proud to present this Ship on the battlefields at sea in War Thunder.
---
The large Project 183 Bolshevik torpedo boat was developed after the war based on the experience of using lend-lease vessels and Soviet ships in battle. The properties of both coniferous and leafy tree wood were taken into account in the design of this vessel. Her excellent shape and powertrain consisting of four diesel engines give the boat top-notch speed and maneuverability. In combination with the artillery and torpedo armaments, this makes the ship a truly universal soldier. The vessel was put into mass production in 1952 and was intensively produced until 1960. In service, the ship proved to be an excellent asset and became the basis for a series of modernizations – even the first missile boat in the world was based on a Project 183 hull.
---
| | |
| --- | --- |
| | |
---
In War Thunder, we present the early series Project 183 with four diesel engines, with an output of 4,800 hp in total. The relatively light design of wood and aircraft plywood allows her to reach a speed of 44 knots, i.e. over 80 km/h. The vessel is equipped with two torpedo tubes, two twin 25mm 2M-3 cannons and 12 depth charges – an arsenal fit to overcome practically any military challenge. The ship's cabin and bridge are armored (up to 7 mm), and the autocannons are also equipped with defensive screens (4 mm armor). The vessel has a crew of 14.
---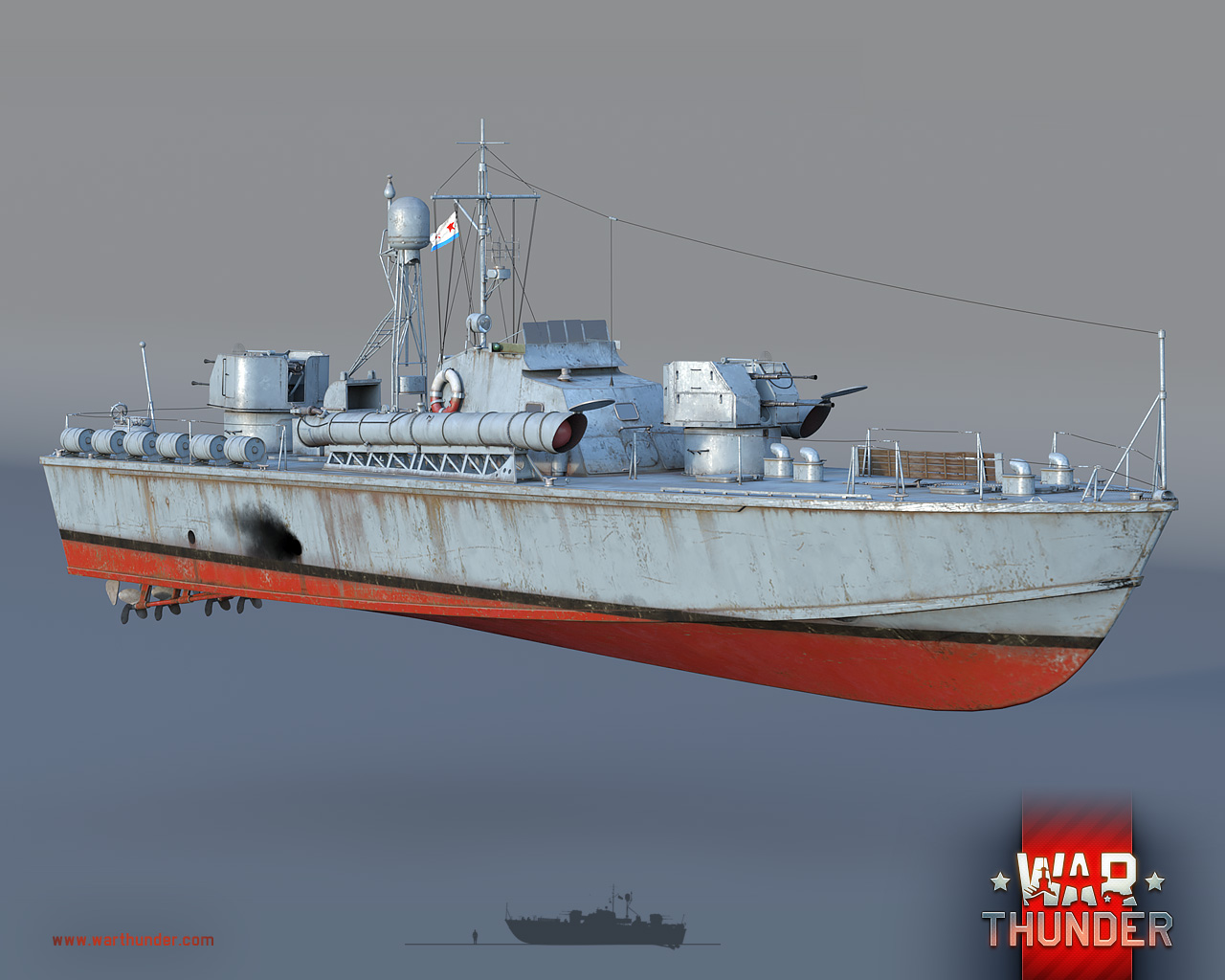 Download Wallpapers: 1280x1024 | 1920x1080 | 2560x1440
---
The large Project 183 torpedo boat will be a treat for players that enjoy mobile, aggressive gameplay. The ship accelerates extremely quickly and maintains an excellent speed for her class. Her four autocannons provide close grouping even over great distances, which means you can be one of the first on your team to start firing on enemy ships. The cannons do not fire particularly rapidly (roughly 300 shots per minute), but their high-explosive fragmentation shells are equally effective against both hulls and boat crews. The two torpedoes are best saved for large ships or used as a last-ditch weapon to guarantee the destruction of opponents in smaller vessels. The depth charges detonate at a shallow depth and are an excellent means of getting particularly tenacious boats off your tail – just be sure to calculate the explosive delay correctly.
---
---
The Project 183 Bolshevik is a pleasant vessel in all respects,
and is sure to find fans among War Thunder players.

Join the closed beta test of War Thunder naval warfare and be the first to test out this boat in battle!
---
The War Thunder Team!
Upcoming Naval forces: