System Requirements
Minimum
OS: Windows 7 SP1/8/10 (64 bit)
Processor: Dual-Core 2.2 GHz
Memory: 4GB
Video Card: DirectX 10.1 level video card: AMD Radeon 77XX / NVIDIA GeForce GTX 660. The minimum supported resolution for the game is 720p.
Network: Broadband Internet connection
Hard Drive: 17 GB
Recommended
OS: Windows 10/11 (64 bit)
Processor: Intel Core i5 or Ryzen 5 3600 and better
Memory: 16 GB and more
Video Card: DirectX 11 level video card or higher and drivers: Nvidia GeForce 1060 and higher, Radeon RX 570 and higher
Network: Broadband Internet connection
Hard Drive: 95 GB
Minimum
OS: Catalina v.10.15 or newer
Processor: Core i5, minimum 2.2GHz (Intel Xeon is not supported)
Memory: 6 GB
Video Card: Intel Iris Pro 5200 (Mac), or analog from AMD/Nvidia for Mac. Minimum supported resolution for the game is 720p with Metal support.
Network: Broadband Internet connection
Hard Drive: 17 GB
Recommended
OS: OS Big Sur v. 10.16 or newer
Processor: Core i7 (Intel Xeon is not supported)
Memory: 8 GB
Video Card: Radeon Vega II or higher with Metal support.
Network: Broadband Internet connection
Hard Drive: 95 GB
Minimum
OS: Most modern 64bit Linux distributions
Processor: Dual-Core 2.4 GHz
Memory: 4 GB
Video Card: NVIDIA 660 with latest proprietary drivers (not older than 6 months) / similar AMD with latest proprietary drivers (not older than 6 months; the minimum supported resolution for the game is 720p) with Vulkan support.
Network: Broadband Internet connection
Hard Drive: 17 GB
Recommended
OS: Ubuntu 20.04 64bit
Processor: Intel Core i7
Memory: 16 GB
Video Card: NVIDIA 1060 with latest proprietary drivers (not older than 6 months) / similar AMD (Radeon RX 570) with latest proprietary drivers (not older than 6 months) with Vulkan support.
Network: Broadband Internet connection
Hard Drive: 95 GB
Server Update 01.06.20 (XBOX)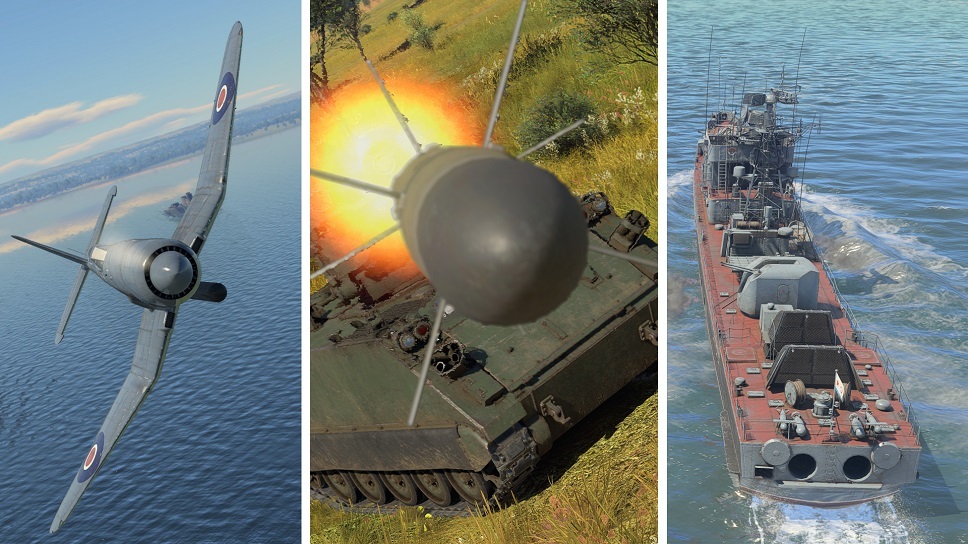 Squadrons and squadron battles are coming to XBOX ONE players! It's about time to join your favorite squadron or create your own.
Earn squadron activity and research the squadron vehicles. There are already favorites in the current 'squadron battles' season, but cheer up XBOX players - this is a good opportunity to learn a new gaming mode and master your strategy and tactics. Special awards for squadron battle ratings will be available for you in the upcoming season beginning on July the 1st.
The following options are now available for XBOX ONE players:
Creating and joining squadrons;
Squadron battles (daily, 1:00 am - 2:00 pm GMT);
Special awards for squadron battle winners;
Squadron vehicles for squadron activities.
Squadron vehicles
Squadron players receive activity points, these can be allocated towards exchange for squadron vehicles:

M901 ITV — ATGM carrier, USA, rank VI.
SKR Pr.35 — patrol ship, USSR, rank III.
B-48 Firecrest — fighter/attacker, Britain, rank IV

Every 3 days squadron players receive research points that are used towards selected squadron vehicles for activity during the 3 days. The award depends on:

A player's activity in comparison to the average activity of squadron members;
The overall activity, gained by all squadron members.

Every squadron player may select a vehicle of their own choice.
Non-squadron players may purchase the squadron vehicles for Golden Eagles.
---
The current provided changelog reflects the major changes within the game as part of this Update. Some updates, additions and fixes may not be listed in the provided notes. War Thunder is constantly improving and specific fixes may be implemented without the client being updated.