News
Attention! This news was published on the old version of the website. There may be some problems with news display in specific browser versions.
Major Richard Ira 'Dick' Bong
---
---
From 12.00 GMT on September 24th to 12.00 GMT on September 25th
+30% RP gain while flying P-38G 'Lightning'
---
Born on September 24th 1920, Richard Bong was the son of a Swedish immigrant and grew up on a farm in rural Wisconsin. An academically gifted youth, Bong excelled in his studies but also played for the school's baseball, basketball and hockey teams. Entertaining a wide variety of extra-curricular interests, Bong also played the clarinet and sang in his church choir. More importantly for his future vocation he was an excellent shot with a rifle during his regular hunting trips and was fascinated by aviation, spending many hours building model aircraft.

Entering college at Wisconsin in 1938, Bong also began flying lessons with both the US Government funded Civilian Pilot Training Program, and privately. His fascination in aviation growing with each flight, Bong signed up for the US Army Air Corps Aviation Cadet Program in 1941. After basic flying training at Gardner Field, California, Bong's potential was recognised and he was selected to be trained for fighters. Carrying out advanced flying training in the North American AT-6 at Luke Field in Arizona, Bong again stood out from his peers – so much so that in January 1942, after earning his pilot's brevet and commission as a 2nd Lieutenant, he was ordered to remain at Luke Field as a gunnery instructor.

After only a few months Bong converted to Lockheed's new long-range fighter and the aircraft with which he would become forever associated with – the P38 Lightning. During his time flying the P38 from Hamilton Field, he carried out a series of showy and daring low level aerobatic maneuvers over San Francisco Bay, including flying underneath the famous bridges. A local housewife issued a formal complaint when Bong's fighter blew her laundry off her washing line. In the interests of maintaining good relations with the civilian populace, Bong was ordered to visit the woman's house to re-wash her laundry and mow her lawn.

In September 1942 Bong finally received a posting for a front line combat unit: the 9th Squadron of the 49th Fighter Group in the Pacific Theatre. However, Bong and several others arrived before their P38s were shipped across, and so saw his first combat whilst attached to the 39th Squadron of the 35th Fighter Group, flying P39 Airacobras from Port Moresby in New Guinea. On December 27th Bong shot down a Zero and an Oscar and was awarded the Silver Star.

By the summer of 1943, now back in the cockpit of a P38, Bong had shot down eleven Japanese aircraft and been promoted to 1st Lieutenant. As with many other successful fighter pilots, Bong rapidly acquired a reputation for superlative eyesight and the vital ability to see enemy aircraft first. On July 26th he shot down four Japanese fighters on an escort mission over Lae and was awarded the Distinguished Service Cross. Shooting down one further aircraft at the end of the month, Bong was then promoted to Captain in August and withdrawn from front line operations to Australia.

It was not long until Bong was back in action at the controls of his P38; he claimed two unconfirmed Japanese bombers on September 6th, shot down a Ki-46 reconnaissance aircraft in early October and then was involved in the heated fighting over Rabaul where he destroyed four Zeroes within a week to bring his total to 21 victories. He was then finally allowed to return home to Wisconsin for Christmas and New Year.
---
| | | | | |
| --- | --- | --- | --- | --- |
| | | | | |
| | Richard Bong in front of his P-38, nicknamed 'Marge' | | P-38G Marge skin by Wuax | download here | |
---
Whilst on leave, Bong met his future wife Marge Vattendahl whilst attending a College Homecoming event. The two struck up a relationship and upon returning to front line operations in January 1944, Bong named his P38 after her and decorated his fighter's nose with a picture based on a photograph of her. Back in action, Bong shot down his first Japanese aircraft in his newly adorned P38 off Cape Hoskins on February 15th.

On April 12th Bong shot down three enemy aircraft and officially surpassed the 26-kill American record score set by US ace Eddie Rickenbacker during the First World War. Rickenbacker was characteristically gregarious about the accomplishment, and personally wrote to Bong to congratulate him on this and his recent promotion to Major, and offer him a case of scotch.

Now a celebrity in the United States, Major Bong returned to the USA in May for a series of publicity tours before being posted back to the Southwest Pacific in September as a gunnery instructor. Whilst allowed to participate in combat missions, he was given clear instructions not to pursue confrontation with the enemy. Despite this, Bong shot down a further 12 Japanese aircraft by the end of the year to bring his total to 40. In November he was recommended for the Congressional Medal of Honor, which was presented to him by General Douglas MacArthur in December.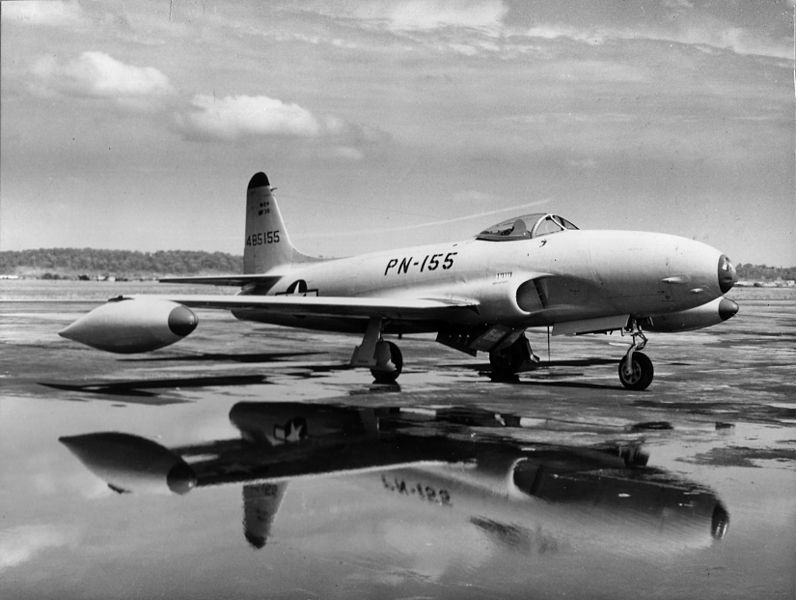 Bong was killed in 1945 while testing
a P-80A similar to this one
Bong would never fly in combat again. He returned to the United States and married Marge Vattendahl in February 1945. He was then sent to Wright Field to be employed as a test pilot, working on the new Lockheed P80 Shooting Star. On August 6th 1945, the same day as the Enola Gay dropped the atom bomb on Hiroshima, Richard Ira Bong was killed during a routine flight when he was forced to bail out of his P80 after a fuel pump malfunction. He was too close to the ground for his parachute to open.

America's Ace of Aces, Bong humbly claimed to be the worst shot in the USAAF, the reason why he favoured closing so close to enemy aircraft before firing. His comrades remembered an approachable, softly spoken and down to earth aviator who matured into a flyer who could push the very best from his machine without the need for any showmanship or ostentatious flying. More admirable still was Bong's attitude to his duty; the media was interested in counting his kills; Bong had little real concern for his tally and only wanted to carry out his job to the best of his ability. He is buried near where he grew up in Poplar, Wisconsin.
---
About The Author
Mark Barber, War Thunder Historical Consultant

Mark Barber is a pilot in the British Royal Navy's Fleet Air Arm. His first book was published by Osprey Publishing in 2008; subsequently, he has written several more titles for Osprey and has also published articles for several magazines, including the UK's top selling aviation magazine 'FlyPast'. His main areas of interest are British Naval Aviation in the First and Second World Wars and RAF Fighter Command in the Second World War. He currently works with Gaijin Entertainment as a Historical Consultant, helping to run the Historical Section of the War Thunder forums and heading up the Ace of the Month series.
---