System Requirements
Minimum
OS: Windows 7 SP1/8/10 (64 bit)
Processor: Dual-Core 2.2 GHz
Memory: 4GB
Video Card: DirectX 10.1 level video card: AMD Radeon 77XX / NVIDIA GeForce GTX 660. The minimum supported resolution for the game is 720p.
Network: Broadband Internet connection
Hard Drive: 17 GB
Recommended
OS: Windows 10/11 (64 bit)
Processor: Intel Core i5 or Ryzen 5 3600 and better
Memory: 16 GB and more
Video Card: DirectX 11 level video card or higher and drivers: Nvidia GeForce 1060 and higher, Radeon RX 570 and higher
Network: Broadband Internet connection
Hard Drive: 95 GB
Minimum
OS: Catalina v.10.15 or newer
Processor: Core i5, minimum 2.2GHz (Intel Xeon is not supported)
Memory: 6 GB
Video Card: Intel Iris Pro 5200 (Mac), or analog from AMD/Nvidia for Mac. Minimum supported resolution for the game is 720p with Metal support.
Network: Broadband Internet connection
Hard Drive: 17 GB
Recommended
OS: OS Big Sur v. 10.16 or newer
Processor: Core i7 (Intel Xeon is not supported)
Memory: 8 GB
Video Card: Radeon Vega II or higher with Metal support.
Network: Broadband Internet connection
Hard Drive: 95 GB
Minimum
OS: Most modern 64bit Linux distributions
Processor: Dual-Core 2.4 GHz
Memory: 4 GB
Video Card: NVIDIA 660 with latest proprietary drivers (not older than 6 months) / similar AMD with latest proprietary drivers (not older than 6 months; the minimum supported resolution for the game is 720p) with Vulkan support.
Network: Broadband Internet connection
Hard Drive: 17 GB
Recommended
OS: Ubuntu 20.04 64bit
Processor: Intel Core i7
Memory: 16 GB
Video Card: NVIDIA 1060 with latest proprietary drivers (not older than 6 months) / similar AMD (Radeon RX 570) with latest proprietary drivers (not older than 6 months) with Vulkan support.
Network: Broadband Internet connection
Hard Drive: 95 GB
On the 3rd October, 1990 the German Democratic Republic officially joined the Federal Republic of Germany. The day marked the peaceful End of the 40 year long German Division as a result of the Second World War and became an important milestone on the way to ending the Cold War between the Eastern and Western Powers. In modern Germany, 'German Unity Day' is a national holiday, and is celebrated in public all over the country.
We wish all German players a fantastic German Unity Day and together, will celebrate with them!
From 12:00 GMT on the 1st of October until 07:00 GMT on the 4th of October
Participate in 3 battles in German vehicles of rank II or higher with an in-game activity of at least 70% and get the "German Unity Day" decal
You can follow your progress by clicking on your nickname -> Achievements -> German Unity Day
---
Flash sale! Sea Hawk Mk.100 and Pz.Sfl.Ic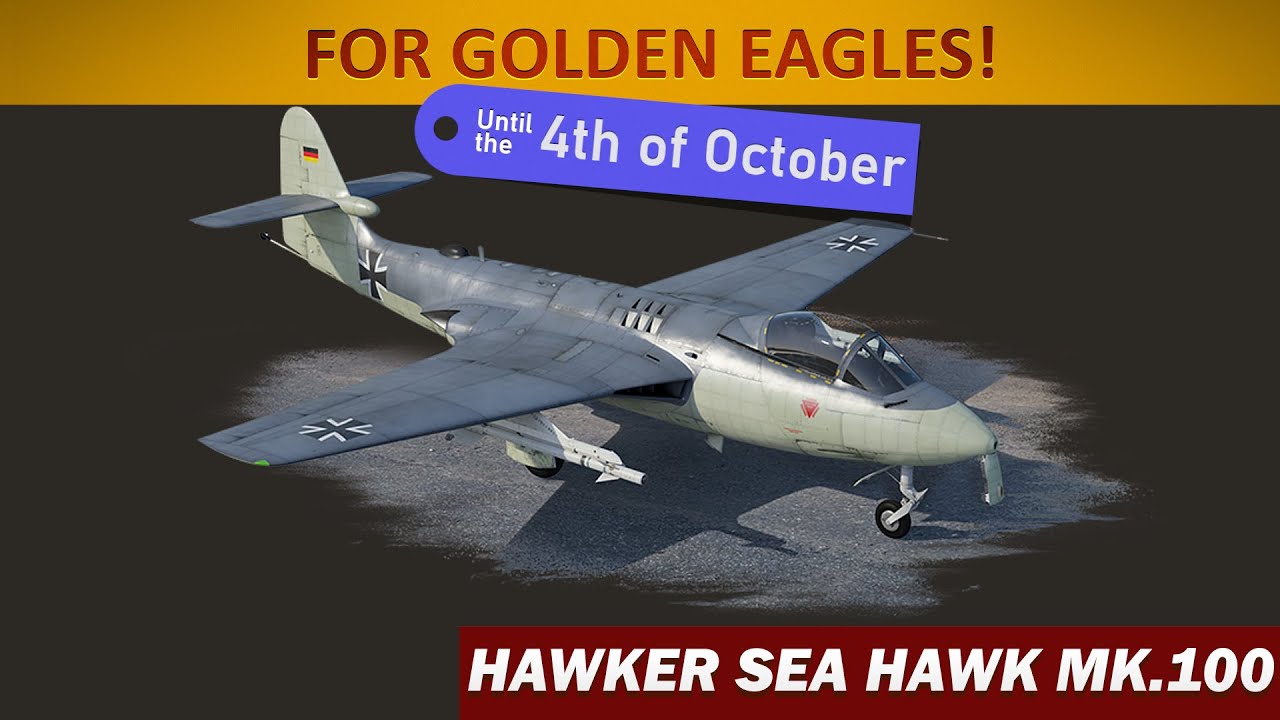 During the specified period, the premium Sea Hawk Mk.100 and Pz.Sfl.Ic will be available for purchase for Golden Eagles.
Learn more about the design, battle usage and tips in the article on our War Thunder Wiki.