News
How can you get premium vehicles? Warbonds!
We present to you an assortment of Warbond shop items for December. Fulfill Battle Tasks, earn warbonds, improve your shop level and unlock rewards!
Battle Tasks will be available to you after reaching and purchasing a 3rd rank vehicle in any nation in-game. You can read more about Warbonds and Battle Tasks in the War Thunder wiki.
This assortment will be available until the 31st of December!
A couple of interesting vehicles included:
Pz.III N
Pz.Kpfw. III Ausf. N - The best tank of the III series, this vehicle not only has a better speed than T-34's it also features a nice 75mm gun with powerful HEAT ammo! Though the Pz.III N has a short barreled gun it is still a great choice for short distance battles - good reload rate and a fast rotating turret make this tank a very dangerous opponent.
Ki-100-II
With its classic Japanese aviational maneuverability, favourable armament placement, high speed, and agreeable turn and rolling rates, the Ki-100-II serves as a good fighter that can be flown in a variety of combat situations, as long as you are aware of its capabilities… and flaws. With minimal armour protection, the aircraft struggles to endure considerable fire, and additionally, its engine it prone to burning out when struck. Use its positive flight-characteristics to avoid fire and take advantage of its powerful armament placements (2 x 20 mm Ho-5 cannons and 2 x 12.7 mm Ho-103 machine guns) to tear your enemies apart before they do the same to you!
Detailed list of the Warbond items in the shop this month:
🔸 Premium vehicles:
Hellcat Mk.II (Great Britain)
Pz.III N
Ki-100-II
T14
ZUT-37
🔸["Bomb Server" emblem, 253 Squadriglia, 104 Gruppo, RA. Decal by Colin 'Fenris' Muir
🔸Battle trophy (vehicle test drive): Cromwell Mk.V (RP-3), Do 335B-2, J2M4 Kai, M46 "Tiger", Т-34-100.
🔸Supply box with boosters for 50%, 150%, 300%, 500%, 700% RP and SL for one battle.
🔸3d decorations (Camouflage)
🔸3d decorations (road signs).
🔸"Order" trophy.
🔸Trophies "Avatar for tankers".
🔸Sets of universal back-up vehicles. A player can activate this item to backup any one vehicle of their choice.
🔸Trophy "Vehicles" (M-3 Medium (USSR), CR.32 bis, P-26A-34, Boston Mk.I, He 112B-2/U2, LaGG-3-34.)
Enjoy the new items available and see you on the battlefield!
Where can you find Warbonds??
▼
Click on the 'Daily Tasks' icon from the War Thunder in-game hangar.
On the menu that opens, click on the 'Warbond Shop' icon in the bottom right corner.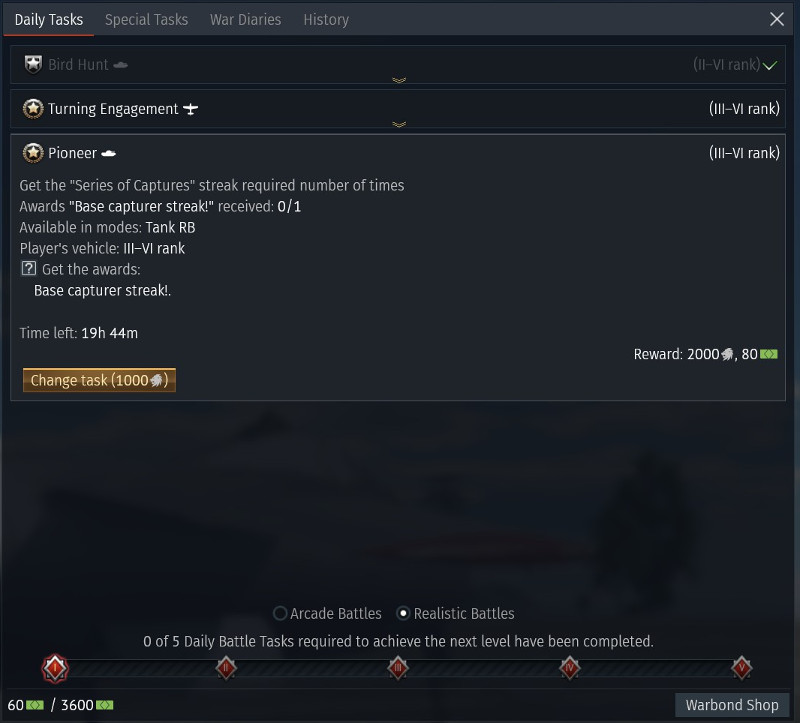 You can now view the range of Warbonds available by clicking on on the various icons.
Purchases can be made with the 'Purchase' icon in the bottom right corner.
Battle tasks: These individual tasks bring variety to your gameplay and prevent situations where all the players in a battle try to complete one specific task, effectively ignoring mission objectives that are needed for a victory. They are available for players that have reached the 3rd rank of any nation. On completion, players will receive Silver Lions, and Warbonds - a special in-game currency with their own specific shop, where you can purchase many different items.