System Requirements
Minimum
OS: Windows 7 SP1/8/10 (64 bit)
Processor: Dual-Core 2.2 GHz
Memory: 4GB
Video Card: DirectX 10.1 level video card: AMD Radeon 77XX / NVIDIA GeForce GTX 660. The minimum supported resolution for the game is 720p.
Network: Broadband Internet connection
Hard Drive: 17 GB
Recommended
OS: Windows 10/11 (64 bit)
Processor: Intel Core i5 or Ryzen 5 3600 and better
Memory: 16 GB and more
Video Card: DirectX 11 level video card or higher and drivers: Nvidia GeForce 1060 and higher, Radeon RX 570 and higher
Network: Broadband Internet connection
Hard Drive: 95 GB
Minimum
OS: Mac OS Big Sur 11.0 or newer
Processor: Core i5, minimum 2.2GHz (Intel Xeon is not supported)
Memory: 6 GB
Video Card: Intel Iris Pro 5200 (Mac), or analog from AMD/Nvidia for Mac. Minimum supported resolution for the game is 720p with Metal support.
Network: Broadband Internet connection
Hard Drive: 17 GB
Recommended
OS: Mac OS Big Sur 11.0 or newer
Processor: Core i7 (Intel Xeon is not supported)
Memory: 8 GB
Video Card: Radeon Vega II or higher with Metal support.
Network: Broadband Internet connection
Hard Drive: 95 GB
Minimum
OS: Most modern 64bit Linux distributions
Processor: Dual-Core 2.4 GHz
Memory: 4 GB
Video Card: NVIDIA 660 with latest proprietary drivers (not older than 6 months) / similar AMD with latest proprietary drivers (not older than 6 months; the minimum supported resolution for the game is 720p) with Vulkan support.
Network: Broadband Internet connection
Hard Drive: 17 GB
Recommended
OS: Ubuntu 20.04 64bit
Processor: Intel Core i7
Memory: 16 GB
Video Card: NVIDIA 1060 with latest proprietary drivers (not older than 6 months) / similar AMD (Radeon RX 570) with latest proprietary drivers (not older than 6 months) with Vulkan support.
Network: Broadband Internet connection
Hard Drive: 95 GB
Ace of the Month - June - Lt JG Tetsuzo Iwamoto
Attention! This news was published on the old version of the website. There may be some problems with news display in specific browser versions.
---
---
#A6M2 Mod 21, Petty Officer First Class Tetsuzo Iwamoto, Zuikaku Carrier Air Group,
Pearl Harbor Attack, 7th December 1941.
camouflage created by max_86z | Download here
---
Tetsuzo Iwamoto was born in June 1916 in the Karafuto Prefecture of Japan, the third of his parents' three sons and one daughter. His father was a policeman by trade and became a high ranking official after the family move to Sapporo. After his father retired the family moved to the smaller city of Masuda, where Tetsuzo attended the city's Agricultural and Forestry High School whilst his parents changed vocation to farming. Whilst he was a gifted student both academically and physically, his popularity with his teachers was poor due to his insubordinate, rebellious and sometimes outright rude nature.
Tetsuzo Iwamoto
The young Iwamoto graduated from high school in 1934 but had already decided that a farmer's life was not for him. Whilst ostensibly travelling away from home to take his college entrance exams, Iwamoto joined the Imperial Japanese Navy as an enlisted rating, a move which deeply disappointed his parents who were counting on his help with the family farm. After about a year and a half's service Iwamoto was working as a mechanic onboard the carrier Ryūjō; inspired by the lifestyle of the embarked aviators, he set his sights on joining the elite fraternity of naval fighter pilots. After passing his entrance exams Iwamoto commenced flying training and graduated in December 1936.
Six months of advanced flying training followed, including embarked operations. However, Iwamoto would not see combat until February 1938. Now part of the 12th Air Group, Airman First Class Iwamoto was sent to China where hostilities had been raging between China and Japan since July 1937. In his first combat mission, his flight was attacked by a large formation of Chinese I-15 and I-16 fighters over Nanchang. Breaking away from the bombers they had been charged to protect, the Japanese A5M fighters engaged the hostile aircraft and Iwamoto shot down an incredible four enemy aircraft with a fifth probable. On April 29th Iwamoto repeated the incredible feat of shooting down four aircraft in a day and, by the time he was ordered back to Japan in September, he had 14 kills from 82 sorties and was the top Japanese naval ace of the war.
After a tour as an instructor, Petty Officer First Class Iwamoto returned to the front line onboard the carrier Zuikaku, now flying the legendary A6M 'Zero' fighter. Iwamoto was airborne for the day of infamy – the attack on Pearl Harbor – but flew air cover over the carrier group itself rather than escorting the actual raid. Iwamoto was heavily involved in the air war in the Pacific from the outset, regularly leading flights of A6Ms against their American, British and Australian counterparts. Iwamoto flew in the violent air engagements of the Battle of the Coral Sea in May 1942, during which Zuikaku's air group suffered significant losses. This necessitated a return to Japan for resupply and to train replacement aircrew which resulted in Iwamoto and his comrades missing the Battle of Midway.
---
---
The devastating losses of Midway resulted in Iwamoto being pressed back into service as a pilot instructor in an effort to join the small team in Japan who frantically tried to train new aircrew to stem the advancing allies. After a year of instructional duties, Chief Petty Officer Iwamoto returned to the front line and joined the 253rd Air Group, flying A6Ms from Rabaul in November 1943. Involved in daily air combat, the experienced fighter leader led his cadre of increasingly junior and less experienced pilots against the might of the US Navy and USAAF. Whilst operating from Rabaul, Iwamoto filed claims for a staggering 142 enemy aircraft shot down.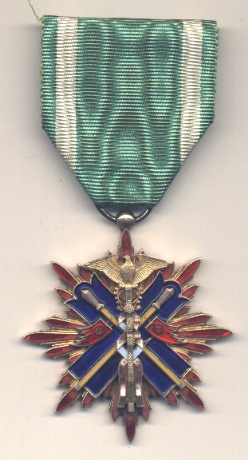 Japanese Order of the Golden Kite, 5th Class
After withdrawing from Rabaul, Iwamoto returned to Japan in June 1944 for a brief respite from the front line, before fighting in the skies over Formosa and the Philippines during autumn and the winter. In November 1944 Iwamoto's skill and leadership were further recognised when he was commissioned as an officer in the ranks of the Japanese Navy, holding the rank of Ensign. Iwamoto's last operational sorties were flown with the 203rd Air Group, defending Kyushu and Okinawa in the furthest Southwest reaches of Japan against the long ranged B-29 attacks and the might of the US Navy's carrier borne air power. The last few months of Iwamoto's war were spent training kamikaze pilots at Iwakuni airfield on Honshu island.
Iwamoto was promoted to Sub-Lieutenant on his enforced retirement from the Japanese Navy following his nation's surrender, Unable to find work in a post war Japan, in part due to the growing sentiment of anti-militarism he now faced, Iwamoto developed drinking problems and plunged into depression. When the Allied Occupation Forces finally departed Japan in 1952, Iwamoto briefly found employment in a spinning mill but even this was not to last – the next year he began to suffer from abdominal pains and after several operations he grew increasingly weak. In May 1955, aged only 38, Tetsuzo Iwamoto died of septicemia from the last of his operations. Several sources claim his final words were to his wife: "when I get well, I want to fly again."
Iwamoto's final number of kills remains open to debate. A combination of the Japanese practice of crediting victories to a squadron rather than an individual, lost records and discrepancies between the confirmation process in Japan and allied nations mean that the final tally will never be known: most sources officially credit Iwamoto with 80 kills; his war diary claims 202 individual victories, 26 shared and 22 unconfirmed. His wartime service resulted in the award of the Order of the Golden Kite, 5th Class. An outspoken, opinionated and brash man on the ground, Iwamoto was conversely a tactically minded and cool headed aviator who favoured hit and run tactics over dogfighting. There is a very good chance that he was, and forever will be, the greatest Japanese fighter ace of all time.
---
About The Author
Mark Barber, War Thunder Historical Consultant

Mark Barber is a pilot in the British Royal Navy's Fleet Air Arm. His first book was published by Osprey Publishing in 2008; subsequently, he has written several more titles for Osprey and has also published articles for several magazines, including the UK's top selling aviation magazine 'FlyPast'. His main areas of interest are British Naval Aviation in the First and Second World Wars and RAF Fighter Command in the Second World War. He currently works with Gaijin Entertainment as a Historical Consultant, helping to run the Historical Section of the War Thunder forums and heading up the Ace of the Month series.
---
With an upcoming update, we will add
Cherryblossom Killmarkings used by Tetsuzo Iwamoto
Decals made by Jej 'CharlieFoxtrot' Ortiz
---