System Requirements
Minimum
OS: Windows 7 SP1/8/10 (64 bit)
Processor: Dual-Core 2.2 GHz
Memory: 4GB
Video Card: DirectX 10.1 level video card: AMD Radeon 77XX / NVIDIA GeForce GTX 660. The minimum supported resolution for the game is 720p.
Network: Broadband Internet connection
Hard Drive: 17 GB
Recommended
OS: Windows 10/11 (64 bit)
Processor: Intel Core i5 or Ryzen 5 3600 and better
Memory: 16 GB and more
Video Card: DirectX 11 level video card or higher and drivers: Nvidia GeForce 1060 and higher, Radeon RX 570 and higher
Network: Broadband Internet connection
Hard Drive: 95 GB
Minimum
OS: Mac OS Big Sur 11.0 or newer
Processor: Core i5, minimum 2.2GHz (Intel Xeon is not supported)
Memory: 6 GB
Video Card: Intel Iris Pro 5200 (Mac), or analog from AMD/Nvidia for Mac. Minimum supported resolution for the game is 720p with Metal support.
Network: Broadband Internet connection
Hard Drive: 17 GB
Recommended
OS: Mac OS Big Sur 11.0 or newer
Processor: Core i7 (Intel Xeon is not supported)
Memory: 8 GB
Video Card: Radeon Vega II or higher with Metal support.
Network: Broadband Internet connection
Hard Drive: 95 GB
Minimum
OS: Most modern 64bit Linux distributions
Processor: Dual-Core 2.4 GHz
Memory: 4 GB
Video Card: NVIDIA 660 with latest proprietary drivers (not older than 6 months) / similar AMD with latest proprietary drivers (not older than 6 months; the minimum supported resolution for the game is 720p) with Vulkan support.
Network: Broadband Internet connection
Hard Drive: 17 GB
Recommended
OS: Ubuntu 20.04 64bit
Processor: Intel Core i7
Memory: 16 GB
Video Card: NVIDIA 1060 with latest proprietary drivers (not older than 6 months) / similar AMD (Radeon RX 570) with latest proprietary drivers (not older than 6 months) with Vulkan support.
Network: Broadband Internet connection
Hard Drive: 95 GB
May Ace of the Month – Ilmari Juutilainen
Attention! This news was published on the old version of the website. There may be some problems with news display in specific browser versions.
Born on February 21st, 1914, Ilmari Juutilainen grew up in Lieksa before his family then moved to Sortavala on the northern tip of Lake Ladoga. His father had worked in the railway industry, but had been crippled in an accident at work. As a boy, Juutilainen saw the world of aviation first hand as seaplane pilots operated their aircraft from Sortavala and Kasinhäntä Air Stations; the Finnish Air Force had been established as one of the world's first independent Air Forces in March 1918, and Juutilainen was fortunate enough to be living amongst the fledgling organization as it developed and expanded around him. The young Juutilainen was further influenced by reading 'The Red Fighter Pilot' – the autobiography of top scoring First World War fighter ace Manfred von Richthofen, which was written shortly before the German aviator's death. As a teenager, Juutilainen joined the Volunteer Maritime Defense Association.
At the age of 18, Juutilainen carried out his military service in the Signal Corps, where he was trained as a telegraphist. After completing his military service, Juutilainen travelled to Jyväskylä in Central Finland where he completed his Private Pilot's License at the Karhumäki Brothers' Flying School. On completion of his training, he re-enlisted in the military in 1935. In 1936 he applied for a position as a military aviator and was accepted. Due to his previous military experience and civilian aviation training he was made student Course Leader. This resulted in him spending a good deal of time suffering various punishments during the initial four-month course, as he was held responsible for the transgressions conducted by his peers. This is not to say that Juutilainen himself was beyond fault; on one occasion he was punished for the offense typical of so many junior pilots – unauthorized low flying.

In May 1937 Juutilainen was posted to his first squadron, where he flew as an NCO pilot on reconnaissance aircraft. He was married in the same year and his wife gave birth to their first son in 1938. Juutilainen forged a strong reputation as a pilot during his first tour in reconnaissance and in March 1939 he was transferred to No.24 Squadron under the command of Gustav Magnusson, which was equipped with Fokker D.XXI fighters. No.24 Squadron has a claim to being perhaps the first fighter unit in history to adopt the 'pair' as a standard tactical element rather than the more conventional three aircraft 'vic' in common use during the inter-war and early war period.
Three months after the outbreak of World War II, Soviet forces swept across the Finnish border to initiate what would become known as the Winter War. The Soviet Union feared that Finland could be used a springboard for Germany to mount an offensive which would quickly threaten Leningrad; the Finnish were naturally passionate about defending their nation. Juutilainen's first shots were fired when he rushed to man a Lewis gun whilst his airbase was attacked by SB-2 bombers in December 1939. Juutilainen flew as wingman to Lt Eino Luukkanen, Flight Commander of the squadron's third flight (3/LeLv 24). He shot down his first aircraft, a DB-3 bomber, on December 19th. Twelve days later he shot down his first fighter, an I-16: Juutilainen liked the D.XXI but later, after flying a captured I-16, said he preferred the Soviet fighter. As providence would have it, Juutilainen spent the early part of the war defending an area to the North East of Lake Ladoga where his brother Aarne – a veteran of the French Foreign Legion – was serving as an infantry officer. Juutilainen's flight was tasked with attacking Soviet ground forces, particularly during early March 1940 – he flew eleven ground attack sorties, of which he later commented about the shock of being able to see close up the effect his weapons had on human beings, rather than just machinery. Whilst his main job as wingman was to protect his element leader, Juutilainen did confirm two aerial victories plus a third shared during the Winter War.

Hostilities ended in March with the signing of the Moscow Peace Treaty; Finalnd would retain her sovereignty but was forced to surrender territory to the Soviet Union. With relations with the Soviet Union remaining strained and further hostilities inevitable, Finland reluctantly accepted aid from Nazi Germany in September 1940 as Hitler began his plans for the invasion of the Soviet Union. With the German invasion of the Soviet Union on June 22nd 1941, Finland was now considered an ally of Hitler and three days later Juutilainen and his squadron were again in action of what the Finnish would dub 'The Continuation War'. Flying Brewster Buffaloes with LeLv 24, Juutilainen shot down thirteen enemy aircraft in the closing months of 1941, and a further 21 in 1942. Juutilainen would go on to speak very highly of the Buffalo in his post war writings, praising its speed and agility.


The third flight of No.24 Squadron came to be known as 'Knight Flight' due to Juutilainen and two of his comrades being awarded Finland's most prestigious military award, the Mannerheim Cross – Juutilainen himself was made a Knight of the Mannerheim Cross on April 26th 1942, by which time he held the rank of Air Master Sergeant. He was the third pilot of the Finnish Air Force to receive the honour. On August 18th, Juutilainen shot down three I-16s in a single encounter. With foreign aid now supplying aircraft to the Soviet Union, Juutilainen and his comrades found themselves facing an increasing variety of opponents – he later recalled that he found some Soviet pilots to be good, but that in general he believed Finnish pilots to possess better gunnery skills. He also commented on the La-5, Yak-9 and Spitfire as being the enemy aircraft he found most difficult to deal with.
On February 8th 1943, Juutilainen was selected as one of the founding members of a new fighter squadron: LeLv34. Now accepting overt military aid from Germany, Juutilainen's new squadron was equipped with the Messerschmitt Bf109G-2: another quantum leap forwards in fighter development. Juutilainen's immediate impressions of his new aircraft upon picking it up at Werneuchen was that it was far more aggressive than anything he had ever flown. Propelled straight back into combat, he shot down an La-5 – a fighter he believed to be more agile than his 109G – and a number of Il-2s which he found were best attacked from above and to the side, out of the gunner's fire arc. On June 30th 1944, Juutilainen shot down six aircraft in one mission: an incredible feat which he modestly down played in a post war interview by admitting it was in three separate encounters.
In July he was awarded a second Mannerheim Cross. September 3rd 1944 saw Juutilainen claim his last confirmed aerial victory of the Continuation War, when he shot down a Soviet transport aircraft near Nurmijärvi. This was Juutilainen's 94th confirmed victory, making him the highest scoring fighter pilot of all time outside of the Luftwaffe – Juutilainen himself believed his final score to be nearly thirty aircraft higher, but was unable to confirm these due to fighting alone at the time. The next day an armistice was signed between Finland and the Soviet Union. This, like the Winter War, ended with Finland retaining its independence but conceding some of its territory to the Soviet Union. After the war Juutilainen remained in the Finnish Air Force until 1947, after which he pursued a career in civil aviation. He bought a de Havilland Tiger Moth biplane which he flew regularly up until the 1950s. Juutilainen was fondly remembered by his colleagues as an approachable, affable aviator and team player who enjoyed shotgun hunting and was a teetoller and non-smoker. He last flew in the rear seat of a Finnish Air Force F/A-18 in 1997; he died at his home in Tuusula two years later, on his 85th birthday.
Images from Finnish War Time Archive SA-kuva.
Custom skin for Bf-109G-2 (MT-222), in which Juutilainen scored 18 wins, skin by JST
---
Finnish Roundel - To be introduced into the game in a future patch
---
The author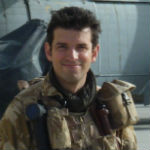 Mark Barber, War Thunder Historical Consultant
Mark Barber is a pilot in the British Royal Navy's Fleet Air Arm. His first book was published by Osprey Publishing in 2008; subsequently, he has written several more titles for Osprey and has also published articles for several magazines, including the UK's top selling aviation magazine 'FlyPast'. His main areas of interest are British Naval Aviation in the First and Second World Wars and RAF Fighter Command in the Second World War. He currently works with Gaijin Entertainment as a Historical Consultant, helping to run the Historical Section of the War Thunder forums and heading up the Ace of the Month series.