System Requirements
Minimum
OS: Windows 7 SP1/8/10 (64 bit)
Processor: Dual-Core 2.2 GHz
Memory: 4GB
Video Card: DirectX 10.1 level video card: AMD Radeon 77XX / NVIDIA GeForce GTX 660. The minimum supported resolution for the game is 720p.
Network: Broadband Internet connection
Hard Drive: 17 GB
Recommended
OS: Windows 10/11 (64 bit)
Processor: Intel Core i5 or Ryzen 5 3600 and better
Memory: 16 GB and more
Video Card: DirectX 11 level video card or higher and drivers: Nvidia GeForce 1060 and higher, Radeon RX 570 and higher
Network: Broadband Internet connection
Hard Drive: 95 GB
Minimum
OS: Mac OS Big Sur 11.0 or newer
Processor: Core i5, minimum 2.2GHz (Intel Xeon is not supported)
Memory: 6 GB
Video Card: Intel Iris Pro 5200 (Mac), or analog from AMD/Nvidia for Mac. Minimum supported resolution for the game is 720p with Metal support.
Network: Broadband Internet connection
Hard Drive: 17 GB
Recommended
OS: Mac OS Big Sur 11.0 or newer
Processor: Core i7 (Intel Xeon is not supported)
Memory: 8 GB
Video Card: Radeon Vega II or higher with Metal support.
Network: Broadband Internet connection
Hard Drive: 95 GB
Minimum
OS: Most modern 64bit Linux distributions
Processor: Dual-Core 2.4 GHz
Memory: 4 GB
Video Card: NVIDIA 660 with latest proprietary drivers (not older than 6 months) / similar AMD with latest proprietary drivers (not older than 6 months; the minimum supported resolution for the game is 720p) with Vulkan support.
Network: Broadband Internet connection
Hard Drive: 17 GB
Recommended
OS: Ubuntu 20.04 64bit
Processor: Intel Core i7
Memory: 16 GB
Video Card: NVIDIA 1060 with latest proprietary drivers (not older than 6 months) / similar AMD (Radeon RX 570) with latest proprietary drivers (not older than 6 months) with Vulkan support.
Network: Broadband Internet connection
Hard Drive: 95 GB
PT-109: Kennedy's Torpedo Boat
Attention! This news was published on the old version of the website. There may be some problems with news display in specific browser versions.
---
We begin our presentation of the US naval tech tree with a truly legendary vessel. Meet the PT-109, a torpedo boat on which the future US President John F. Kennedy served and performed acts of heroism!
---
Patrol torpedo boats manufactured by Elco company were designed to carry out a wide range of missions not only inshore, but also out on the open sea. The United States Navy placed an order for the production of 94 of these 80-foot (24-meter) torpedo boats immediately after the country found itself entangled in the Second World War. These boats were highly successful, and as a result, they were actively upgraded (chiefly via increased firepower). These torpedo boats proved excellent in both destroying smaller vessels and military operations against larger ships. The survivability of their design turned out to be particularly impressive. Even after taking critical hits, the ship's wreckage remained afloat long enough for survivors to escape. An Elco boat's crew even survived a direct kamikaze attack, while another incident was destined to become a true legend.
---
| | |
| --- | --- |
| | |
---
On the night of August 2, 1943, an Elco patrol torpedo boat, designated 109, under the command of Lieutenant (junior grade) John Fitzgerald Kennedy, set out as part of a group to patrol the ocean near the Solomon Islands. During the operation, the boat was subject to a surprise ram attack from the Japanese destroyer Amagiri. As a result of the ram attack, the PT-109 was literally cut in two, but even catastrophic damage and the resulting fuel explosion and fire failed to sink her, giving the captain time to gather the survivors. Despite a serious back injury, Lieutenant Kennedy acted smartly and decisively helping to save all ten surviving crew members and even towing an injured man behind him as he swam several kilometers. After reaching a nearby island, Kennedy scratched his coordinates on a coconut shell and sent his message with the local natives. A week later the boat's crew was evacuated. This is how PT-109 helped to save the life of one of the USA's most beloved presidents and his crew!
---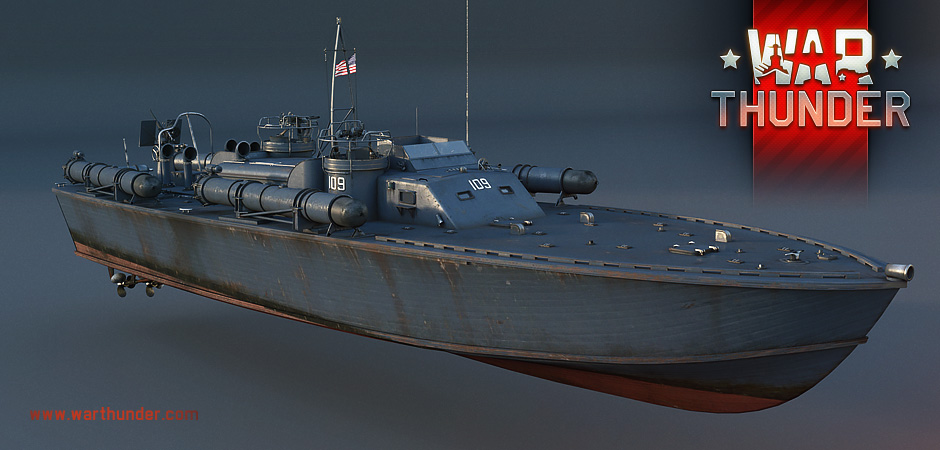 Download Wallpaper: 1280x1024 | 1920x1080 | 2560x1440
---
We've decided to add the legendary Elco boat, side number 109, to our game. So, the hero of the hour is the early batch PT-109 patrol torpedo boat. This boat differs from the later versions in her armament: she has four 21-inch Mark 18-1 torpedo tubes, two twin high-caliber .50 Browning machine guns in rotating turrets and an automatic 20 mm Oerlikon cannon on the stern. She had a 12-man crew and could reach a maximum speed of 41 knots (roughly 75 km/h). In War Thunder, this boat is a fast and maneuverable ship killer that can reach capture points first and lay down suppressing fire on opposing ships and aircraft. Her four torpedoes, each weighing almost 1,200 kg, come in handy for destroying large naval targets, and a direct hit against a small enemy vessel will immediately send your opponent back to the dock.
---
---
The PT-109 is one of the leading heroes of naval warfare in the game. She is already available for pre-order in our online store and guarantees early access to the War Thunder naval warfare closed beta test. This torpedo boat is a premium vehicle and will provide bonus research points and Silver Lions. The PT-109 awaits her captain – take your torpedo boat into battle!
---

The War Thunder Team