System Requirements
Minimum
OS: Windows 7 SP1/8/10 (64 bit)
Processor: Dual-Core 2.2 GHz
Memory: 4GB
Video Card: DirectX 10.1 level video card: AMD Radeon 77XX / NVIDIA GeForce GTX 660. The minimum supported resolution for the game is 720p.
Network: Broadband Internet connection
Hard Drive: 17 GB
Recommended
OS: Windows 10/11 (64 bit)
Processor: Intel Core i5 or Ryzen 5 3600 and better
Memory: 16 GB and more
Video Card: DirectX 11 level video card or higher and drivers: Nvidia GeForce 1060 and higher, Radeon RX 570 and higher
Network: Broadband Internet connection
Hard Drive: 95 GB
Minimum
OS: Mac OS Big Sur 11.0 or newer
Processor: Core i5, minimum 2.2GHz (Intel Xeon is not supported)
Memory: 6 GB
Video Card: Intel Iris Pro 5200 (Mac), or analog from AMD/Nvidia for Mac. Minimum supported resolution for the game is 720p with Metal support.
Network: Broadband Internet connection
Hard Drive: 17 GB
Recommended
OS: Mac OS Big Sur 11.0 or newer
Processor: Core i7 (Intel Xeon is not supported)
Memory: 8 GB
Video Card: Radeon Vega II or higher with Metal support.
Network: Broadband Internet connection
Hard Drive: 95 GB
Minimum
OS: Most modern 64bit Linux distributions
Processor: Dual-Core 2.4 GHz
Memory: 4 GB
Video Card: NVIDIA 660 with latest proprietary drivers (not older than 6 months) / similar AMD with latest proprietary drivers (not older than 6 months; the minimum supported resolution for the game is 720p) with Vulkan support.
Network: Broadband Internet connection
Hard Drive: 17 GB
Recommended
OS: Ubuntu 20.04 64bit
Processor: Intel Core i7
Memory: 16 GB
Video Card: NVIDIA 1060 with latest proprietary drivers (not older than 6 months) / similar AMD (Radeon RX 570) with latest proprietary drivers (not older than 6 months) with Vulkan support.
Network: Broadband Internet connection
Hard Drive: 95 GB
Attention! This news was published on the old version of the website. There may be some problems with news display in specific browser versions.
---
Kirill "Lassar" Vostretsov, game designer:
Initially planned as a fighter, the Firebrand eventually took on the form of a carrier-borne fighter bomber which, apart from its attacker role, it possessed the ability to participate in air battles by design. The resulting aircraft could be called a carrier-borne version of the Beaufighter.
This model, the Firebrand T.F. Mk IV, was the first to go into service with the Fleet Air Arm of the Royal Navy.
---
Sergei Kapitsyn, 3D artist:
This aircraft, on top of being able to carry a multitude of different suspended weapons, from torpedoes to unguided rockets, is interesting in two other ways:
Firstly, its collimator sight had no reflector, and the sighting marker is projected directly on to the front cockpit glass.
Secondly, on the outside of the windscreen there is a special fairing which houses an extra speed indicator. The pilot used this while landing to avoid having to turn his gaze to the instrument panel.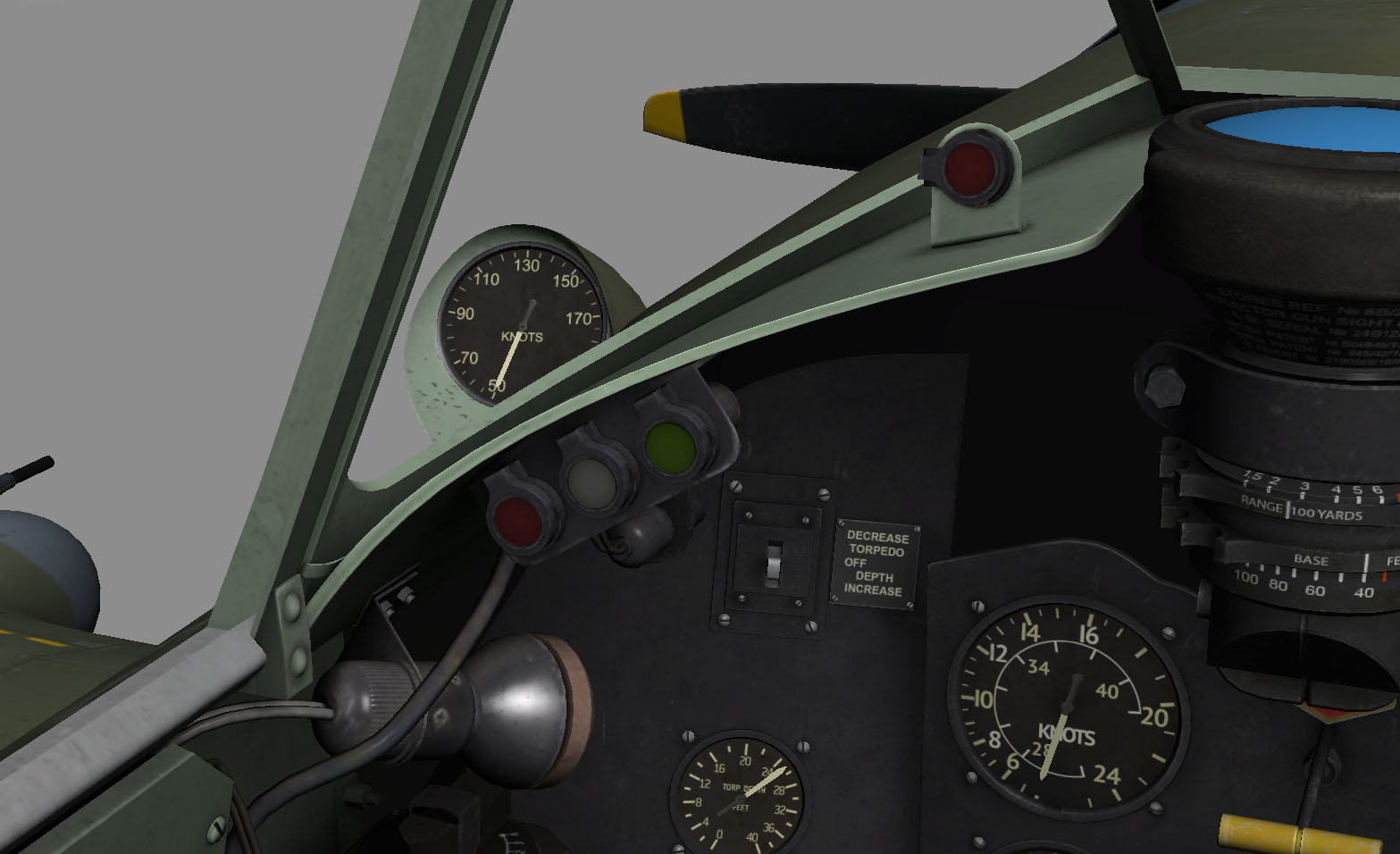 ---
The War Thunder Team