System Requirements
Minimum
OS: Windows 7 SP1/8/10 (64 bit)
Processor: Dual-Core 2.2 GHz
Memory: 4GB
Video Card: DirectX 10.1 level video card: AMD Radeon 77XX / NVIDIA GeForce GTX 660. The minimum supported resolution for the game is 720p.
Network: Broadband Internet connection
Hard Drive: 17 GB
Recommended
OS: Windows 10/11 (64 bit)
Processor: Intel Core i5 or Ryzen 5 3600 and better
Memory: 16 GB and more
Video Card: DirectX 11 level video card or higher and drivers: Nvidia GeForce 1060 and higher, Radeon RX 570 and higher
Network: Broadband Internet connection
Hard Drive: 95 GB
Minimum
OS: Mac OS Big Sur 11.0 or newer
Processor: Core i5, minimum 2.2GHz (Intel Xeon is not supported)
Memory: 6 GB
Video Card: Intel Iris Pro 5200 (Mac), or analog from AMD/Nvidia for Mac. Minimum supported resolution for the game is 720p with Metal support.
Network: Broadband Internet connection
Hard Drive: 17 GB
Recommended
OS: Mac OS Big Sur 11.0 or newer
Processor: Core i7 (Intel Xeon is not supported)
Memory: 8 GB
Video Card: Radeon Vega II or higher with Metal support.
Network: Broadband Internet connection
Hard Drive: 95 GB
Minimum
OS: Most modern 64bit Linux distributions
Processor: Dual-Core 2.4 GHz
Memory: 4 GB
Video Card: NVIDIA 660 with latest proprietary drivers (not older than 6 months) / similar AMD with latest proprietary drivers (not older than 6 months; the minimum supported resolution for the game is 720p) with Vulkan support.
Network: Broadband Internet connection
Hard Drive: 17 GB
Recommended
OS: Ubuntu 20.04 64bit
Processor: Intel Core i7
Memory: 16 GB
Video Card: NVIDIA 1060 with latest proprietary drivers (not older than 6 months) / similar AMD (Radeon RX 570) with latest proprietary drivers (not older than 6 months) with Vulkan support.
Network: Broadband Internet connection
Hard Drive: 95 GB
Stalingrad counter-offensive anniversary
Attention! This news was published on the old version of the website. There may be some problems with news display in specific browser versions.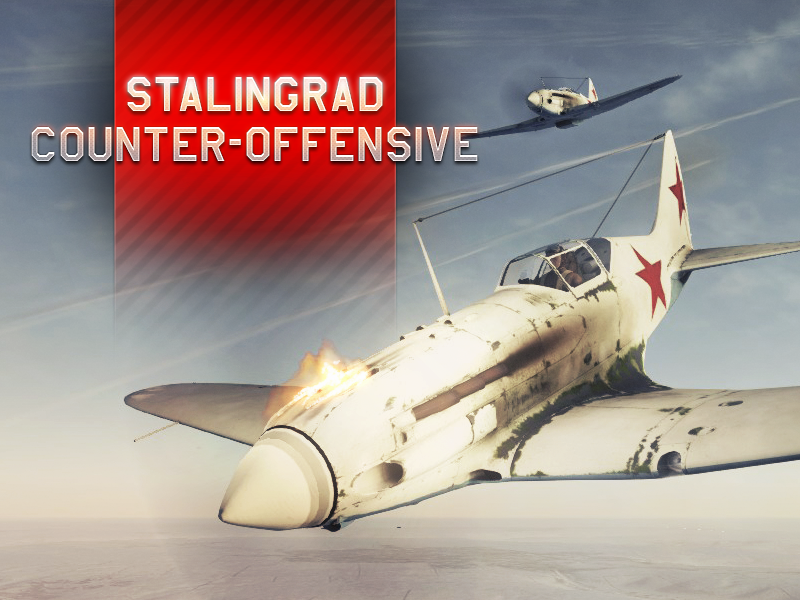 Special 30% discount for purchase and repair of the following aircraft
from November 19th 20:00 GMT (12:00 PST) till November 20th 20:00 GMT (12:00 PST):
Su-2 M-82
Pe-2-110
LaGG-3-35
LaGG-3-35
SB 2M105
IL-2
IL-2М
La-5
MiG-3-15
Yak-7B

EVENT - OPERATION URANUS
---
Seventy one years ago, on November the 19th 1942 the Red Army had launched a counter-offensive at Stalingrad, this was known as the Operation Uranus.

For the whole autumn of 1942 the Soviet troops kept the enemy forces from capturing a beachhead on the right bank of Volga to cross the river and seize the city. The Germans' success would have meant losing one of the country's most important industrial centres as well as the oil fields of the Caucasus and Transcaucasia, putting other southern regions of the USSR at risk. To complete this strategic task Hitler had gathered an unprecedentedly large force near Stalingrad: hundreds of tanks and planes, approximately 10,000 artillery pieces, over 1 million soldiers. But even that was not enough to defeat the Red Army's deep defense.

By November 19th the Soviet command had assembled enough troops to conduct a counteroffensive operation. It started with a massive artillery preparation and an attack of the 1st Guards Army, 5th Tank Army, and 21st Army from the North that cut off the main German force near Stalingrad. The next attack was launched from the South the next day and by November 23rd the Axis armies have been surrounded. Even though the surrounded Germans only surrendered in February 1943, the outcome of the battle had already been determined.

This victory was the turning point of the Great Patriotic war; the Soviet troops had seized the strategic initiative and didn't lose it until the defeat of Germany.