News
Attention! This news was published on the old version of the website. There may be some problems with news display in specific browser versions.
Head start for the War Thunder Mastermind Quiz!
---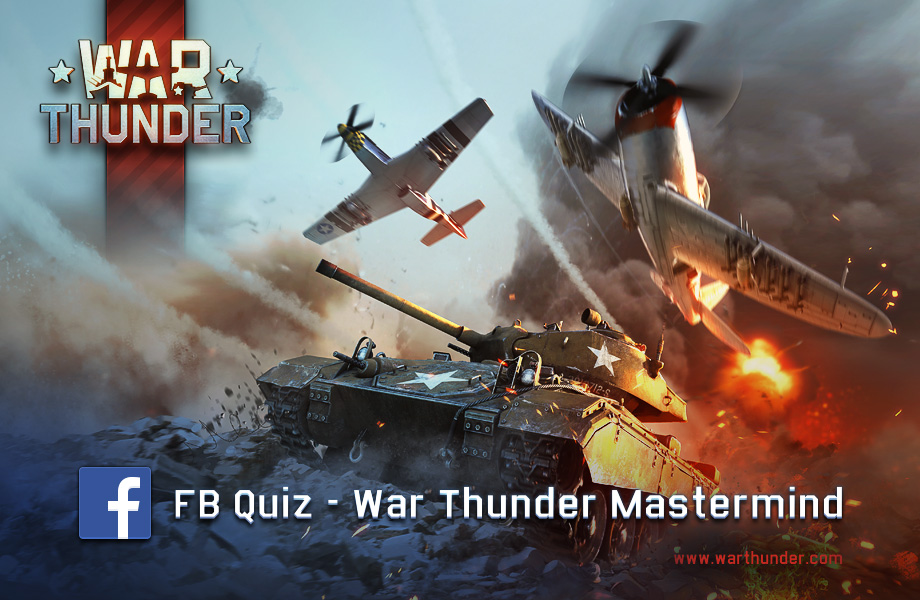 ---
Dear Pilots and Tankers!
We're are steadily climbing towards our goal of 400 000 followers on our War Thunder Facebook page, but we are not quite there yet. For reaching that milestone, we promised you the War Thunder Mastermind Quiz, in which you will be able to prove your knowledge about your favourite game and earn rare premium vehicles as well!
Decal : Crab Claw - additional award for completing Facebook quiz
We know that a great many of you are eagerly awaiting the chance to get their hands on the quiz (and the vehicles, of course!), so we decided to cut the wait short and make both the quiz and ingame special available to you immediately! We're are sure to reach the number soon anyway, so there is really no reason to keep you waiting any longer!
Don't forget: Facebook is integrated into War Thunder, and by connecting your Facebook account to the game you can easily share battle results and other achievements with your friends, or send invites to people on your friend list you think might fancy a ride in an aircraft or tank.
So, join us this weekend on our official War Thunder Facebook page, prove your knowledge in the Mastermind Quiz, activate the code, and then head in to the game to complete the easy to do special for your vehicles!
---
The "Quiz" special will be active from 07.00 GMT on February 28th until 07.00 GMT on March 2nd.
You'll receive a special reward for the third, fifth and seventh victory over the period!
---
3 of 7 victories:
Get 50.000 !
5 of 7 victories:
Get one: He 112B-2, DB-7 or LaGG-3-23!
7 of 7 victories:
Get one: He 112B-2, DB-7 or LaGG-3-23!
---
In total, over the whole period, you can earn 50.000
and two premium aircraft! The chances of receiving any of these aircraft is equal; if you already own one, you'll get another one of the three. Unfortunately, a comparable pay-out in Golden Eagles is not possible.
If you are on PlayStation 4, we haven't forgotten you! Sadly, for technical reasons, you are currently not able to activate your Mastermind code after successfully participating in the quiz. You can still complete the tasks of the special, and will be able to activate your code at a later point in time. Thank you for understanding!
---
How it works:
- Access the War Thunder Facebook page and click on 'Participate'
- The Mastermind Quiz will ask you 10 random questions. Answer 7 of them correctly and get a special key code!
- Redeem the code on the official website here (make sure to log in with your game account!)
- You're now able to do complete the special! Check your profile to find out more about the requirements to unlock the vehicles
---
The War Thunder Team
---
Discuss on the Forums