System Requirements
Minimum
OS: Windows 7 SP1/8/10 (64 bit)
Processor: Dual-Core 2.2 GHz
Memory: 4GB
Video Card: DirectX 10.1 level video card: AMD Radeon 77XX / NVIDIA GeForce GTX 660. The minimum supported resolution for the game is 720p.
Network: Broadband Internet connection
Hard Drive: 17 GB
Recommended
OS: Windows 10/11 (64 bit)
Processor: Intel Core i5 or Ryzen 5 3600 and better
Memory: 16 GB and more
Video Card: DirectX 11 level video card or higher and drivers: Nvidia GeForce 1060 and higher, Radeon RX 570 and higher
Network: Broadband Internet connection
Hard Drive: 95 GB
Minimum
OS: Mac OS Big Sur 11.0 or newer
Processor: Core i5, minimum 2.2GHz (Intel Xeon is not supported)
Memory: 6 GB
Video Card: Intel Iris Pro 5200 (Mac), or analog from AMD/Nvidia for Mac. Minimum supported resolution for the game is 720p with Metal support.
Network: Broadband Internet connection
Hard Drive: 17 GB
Recommended
OS: Mac OS Big Sur 11.0 or newer
Processor: Core i7 (Intel Xeon is not supported)
Memory: 8 GB
Video Card: Radeon Vega II or higher with Metal support.
Network: Broadband Internet connection
Hard Drive: 95 GB
Minimum
OS: Most modern 64bit Linux distributions
Processor: Dual-Core 2.4 GHz
Memory: 4 GB
Video Card: NVIDIA 660 with latest proprietary drivers (not older than 6 months) / similar AMD with latest proprietary drivers (not older than 6 months; the minimum supported resolution for the game is 720p) with Vulkan support.
Network: Broadband Internet connection
Hard Drive: 17 GB
Recommended
OS: Ubuntu 20.04 64bit
Processor: Intel Core i7
Memory: 16 GB
Video Card: NVIDIA 1060 with latest proprietary drivers (not older than 6 months) / similar AMD (Radeon RX 570) with latest proprietary drivers (not older than 6 months) with Vulkan support.
Network: Broadband Internet connection
Hard Drive: 95 GB
Developer's Diaries: Economy
Attention! This news was published on the old version of the website. There may be some problems with news display in specific browser versions.
Economy
Economy updates are not directly connected to game patches. In general, they either appear at the same time or at a related occurrence. For instance, version 1.29 offered a new option to display repair costs for each mode, therefore the original economy update that introduced different repair costs was delayed until the release of version 1.29.
In War Thunder there is, and there will be, in-game economy since it's one of the basic elements of the game. We think that all airplanes and weapons must be authentic, thus the economy is the only way to influence the choice of aircrafts and team balance. The plane rank is just a year of manufacture/operations, but not a performance indicator. All jet aircrafts are ranked from 17 to 20; other planes have lower ranks (pre-World War II aircrafts are usually below Rank 3). The repair cost is a more reliable performance indicator (average efficiency). The more kills a certain plane has, the higher its repair cost is (quite natural for the sake of balance).
As you can see, both Dora (Fw 190 D-12) and Bf 109K-4 have a higher repair cost than a jet-plane He-162 does. The latter is undoubtedly a more advanced and significant aircraft, but its main advantages are blistering strikes and evasion, as well as an ability to attack flying fortresses with minimal risk and maximum chances of success (particularly an ability to attack through a lead barrage initiated by hundreds of B-17's). In average War Thunder fight He-162 is not that impressive: if played wisely it may live longer, but it does not bring down as many planes as a more maneuverable aircraft (though speed and firepower are still important).
The difference is not as great, but it's quite indicative. By contrast, the He-162 is of a higher rank than Bf 109K-4 is, indicating the aircraft's generation. Aircraft generation and average efficiency of both planes and players are taken into consideration while matchmaking. A year of manufacture does not necessarily indicate a measurement of generation, though that is the general rule. For instance, Germany possessed more advanced aircrafts at the time of invasion of the USSR. Model 109F was better than the then-adopted I-16 and outdated I-153 across the board.
The LaGGs and Yaks had been designed and gone into production, though they went into service much later. Yak is an aircraft comparable with Frederich, and it became available later then its rival. Therefore, most often aircraft ranks in our game are measured in years of service, sometimes adjusted to compensate additional factors.
Since weapon developments slowed after WWII, 4 or 5 ranks are quite sufficient to embrace all jet aircraft generations through The Korean War.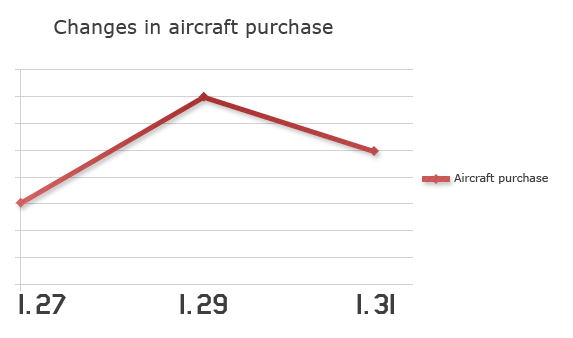 Economy 1.27
In the previous version, we used the following approach: the better you fly, the more you can earn and the faster you can gain experience. Our statistics said that an average player (without a premium account) could break even on planes of Ranks 7-10 (as we told you before, rank does not represent aircraft performance, but rather its generation). Though it was quite a fair approach, it turned out that many players had to struggle on planes of Ranks 4-5, while others played effortlessly on aircrafts of Ranks 15-16 (superior piston planes). We did not want our players to get stuck on their current levels! The economy was too tough, though it was fair; the best players took it all, while others had to break even on planes of Rank 8.
Economy 1.29
Releasing a new economy model with patch 1.29 we would like to prevent players from seeing any losses until Rank 12 while also maintaining the same pace of leveling. Players should go ahead steadily. In addition, we decreased the repair costs but increased prices for aircrafts. Our goal was to maintain the same duration for acquiring new planes. Unfortunately, the road to hell is paved with good intentions.
Though many players could break even on lower-ranking planes, they had a possibility (in case of a successful fight or country changing with auto-repair function off) to earn a significant part of a new aircraft cost. Subsequently, many players utilize this feature.
The change aligned the leveling rate among all players. Previously, as the average ranks became higher (from 8th to 11th), the most active and experienced players were disappointed. So the advantage that higher level players had has now been restored to an even playing field.
What's next?
Our team is trying to make an interesting and exciting development through the game process with the help of our economy model. In addition, we want to reach well-balanced dogfights.
We believe that players should be able to gain levels and get to new ranks without any additional real money investments, though have an option to speed up the process at any time.

When designing a new version of the economy model, we have tried to keep the benefits and get rid of downsides. Therefore, we are going to introduce battle trophies – random rewards, whose drop-out chances are based on the amount of time played, aircraft destroyed, etc. Thus the battle trophies will help average or lower-skill players. They will be able to earn more to cover repair costs and higher-level players will also benefit as they master their skills.
Besides these improvements there will be more traditional benefits such as what we introduced in version 1.27: the better you play, the more you get. Of course, if you do not play well, you may lose to a greater extent. Most likely, we will keep adjusting the economy model along with finalizing aircraft flight models and balancing matchmaking. We hope these will be some minor corrections, not major changes.
War Thunder Team