News
24 July 2013
Leaderboard and Player's Profile
In-game statistics are now available on the Official Warthunder Website. From now on it is much easier and convenient to follow a player's progress.
---
This also applies to in-game statistics; statistics on the website display players progress in arcade, historical and full-real battles. Multiple sort options give you an opportunity to select the characteristics you are interested in. You can also compare current achievements with those of the previous month.
Player's profile has been added.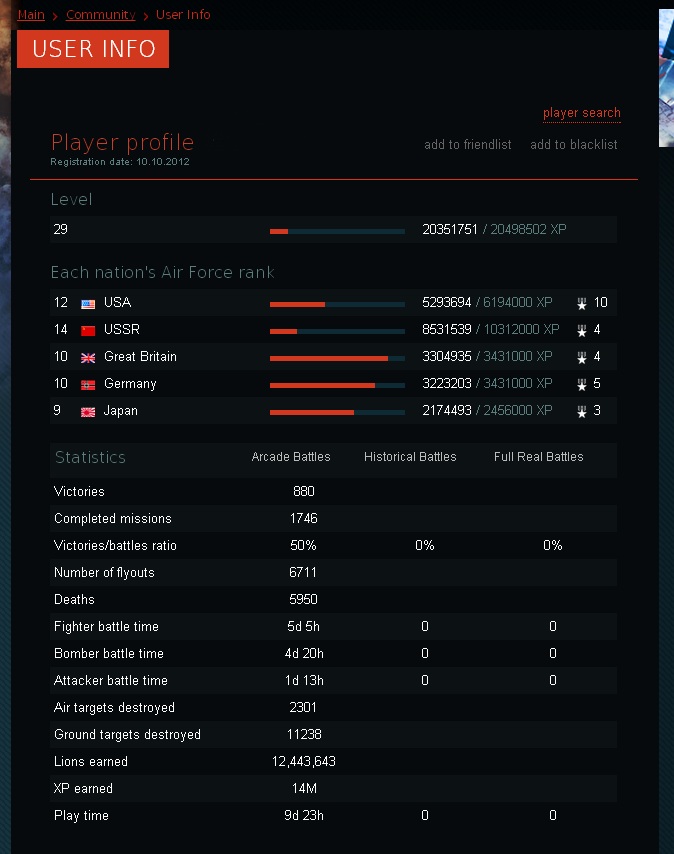 User Info Page displays statistics of a certain player: registration date, overall level of the player and rank in every Nation and detailed pilot's statistics. You have the opportunity to add a player to friends or move him to blacklist directly from the webpage.
It is important for us to develop social aspects of War Thunder on the Official Webpage. Stay tuned there is more to come!
© 2009—2017 by Gaijin Network Ltd. Gaijin and War Thunder are trademarks and/or registered trademarks of Gaijin Network Ltd. or its licensors, all other logos are trademarks of their respective owners. F-84 Thunderjet, XF5F-1 Skyrocket, XP-50, F4F-3 Wildcat, F4F-4 Wildcat, F4U-1A Corsair, F4U-1B Corsair, F4U-1C Corsair, F6F-3 Hellcat, F7F-1 Tigercat, F8F-1 Bearcat, F8F-1B Bearcat, F9F-2 Panther, F9F-5 Panther, OS2U-1 Kingfisher, OS2U-3 Kingfisher, F3F, P-61 Black Widow, P-47D-25 Thunderbolt, P-47D-27 Thunderbolt, P-47M-1-RE Thunderbolt, P-47N-15 Thunderbolt and P-47D-28 Thunderbolt are trademarks of Northrop Grumman Systems Corporation and are used under license to Gaijin Network Ltd.CONSOLIDATED B-24 LIBERATOR, CONSOLIDATED PBY CATALINA, LOCKHEED P-38 LIGHTNING , LOCKHEED F-80 SHOOTING STAR, MARTIN B-57 CANBERRA, associated emblems and logos, and body designs of vehicles are either registered trademarks or trademarks of Lockheed Martin Corporation in the USA and/or other jurisdictions, used under license by Gaijin Network Ltd. P-39 and P-63 emblems, logos, and body designs are trademarks of Textron Innovations Inc. and are used under license by Gaijin Network Ltd.