8 February 2016
A Rare Bird - Do 335
Meet the Do 335 "Pfeil" - an aircraft of unusual design with tandem-mounted engines, a true air monster!
27 January 2016
Last Man Standing
In the future, having less than two concious crewmen in your ground vehicle doesn't necessarly mean that you are defeated. With this change, one man is enough to make a last stand.
26 January 2016
New Thermodynamics
We have completed our work on the basic physics that relate to the thermodynamics of aircraft engines. For those who prefer Realistic and Simulator modes, information about the new thermodynamics will be extremely useful. So what's new?
24 December 2015
Battle tasks
In update 1.55 "Royal Armour" we introduced new game mechanics - Battle tasks, these individual tasks bring variety into the gameplay and prevent situations when all the players in a battle try to complete one certain tasks ignoring mission objectives needed for a victory.
14 December 2015
Location "Tunisia"
The second map that we plan to release very soon, along with El Alamein, Tunisia will allow our players to experience the new British vehicles in some of the locations they were best known for as Monty's troops fought ferociously against Rommel's finest. Some of the most iconic moments took place in the locations we are featuring. We hope you enjoy them.
14 December 2015
Location "Second battle of El Alamein"
Prepare to get sand between your toes, North Africa makes its much anticipated appearance in War Thunder, we hope you enjoy battling it out in the new maps as much as we did in designing them for you - and don't forget, keep your hat on, only mad dogs and Englishmen go out in the midday sun!
12 December 2015
[Development] MiG 17
The players have been asking us when the Mig-17 will be added to the game for several years. Now we can finally reveal this aircraft and tell you for sure that this plane will take its place as the top jet fighter of the USSR after the Mig-15bis.
11 December 2015
The British ground vehicle tree
You won't have long to wait now! British Ground vehicles will be appearing very soon to the sound of a kettle boiling, make the tea boys and girls.
12 December 2015
Crusader AA Mk.I and Crusader AA Mk.II
Some British love for the defence from airborne attacks against your tea drinking colleagues on the ground. These two Crusader variants will have you downing the enemy and giving some ground based foes some grief.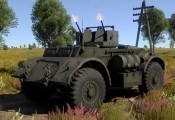 10 December 2015
T17E2 and Armoured Car Mk II SPAA
Armoured cars are making their way to War Thunder! With the addition of the T17E2 and Armoured Car MK II SPAA, gameplay in War Thunder is set to become a whole lot more diverse!