News
Seasonal Sizzlers in War Thunder
The most magic holiday of the year is coming! While many of you have already received their first gift, let's find out what we have prepared for you this year!
Discount for first Golden Eagle purchases!
Christmas is nearly upon us, so let's kick off the festivities with a little discount on GE purchases in preparation for the upcoming holiday. We are sure you can put them to good use over the forthcoming weeks.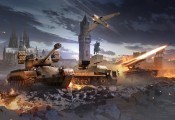 Rocket Science!
It's rocket time! Participate in our special to get the chance of driving one of the new rocket tanks introduced in Update 1.53 Firestorm - besides winning plenty of other ingame items!
Test Drive
Christmas holidays will be with us soon, while some pleasant surprises in War Thunder will be already available this weekend! Prove unique vehicles in battle and profit from increased Research Points and Silver Lions!
Air Duels: P-38 vs. Me 410
Hornet or Lightning? This is the question to concern us this weekend in War Thunder! Take part in epic aerial duels and prove the worth of your nation's heavy fighter!
Tank Duels: T-34-76 vs Pz.Kpfw. IV
Both the T-34 and Pz.Kpfw. IV were impressive fighting vehicles of their respective nation. This weekend, they will clash in epic duels in the winter battle of Stalingrad! Read our guide below to prepare yourself for battle!
War Thunder: 3 Years Anniversary Specials
On November the 1st, 2012, War Thunder was made available to the public. After an eventful three years, we say "Thank you!" to the Community that made all this possible. Happy War Thunder Birthday to everyone!
Halloween Specials in War Thunder
For this year's Halloween, we have prepared two unique specials for you. Participate in the Witch Hunt as well as the Witch's Cauldron Challenge, to unlock the unique Polikarpov Po-2 biplane among other items!
Air Duels: Bf 109 vs I-16
Take part in Air Duels of Bf 109 and I-16 over Spain and win valuable prizes! Be sure to prepare youself for combat with any of the vehicles by reading our included strategy guide!
Day of German Unity
Celebrate the Day of German Unity in War Thunder and receive the rare He-51 Hydroplane by leading your team to victory three times!