News
Explosive Reactive Armor for the T-80B
We would like to present you a new researchable module for one of the top tanks of the USSR/Russian armored vehicle tech tree – an explosive reactive armor set for the T-80B.
HMS Grafton (H89): The spirit of self-sacrifice
HMS Grafton is a G-class destroyer built for the Royal Navy during the 1930s, which saw limited action in the early stages of WW2 before meeting her fate. The destroyer HMS Grafton will await all aspiring captains in the CBT of War Thunder's Royal Navy !
Ju 288C
The upcoming, promising bomber that was to replace the Ju 88 had to outclass its predecessor in every single way – it had to be faster, more powerful, better defended, and capable of carrying a greater bomb load.
Flower-class Corvette: The Convoy Guardian
The Flower-class is a British WW2-era corvette, designed specifically to escort Atlantic convoys and protect them from German U-boats. HMCS Brantford will soon be available in the game as part of the CBT of the Royal naval forces!
SA.313B: The First Skylark
The French SA.313B light helicopter acquired guided missiles and unguided rockets while in use by the German army. Meet the first helicopter in the German tech tree!
BO 105 Attack Helicopters
BO 105 attack helicopters serve as the foundation of Germany's rotorcraft on the battlefields of War Thunder. Several different versions of this reliable and efficient ground vehicle killer will be available. Let's take a look.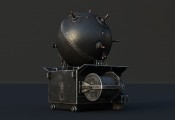 Naval mines in War Thunder
We are excited to introduce a new armament type for Naval battles in War Thunder - naval mines and in this devblog we will describe using them in game.
HMCS Haida - Commonwealth Veteran
HMCS Haida is a Tribal-class destroyer of the Royal Canadian Navy, which served not only through WW2, but also took part in actions in the Korean War.