News
Invasion of Normandy
Land on the inhospitable shores of Normandy and fight your way to victory. This weekend you will be able to take part in one of the most famous battles of World War two.
Cosmonautics Day
Celebrate with us on the 56th anniversary of the first manned spaceflight! Participate in special events and unlock space badges!
Rhine operation "Plunder"
Participate in the event "Operation Plunder" in all game modes with +30% Research Points and +30% Silver Lions bonuses!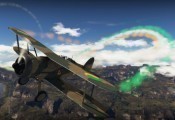 St. Patrick's Day
There is a holiday in Ireland today and good guys invite all to hunt for pleasant trophies in battles!
Large Calibres and Rocket Science!
Only enemies which have been destroyed and torn to shreds can be considered 'not dangerous', and so, what better way to achieve this than with large calibre weapons?
Spitfire Day - In honor of the first flight
The Supermarine Spitfire was able compete on equal terms with the best contemporary aerial combatants of other countries, was produced in many different modifications and has become one of the most recognizable aircraft in history.
Battle of Stalingrad
Dear players, we have prepared number of special events which you can participate in for the rest of the week.
Rescue operation
The port in which our allied ships are maintained is under attack! The enemy is overcoming the defences and are dominating the airspace. Under these circumstances, defenders will only be able to rescue the crew from the damaged and dangerously tilted carrier.