News
Total Domination
Put your teamplay skills to good use in a new gaming event Total Domination! Your goal is to capture all contested points SIMULTANEOUSLY and hold them for just 15 seconds to win the round!
The Battle of Kursk
Take part in the reconstruction of the Battle of Kursk! The event will be in the AB, RB and SB game mode with historical vehicle setups.
BattleRoyal
There are no teams here, there are no partnerships, in this battle, everyone is responsible only for themselves. The new event "Battle Royal" will identify the warrior that understands these rules better than anyone else.
CTF: Flag Raiser
We are pleased to introduce the new "Flag Raiser" event - where you should carry a captured banner to behind the enemy lines.
Invasion of Normandy
Land on the inhospitable shores of Normandy and fight your way to victory. This weekend you will be able to take part in one of the most famous battles of World War two.
Cosmonautics Day
Celebrate with us on the 56th anniversary of the first manned spaceflight! Participate in special events and unlock space badges!
Rhine operation "Plunder"
Participate in the event "Operation Plunder" in all game modes with +30% Research Points and +30% Silver Lions bonuses!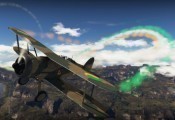 St. Patrick's Day
There is a holiday in Ireland today and good guys invite all to hunt for pleasant trophies in battles!
Large Calibres and Rocket Science!
Only enemies which have been destroyed and torn to shreds can be considered 'not dangerous', and so, what better way to achieve this than with large calibre weapons?