News
T-54 Mod.51
By the end of the Second World War, the Red Army was seeking to further improve their tank arsenal. Even though the T-34-85 and T-44 medium tanks armed with 85 mm guns were still adequate, the rapid pace of tank development would mean that in a few years they might become obsolete.
Pzkpfw VI "Tiger" Ausf. H1
The Panzerkampfwagen VI "Tiger" Heavy Tank is one of the most famous tanks ever produced and, next to the M4 Sherman and the T-34, it has become unanimously associated with World War II. It's fearsome reputation amongst Allied tank crews has cemented it's place in history.
Iosif Stalin 2
The Iosif Stalin 2 or IS-2 was a Soviet heavy tank arriving in front line duty in 1944. With its powerful cannon and good armour it was a well performing breakthrough tank during the later period of the war.
The F6F 'Hellcat'
In June 1942 the Grumman 'Iron Works' released the prototype of what would later become the F6F 'Hellcat'. As a sturdy and fast weapons platform, the new American fighter was a good match to the combat-hardened Japanese A6M Zero, which dominated the skies over the Pacific Theater up until now.
The T-34 mod. 1940
The T-34 is one of the most iconic tanks of World War II. Designed by engineer that sadly never saw his work in action, the T-34 came as a shock to its opponents and left a lasting impression not only on the battlefields of the eastern front.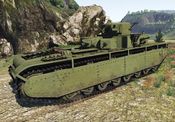 T-35: The Land Battleship
Update 1.43 brought many novelties to War Thunder, including the introduction of working multi-turreted vehicles. The T-35 not only extends the arsenal of different vehicle types available to the players of War Thunder, but also the possibility to re-create historic encounters. Available as a Soviet Rank I premium vehicle, the T-35 allows you to go to battle as a true land battleship!