News
Z20 Karl Galster
Some time ago, we presented the Type 1936 class destroyer of the German Kriegsmarine and subsequently added it to the closed testing of War Thunder's naval forces. Today, we would like to present to you the Z20 Karl Galster, the only survivor of her class that went on to serve even after the war had ended.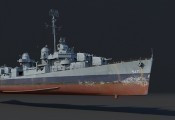 USS Cowell (DD-547): Vulture Hunter
The USS Cowell (DD-547) is a Fletcher-class destroyer that served initially under the banner of the U.S. Navy throughout the second half of WW2 and into the 1950s.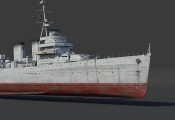 The first Light Cruisers in War Thunder
The first two models of light cruisers presented in War Thunder are the British HMS Enterprise, an Emerald-class light cruiser, and the Italian Giussano-class light cruiser Bartolomeo Colleoni.
MS74 Series 2A torpedo boat: Made in Italy
Germany did not share its latest military technology with its Italian allies, so Italy decided to create its very own torpedo boat. And so the famous Motosiluranti motorized torpedo boats were created.
Soldati Class Destroyer
The Soldati class destroyer was Italy's most produced destroyer of the Second World War, forming the spearhead of Regia Marina's destroyer force.
About the development of Naval Forces in War Thunder
Today we would like to shed some light on the Naval battles development process and to tell you about the problems we have faced and how we have solved them. We would also like to share our plans for the future in Naval development.
The History of Naval Battles: Part 3
The emergence of Naval technology in the middle 1800's can trace it's roots to the War of 1812. It was during this time that War Ships began adapting armor and new cannon technology that would shape the global design of not only newer generation fleets, but how naval warfare would be conducted for the next 200 years.
The History of Naval Battles Part 2: The Golden Age of Sail
In Historical terms there exists three main periods of technological and political advances - The early period, the Golden Age, and the Modern eras. In a previous article we talked about how Naval Technology shaped the world in times of antiquity. Today we shall focus on the middle period known as the Golden Age of Sail or the Age of Discovery.​
The history of naval battles - Part 1
With the news of our Naval Forces being brought to War Thunder, we thought our players might like a little background info on how naval warfare began.