News
Naval pre-beta testing schedule
From the 6th of December, until the 11th of December, at 17:00 GMT until 05:00 GMT each day, Naval battle testing for all who purchased Naval packs!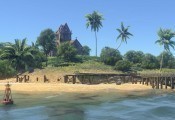 MS74 Series 2A torpedo boat: Made in Italy
Germany did not share its latest military technology with its Italian allies, so Italy decided to create its very own torpedo boat. And so the famous Motosiluranti motorized torpedo boats were created.
Soldati Class Destroyer
The Soldati class destroyer was Italy's most produced destroyer of the Second World War, forming the spearhead of Regia Marina's destroyer force.
Mass test of Naval battles
This weekend not only participants of the pre-beta closed test will be able to take part in Naval battles. We invite all the players who applied for the CBT.
Naval pre-beta testing schedule - Yugumo!
We are pleased to invite pre-beta testers to another test session of the War Thunder Naval battles. Players are going to test the new Japanese destroyer Yugumo on the Fiji location!