News
How can you get premium vehicles? Warbonds!
We continue our tradition and present to you once again, an updated assortment of Warbonds for January. Everything is as before: fulfill Battle Tasks, earn Warbonds, improve the shop and get the rewards.
This assortment will be available until the 31st of January!!
The reliable American M10 Wolverine is a classic Tank Destroyer of WW2, but in a typically British fashion, it simply wouldn't be British enough without a snazzy new name and a 17 Pounder gun. Meet the Achilles (65 Regiment), a British premium SPG that will assist with your ascension through the ranks of British Ground Forces with a deadly accurate and highly penetrative cannon equipped with Solid Shot rounds. Bolster your ground forces lineup and charge directly into battle, full brew ahead!
A Thunderbolt under the Iron Cross and ready to serve in the Blitzkreig of German combined arms battles! The German P-47 typifies the most classic model of this American fighter, armed with 8 x 12.7mm Browning machine guns and boasting quite a change in performance to what most German pilots are used too. This captured variant does not come with the wide array of ground attack options as its USAAF cousin, but German Pilots will welcome the chance to grab a true Wunderwaffe from their American adversaries!
Detailed list of the Warbond items in the shop this month:
Premium vehicles:

Achilles 65 Rg. (Britain);
P-47D (Germany);
А7М1 (NK9H) (Japan);
T14 (USA);
Pe-2 205 (USSR).

Decal "Kilroy was here", Decal by Jej 'CharlieFoxtrot' Ortiz.
3d decorations (signs).
3d decorations (camouflage).
Decal trophy (decals from the 2017 warbond shop)
Supply boxes with RP and SL boosters 100%, 200%, 300%, 500%, 700%, 900% RP and SL for 1 battle;
Vehicle rent. Super Hellcat, B-17E (Japan), Do.335B-2, AC IV Thunderbolt, Yak-3 (VK-107)
"Order" trophy.​
Sets of universal back-up vehicles. A player can activate this item to backup any one vehicle of their choice.
Where can you find Warbonds??
▼
Click on the 'Daily Tasks' icon from the War Thunder in-game hangar.
On the menu that opens, click on the 'Warbond Shop' icon in the bottom right corner.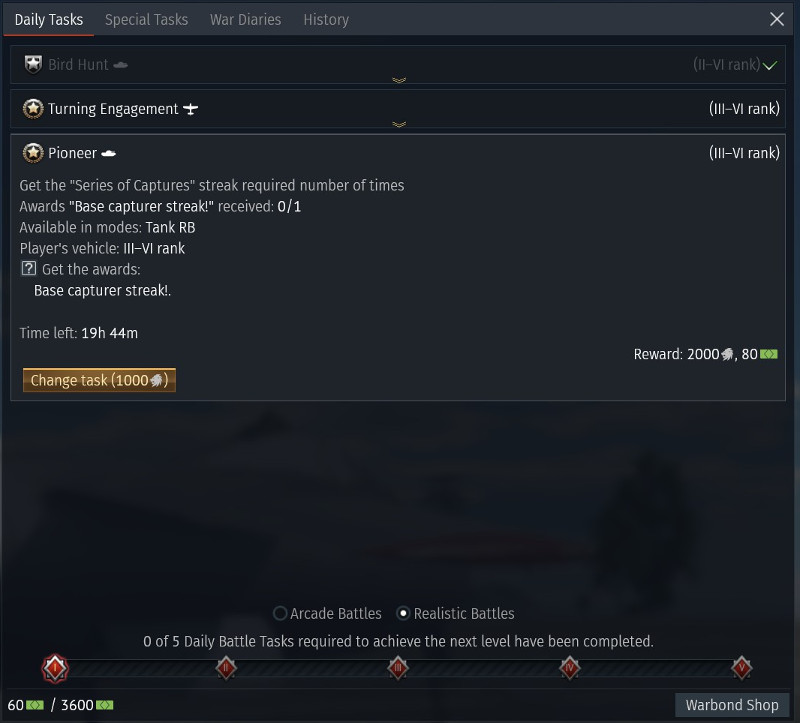 You can now view the range of Warbonds available by clicking on on the various icons.
Purchases can be made with the 'Purchase' icon in the bottom right corner.
Battle tasks: These individual tasks bring variety to your gameplay and prevent situations where all the players in a battle try to complete one specific task, effectively ignoring mission objectives that are needed for a victory. They are available for players that have reached the 3rd rank of any nation. On completion, players will receive Silver Lions, and Warbonds - a special in-game currency with their own specific shop, where you can purchase many different items.