News
Attention! This news was published on the old version of the website. There may be some problems with news display in specific browser versions.
Victory Hour - Capture of Berlin PvE event
---
---
From 07.00 GMT on May 9th to 07.00 GMT on May 10th
Join the 'Victory Hour' PvE event in the 'Events & Tournaments' tab!
---
Dear Players! To celebrate Victory in Europe Day we would like to invite you to join our cooperative PvE mission made for Ground Forces!
There is just one final step to victory, start your engines, load your ammo and call your friends. It will be a bitter struggle and the enemy will not give up easily! Your goal is the Reichstag! Fight through hordes of German tanks through the streets of Berlin, help your allies to repel the counter attack and neutralize the remaining enemy forces.
Victory will be ours!

In the PvE mission 'Victory Hour' your main task is to destroy all forces defending the Reichstag. Follow the waypoints and advance with full force!
Mission details:
"Victory hour" mission can be found in the "Events and tournaments" tab
Each player has access to the following tanks: Т-34-85 (D-5Т), Т-34-85, Su-85M, IS-2 mod. 1944. You can start the mission using any tank except the IS-2 which will become available once you earn some Spawn Points.
The number of sessions for the event is limited, which can lead to longer waiting times.
Up to 4 players can participate in the mission cooperatively (time to get a coordinated team!)
To participate in the event, you should have at least one vehicle of rank IV
For being victorious in this mission, you will be rewarded with the unique 'Victory Day' banner: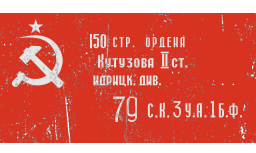 ---
Keep an eye open for other announcements dedicated to Victory Day!
---
Depiction of any real-world weapon or vehicle in this game does not mean participation in game development, sponsorship or endorsement by any weapon or vehicle manufacturer.
© 2009—2019 by Gaijin Network Ltd. Gaijin and War Thunder are trademarks and/or registered trademarks of Gaijin Network Ltd. or its licensors, all other logos are trademarks of their respective owners. F-84 Thunderjet, XF5F-1 Skyrocket, XP-50, F4F-3 Wildcat, F4F-4 Wildcat, F4U-1A Corsair, F4U-1B Corsair, F4U-1C Corsair, F6F-3 Hellcat, F7F-1 Tigercat, F8F-1 Bearcat, F8F-1B Bearcat, F9F-2 Panther, F9F-5 Panther, OS2U-1 Kingfisher, OS2U-3 Kingfisher, F3F, P-61 Black Widow, P-47D-25 Thunderbolt, P-47D-27 Thunderbolt, P-47M-1-RE Thunderbolt, P-47N-15 Thunderbolt and P-47D-28 Thunderbolt are trademarks of Northrop Grumman Systems Corporation and are used under license to Gaijin Network Ltd.CONSOLIDATED B-24 LIBERATOR, CONSOLIDATED PBY CATALINA, LOCKHEED P-38 LIGHTNING , LOCKHEED F-80 SHOOTING STAR, MARTIN B-57 CANBERRA, associated emblems and logos, and body designs of vehicles are either registered trademarks or trademarks of Lockheed Martin Corporation in the USA and/or other jurisdictions, used under license by Gaijin Network Ltd. P-39 and P-63 emblems, logos, and body designs are trademarks of Textron Innovations Inc. and are used under license by Gaijin Network Ltd.
Cookie-files
This website uses
cookies
. By continuing to access this website you are giving consent to cookies being used.