News
9 March 2014
Spring Golden Battles
Celebrate the arrival of spring and the International Women's Day in War Thunder! Congratulate your dear women on March 8th and March 9th - participate in Golden battles!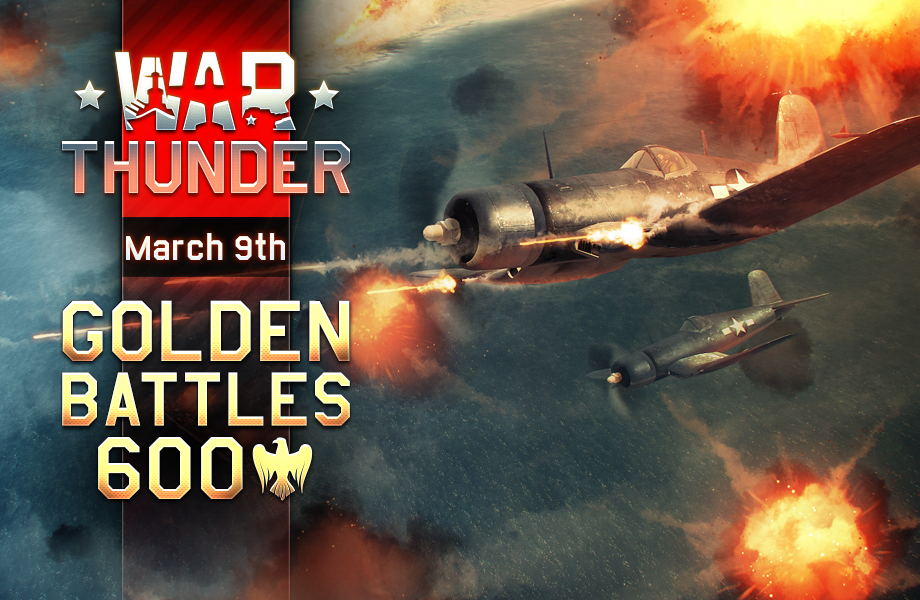 ---
This Sunday, March 9th - we will reward you with Golden Eagles for victories:

For 2nd Victory - 100 Golden Eagles
For 5th Victory - 100 Golden Eagles
For 7th Victory - 100 Golden Eagles
---
The event is held twice a day, so pilots in all time zones are able to earn Golden Eagles. Event will happen at: (02:00 GMT to 06:00 GMT) and (15:00 GMT to 19:00 GMT). Thus, total amount pilot can earn is equal to 600 Golden Eagles.
Golden battles in War Thunder - 9th March
© 2009—2017 by Gaijin Entertainment. Gaijin and War Thunder are trademarks and/or registered trademarks of Gaijin Entertainment or its licensors, all other logos are trademarks of their respective owners. F-84 Thunderjet, XF5F-1 Skyrocket, XP-50, F4F-3 Wildcat, F4F-4 Wildcat, F4U-1A Corsair, F4U-1B Corsair, F4U-1C Corsair, F6F-3 Hellcat, F7F-1 Tigercat, F8F-1 Bearcat, F8F-1B Bearcat, F9F-2 Panther, F9F-5 Panther, OS2U-1 Kingfisher, OS2U-3 Kingfisher, F3F, P-61 Black Widow, P-47D-25 Thunderbolt, P-47D-27 Thunderbolt, P-47M-1-RE Thunderbolt, P-47N-15 Thunderbolt and P-47D-28 Thunderbolt are trademarks of Northrop Grumman Systems Corporation and are used under license to Gaijin Entertainment.CONSOLIDATED B-24 LIBERATOR, CONSOLIDATED PBY CATALINA, LOCKHEED P-38 LIGHTNING , LOCKHEED F-80 SHOOTING STAR, MARTIN B-57 CANBERRA, associated emblems and logos, and body designs of vehicles are either registered trademarks or trademarks of Lockheed Martin Corporation in the USA and/or other jurisdictions, used under license by Gaijin Entertainment. P-39 and P-63 emblems, logos, and body designs are trademarks of Textron Innovations Inc. and are used under license by Gaijin Entertainment.