News
14 March 2017
Update 1.67 "Assault" stream
---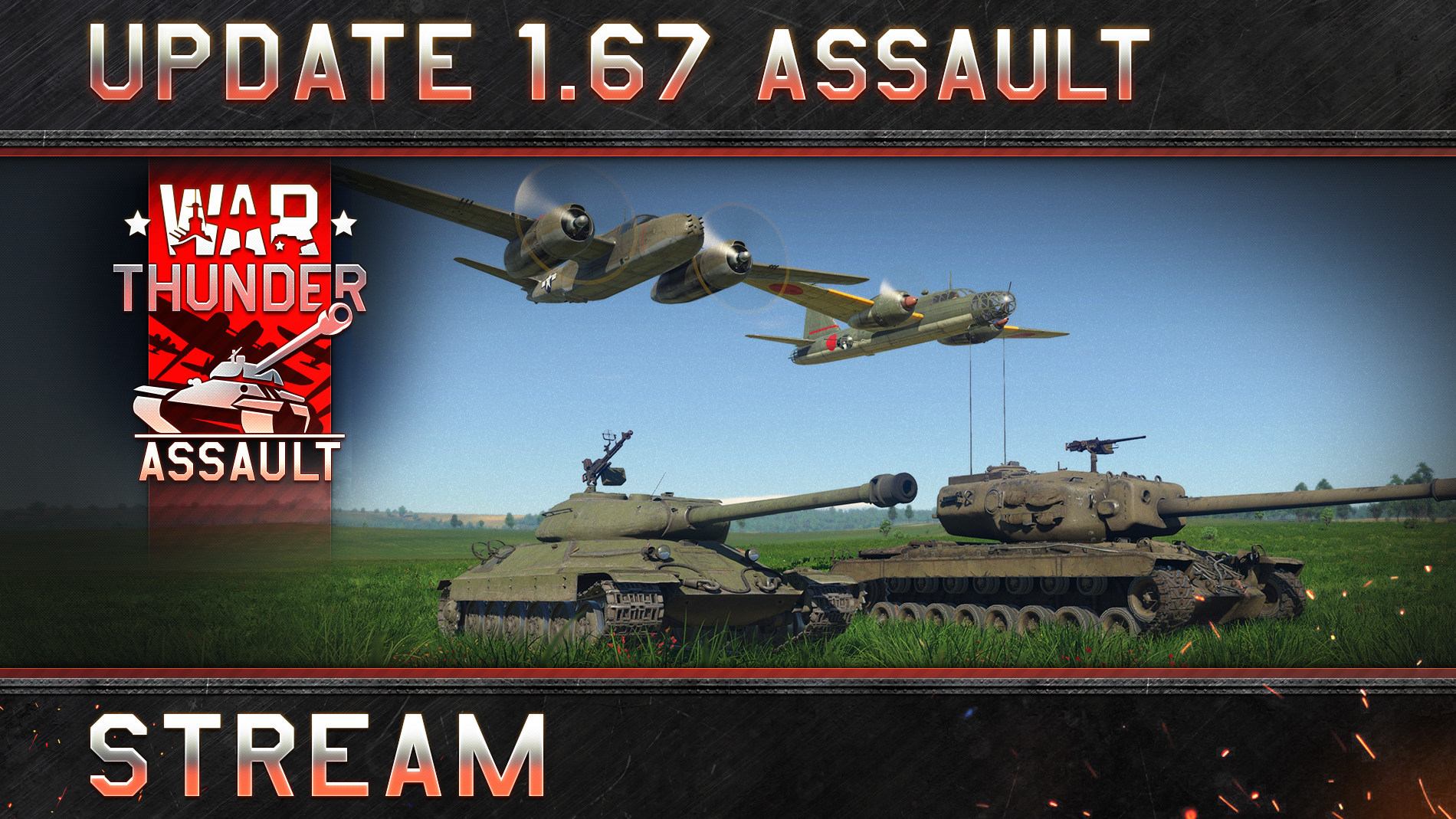 ---
Dear friends, War Thunder's new update: 1.67 "Assault", will soon become available to all our players and we invite you to check out the new vehicles and features during the official live stream.
---
March 14th at 16:30 GMT, watch Update 1.67 "Assault" stream
---
"The Soviet hammer" IS-6 and the heavy American T34 tank! Japanese Ki-67 and new U.S. A-26B with 14 offensive MGs, new locations, gun stabilizers and much more in our live stream!
---
Previous Development Blogs:
© 2009—2017 by Gaijin Entertainment. Gaijin and War Thunder are trademarks and/or registered trademarks of Gaijin Entertainment or its licensors, all other logos are trademarks of their respective owners. F-84 Thunderjet, XF5F-1 Skyrocket, XP-50, F4F-3 Wildcat, F4F-4 Wildcat, F4U-1A Corsair, F4U-1B Corsair, F4U-1C Corsair, F6F-3 Hellcat, F7F-1 Tigercat, F8F-1 Bearcat, F8F-1B Bearcat, F9F-2 Panther, F9F-5 Panther, OS2U-1 Kingfisher, OS2U-3 Kingfisher, F3F, P-61 Black Widow, P-47D-25 Thunderbolt, P-47D-27 Thunderbolt, P-47M-1-RE Thunderbolt, P-47N-15 Thunderbolt and P-47D-28 Thunderbolt are trademarks of Northrop Grumman Systems Corporation and are used under license to Gaijin Entertainment.CONSOLIDATED B-24 LIBERATOR, CONSOLIDATED PBY CATALINA, LOCKHEED P-38 LIGHTNING , LOCKHEED F-80 SHOOTING STAR, MARTIN B-57 CANBERRA, associated emblems and logos, and body designs of vehicles are either registered trademarks or trademarks of Lockheed Martin Corporation in the USA and/or other jurisdictions, used under license by Gaijin Entertainment. P-39 and P-63 emblems, logos, and body designs are trademarks of Textron Innovations Inc. and are used under license by Gaijin Entertainment.